Best Free Food WordPress Themes for Websites or Blogs
Food always becomes one of the main topics of people. Its special importance may reflect on people's greetings in some countries. Especially, the process of making food or preparing food has become an art form to promote cultural diversity recently. So how to promote culinary arts seems to be another key part for people. Thus, here are the best free food WordPress themes that help you to feast eyes on your tasty-looking food. Your fascination with best food WordPress themes will go beyond your imaginations in the end. They will help you reappear every detail of your masterpieces since all these crafted food WordPress themes are specially created by our designers.
Well, actually you not just want to advertise food arts but to make some profits from them. It is well known that good food blogging has become a very lucrative business since it attracts traffic and helps you win great popularity. Moreover, some food WordPress themes insert with Woocommerce or built-in ads help to monetize your websites or blogs.
Therefore, whether you are non-profits food arts promoters or food business companies, you will fascinate some of the best food WordPress themes. You will be surprised by their crafted designs and warm details. Further still, you may even feel that they are tailored just for you. Otherwise, they can't just so perfectly suit your needs.
Ready to share these best  free food WordPress themes? All these well-selected wedding themes are all meticulously created by their designers, and some of them are free WordPress themes. Though the numbers of the themes are limited now, their features and functions are endless. Each of them is specially tailored to different styles and requirements and selected from hundreds of best WordPress themes due to its unique features and design. Most importantly, we update regularly and our support always will be alert to your need!
1. Kale - The Best Food WordPress Themes for bloggers
Kale is a lightweight but specially crafted food WordPress theme for bloggers. It is easy to migrate to and operate even though some users know nothing about the codes. Kale offers a user-friendly typography which means that it puts a great emphasis on the tasty-looking photos. This greatly suits clients needs. Moreover, Kale takes a video post format which allows you to display your YouTube videos by creating videos during your food-making process.
1) Awesome features
As the best WordPress theme for bloggers, Kale not only possesses with rich collections of blog layouts but also imports all demos widgets, options, and contents with just one button. With its SEO-friendly feature, Kale allows you quickly enhance traffic. Moreover, since it is compatible with Woocommerce beautifully and insert with built-in ads, you can easily increase you revenues with ease. However, everybody knows that the process of preparing and cooking food has become an art form, so people fascinate culinary arts help bloggers advertise not only their food but also their icons. Kale inserts with a number of well-known social media to share your masterpieces, which go beyond your imaginations.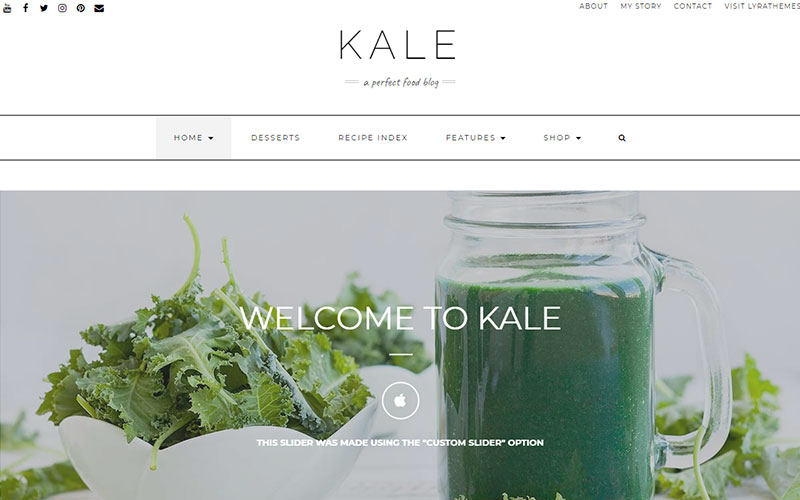 2) Practical design
One more highlight about Kale is its practical and flexible category sidebars. Of course, you can customize its sidebars on the category page. Moreover, you also can replace the default browser sidebar for a totally fancy one. Recently, Kale has been updated with new options, the easy-to-use "About Me Widget" and practical print recipes option, which means that Kale is not merely a clean and responsive food WordPress theme. It updates and more. It's definitely the best food WordPress theme that can feast clients' eyes on its wonderful features. More details and WordPress themes download question, you can visit Kale.
In brief, Kale is a minimal WordPress for food blogs.
Key Features:
User-friendly Typography
Video Post Format
Fully Responsive
Rich Blog Layouts
SEO-Friendly
Woocommerce Ready
Built-in Ads & Social Media
Customize Category Sidebars
Support & Update
2. Foodica - A Flexible & Crafted Food WordPress Theme
Foodica is a flexible and crafted food WordPress theme which is created to suit all the needs related to food. Some people may be intimidated by its powerful features and functions. In fact, it is a shortcode food WordPress theme. Thus, whether you are an expert or a beginner who has no experience in this aspect, you will fascinate its easy-to-use and awesome features.
1) 6 color schemes design
The first feature to share with you is its 6 color schemes design. Believe it or not, with this flexible design, whether you are sophisticated experts who have years of experience with everything or just grown-up person who just like some light and bright colors and designs, you will find there is one scheme designed for you!
2) Awesome features
As a flexible food WordPress theme, Foodica is fully responsive, especially compatible with mobile due to a better mobile menu. More excitingly, Foodica covers 4 banner locations where you can upload your banner ads or add Google Adsense. You think that it's all! Absolutely not! Foodica helps to monetize your webs or blogs by inserting with Woocommerce plugin. Moreover, you can create your stunning websites or blogs with its virtual customization options and wonderful widgets. Thus, it definitely will attract traffic and will showcase your awesome contents with its grid or blog style. On the whole, your stunning websites express the idea that they are just built by food lovers for foods lovers.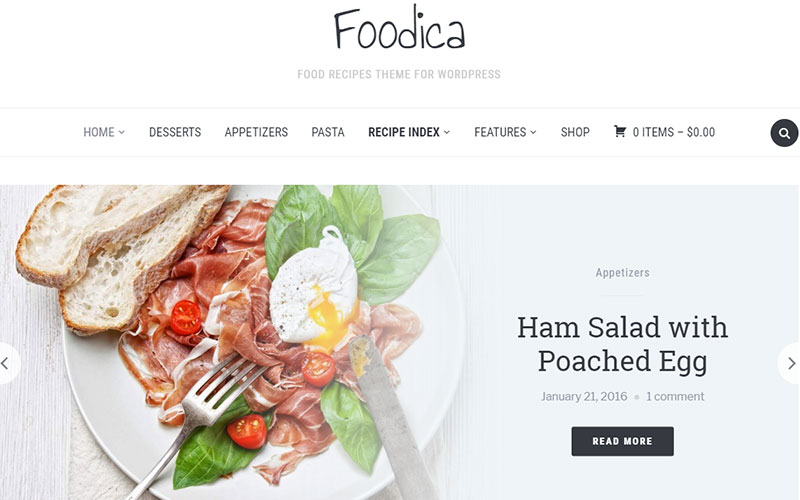 3) Detailed-oriented
Foodica, a flexible food WordPress theme, it has other warm and sweet details that will make you obsess it more, like the infinite scroll and adding widgets at the end of your posts. Since it is compatible with a lot of free widgets, you can add Signup forms to your posts. Finally, Foodica allows you add Instagram to your footer with a full-width bar. After you finish your creative masterpieces, you may sign with emotion. What an amazing food WordPress theme! So try it, and you will find that creating an awesome food website is just a piece of cake. More details and WordPress themes download question, you can visit Foodica.
In short, with Foodica, the best food WordPress themes, the world is your oyster!
Key Features:
SEO-Friendly
Video Post Format
Fully Responsive
Mobile Friendly
Ad Zones for Banners
6 Color Schemes Design
Google Adsense
Woocommerce Ready
Virtual Customizer
Infinite Scroll
Theme Options Panel
3. Organic Food - A Green & Healthy Food WordPress Theme
Organic Food is a green and healthy food WordPress which is built specifically for nutritionists, health coaches, cooking schools, delivering and farming websites. At first glance, its freshness and healthy concepts seem to overflow the screen since the whole theme is filled with all kind of green and fresh vegetables and fruits. Moreover, Organic supports static pages effect if you want to build business websites other than the scroll pages. Further, you will be amazing for its rich collections of samples, which entice you to look ever for more.
1) Rich & various collections
As a healthy food WordPress theme which especially tailors for nutritionists and health coaches to showcase their works, Organic Food possesses a variety of header layouts. Of course, you can set a sticky header. Since it is a minimal food WordPress theme, Organic enables to quickly import yet loads with awesome features. With great typography, over 500 Google Fronts, custom icons, and unlimited colors, Organic guarantees to enable you to create a stunning website of your dream.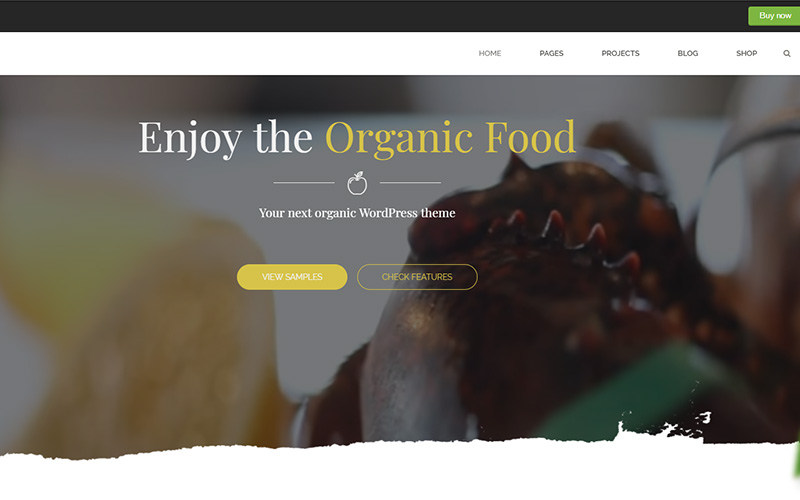 2) Clean & minimal design
Organic is such a minimal food WordPress theme, but its features and applicability will be as awesome as the multipurpose one. As the Chinese proverb goes: the sparrow may be small, fully-equipped! The same as Organic. With its quick page speed and clean layout, you will catch all the advantages of the best minimal food WordPress themes and help you put the emphasis on your works. More details and WordPress themes download question, you can visit Organic.
In a word, if you are Minimalists or Greenists, you will find it specifically tailors for you, actually!
Key Features:
SEO-Friendly
Fully Responsive
Tailored for Minimalists
Supports Static Pages Effect
Rich Header Layouts
Quickly Import
Quick Page Speed
Great Typography
Over 500 Google Fronts
Custom Icons
Thanks for visiting MageeWP WordPress themes. We hope this introduction of the best free food WordPress themes can be a reference for you to build your food website or blog. And we hope you continue to have access to our blog as well as provide support. Many thanks.
If you think these best free food WordPress themes are useful, please share them on Facebook, Twitter, LinkedIn, Google+, Reddit, Digg to help those who are going to start a website or a blog.