Best WordPress Travel Themes In
Booking online is quite commonplace and popular with more and more people, especially in travel agencies. According to various statistics, the numbers of traveling outbound has increased sharply each year. It's no hard to give the credits to the good economic development. To be more precise, there are more and more people being affordable for traveling due to the good momentum economy in recent years.
Well, all these preferential conditions show a great chance for business industry. Even though there are all sorts of travel or tourism agencies, you can still surpass your competitors with good services and cost-effective schemes. But most importantly, you need impressive websites or blogs as approaches that enable clients to know about you or compare with your competitors. However, it's not easy for you to create your dream websites or blogs. But if you are with the help of best or free WordPress travel themes, things will be totally different!
Then you may argue that it's not easy for you to select some best WordPress travel themes. Well, since you are so busy and most importantly, you barely know WordPress themes. If that is you, maybe you should spend several minutes to read this article. Your ideas will be upside down for best WordPress travel themes. Well, if you just know WordPress themes, then you just share all these premium WordPress themes unnoticedly. No need to thanks! I'll appreciate being helpful if I do!
Best WordPress Travel Theme - Avada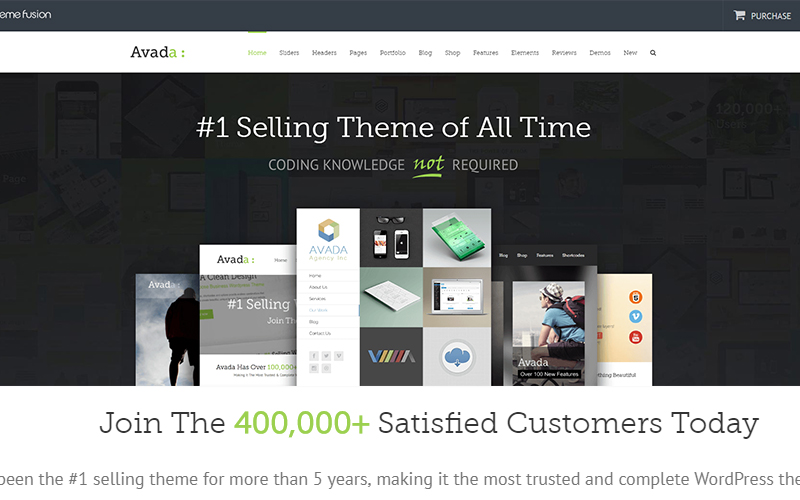 Avada is a gorgeously creative, thoroughly multi-concepts and completely responsive WordPress famous theme. In fact, it's created to tailor to the needs of all niches in the world. No matter what do you engage in, from corporate websites to personal blogs, agencies and any kinds of you may think of.
As Avada claims that it's the best sellers among all WordPress travel themes. To be more precise, its feature-dense and highly customization enable it to become one of the dark horse among these best WordPress travel themes. With over 30 unique demos, vast resources, and rich WP elements, Avada let you hit the ground running. Besides, a theme like Avada with fully responsive and retina ready features, it enamors your potential customers with its awesome features and easy operation. Imagine that you create a highly customizable website of you dream with gorgeous parallax effects based on Avada premium WP plugins with skill and ease! So wonderful and expecting!
Further, Avada will enable your websites to feel alive and energetic with its powerful tools, finely Woocommerce integration features and images of impressive and beautiful landscapes. No wonder the traveling desires of clients will be aroused then are induced to hit the road with a new journey!
Give a new journey for your clients with Avada NOW!
Clean WordPress Travel Theme - Travelo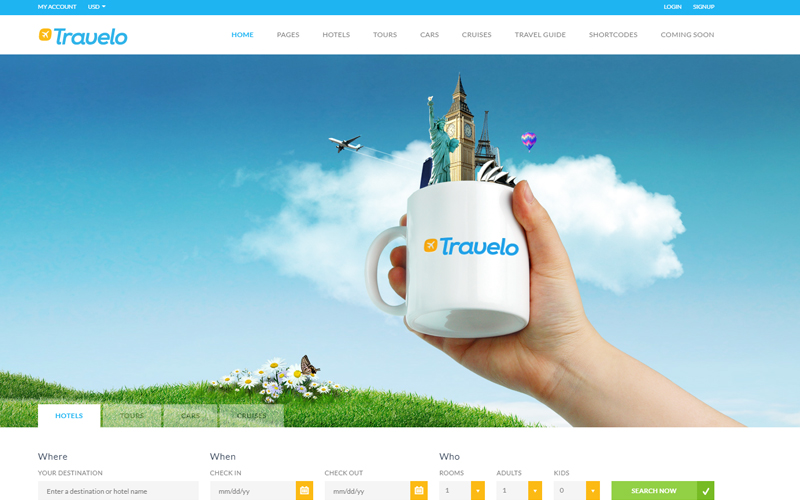 Travelo is a flat design and 100% fully responsive WordPress travel theme for hotel, tour, car rental and cruise booking websites in the world.
This WordPress travel theme enamors audience with its flat and responsive design based on its 10 site skins, 8 header styles, 6 footer skins, 55+ useful shortcodes and 12 homepage layouts. Well, all these considerate creations are wonderfully virtual enjoyments which will arouse clients' desires for new expecting journeys.
Moreover, Travelo comes along with its awesome and practical booking modules which enable you to use for any kind of tour or hotel booking. For instance, its PayPal Payment and WooCommerce Integration features empower the end-users to enjoy a convenient and pleasant experiencing on your websites. That's why audience obsesses traveling and love hover over at your websites.
Try new Travelo and try new journeys!
Premium WordPress Travel Theme - Magplus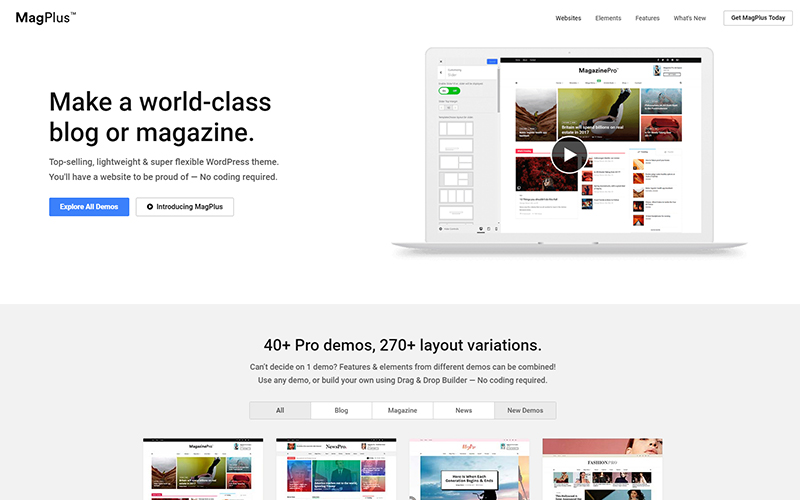 Magplus is a customization-rich and feature-dense WordPress notoriously creative, fully responsive and thoroughly sophisticated theme. Don' t be stunned if you heard that Magplus is a WordPress travel theme with 40+ Pro demos, 270+ layout variations, 25+ Article layouts, mix & match 160+ elements, 40+ templates imported, and most popular WordPress plugins included. No wonder Magplus claims that it has covered everything you need to build your sites.
Apart from this, Magplus fascinates the audience with its high-performance features. Imagine that a WordPress travel theme loads 5x faster on mobile with the features of 100% fully responsive & SEO optimized. In other words, Magplus is not only popular with users and end-users but also get loved by Google. Moreover, Magplus is a theme that supports right-to-left (RTL) translation ready. Hence, a travel website goes to international market would be a thing.
Finally, just as you feel on its demos, Magplus is a thoroughly flexible theme with retina ready feature. In addition, it's finely compatible with Woocommerce, so Magplus is a theme possessing strong commercial applicability. Take Magplus today to enable your clients to go crazy over your websites.
Elegant wordpress Travel Theme - CityTours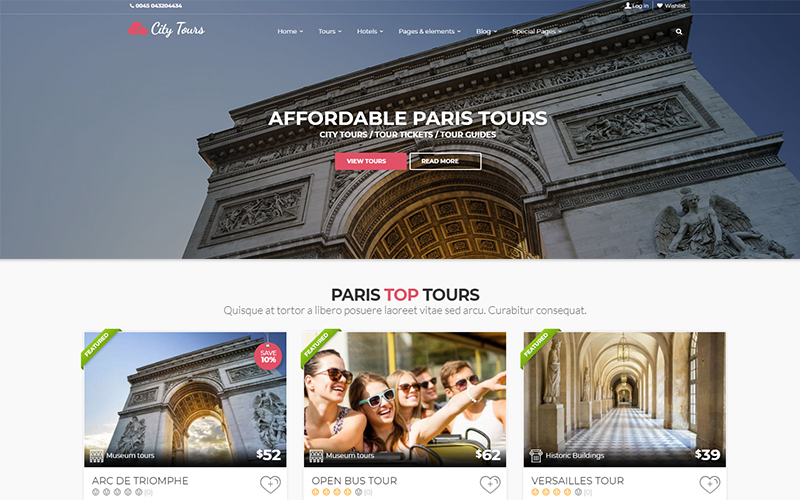 CityTours is a simple and urbane WordPress travel theme which tailors to the needs of hotel, tour, car rental and cruise booking websites. In fact, it's an ideal solution for those who just want to add their assortments to create a new urbane website.
However, CityTours can be considerate and resourceful websites. Since there are pre-set modules in CityTours, all you need to do is just to fill with your websites information. For example, you can offer hotel or tour packages and keep clients select what they want between the elements such as package prices, five-star ratings, satisfaction reviews of existing customers, different amenities and facilities, districts, etc. It's easier for clients to choose what want the most than letting them plan their whole schema.
Of course, you can make good use of the features of CityTours. Like other best WordPress travel themes, CityTours is a theme with the features of super responsive and completely Woocommerce and PayPal payment integration. Also, it keeps you away from those messy codes with Virtual Composer plugin and creates great virtual parallax effects based on its Slider Revolution plugin. Not to mention, CityTours has updated with some new features such as Full-screen Map page, Fixed Sidebar in Tour page, and RTL Support options. Anyway, Celebrate your new beginnings with CityTours.
Responsive WordPress Travel Theme - Etalon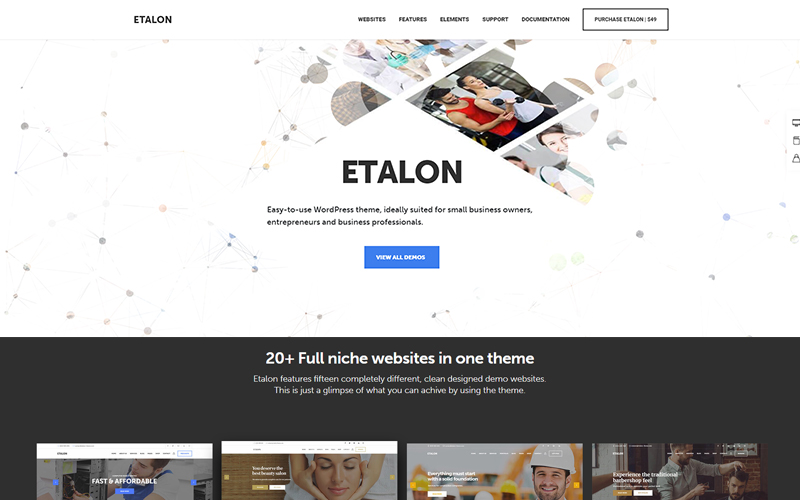 Etalon is a clean WordPress creatively multipurpose, thoughtfully flexible and gorgeously smooth theme for small enterprises or corporate websites. With the design of all-in-one, Etalon animates users with its over 20 clean and unique demos.
Well, believe it or not, what makes you obsess are is not just its unique aesthetic designs but also its formidable and practical features. With rich typography, you can carefully add your favorites ones to your websites. Of course, you can highly customize every element based on its vast WP resources with the help of page builder plugin let alone unlimited fonts and colors at your disposal.
Also, you can set parallax backgrounds to any page section with the CSS Buttery Smooth Parallax Scrolling option. In fact, Etalon devotes itself to offering a thoroughly clean and gorgeous experience to clients. You will feel it from modal windows to loading animations. No to mention, Etalon is fully responsive and adaptive, apart from its well-organized and super smooth flowing design.
Further, you can make a deep and long contact with your clients with its easy-to-use Contact Form 7. Other features like Woocommerce and translation ready, countdown timer promotion option, social media sharing function will also help to shine your websites.
Simple WordPress Travel Theme - Love Travel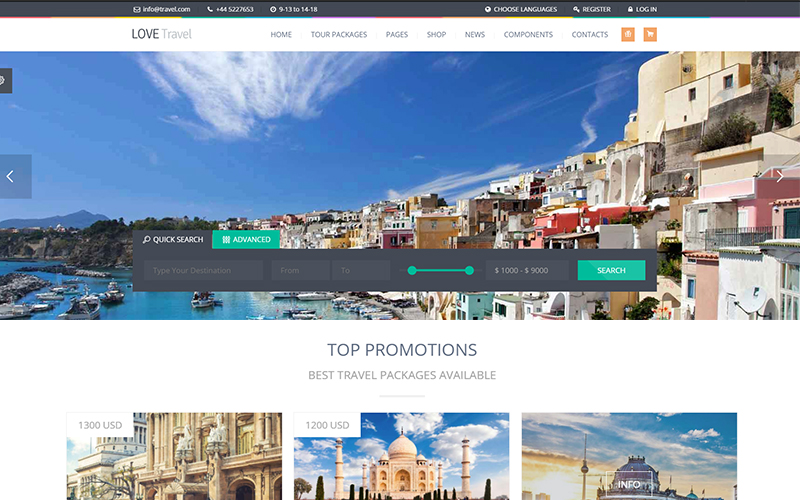 Love Travel is a responsive WordPress travel theme for a travel agency, tour operator, travel blog. In fact, with the design of clean and creative graphics, modern and flat and clean styles, Love Travel can be applied to any business website landing pages.
When talking about Love Travel's highlights, Love Travel is a theme creating based on its 1200 px grid system with 12 columns. It's a 100% fully responsive with flat and retina ready design. Since it's well integrated with Woocommerce, Contact Form 7, and premium WP plugins, you can highly customize anything on your pages with little code skill required. Well, all these features aim to create a smooth and enjoyable end-users experience.
Well, you can create some appealing elements to attract clients gather around on your websites. For instance, creating parallax or animated virtual effects on eye catchy places. Using a built-in countdown timer to arouse clients' traveling desires. So effective and appealing. Hit the road with Love Travel right now!
Beautiful wordpress Travel Theme - Cousteau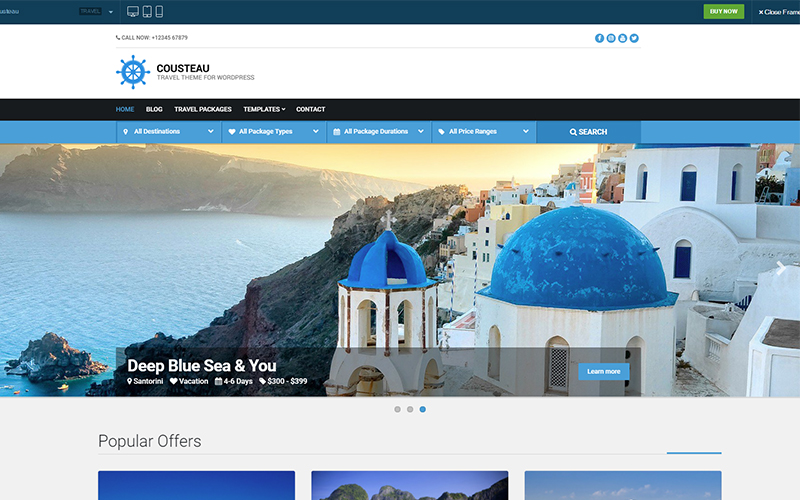 Cousteau is a premium WordPress travel theme with a trendy, sleek and modern design. Well, it's an ideal solution for small business landing pages, especially for travel agencies and hotels.
As one of the best WordPress travel themes, Cousteau empowers you highly customize your dream page layouts with its rich and gorgeous WP elements based on its premium plugins. Even though you are the person starting from scratch, you can get to operate this theme with skill and ease. Thanks to its Virtual Composer and Slider Revolution plugins, you are the divine creators of you dream websites. From parallax effects to video traveling records, you can create them in minutes.
Certainly, you need to add your resourceful and detailed traveling packages on your websites. The more versatile and considerate these schemes are, the more convenient your client will be. In addition, you can set some countdown timer promotions to appeal some potential clients to make their traveling decisions. Let's us go on a new journey with Cousteau!
One page WordPress Travel Theme - Altair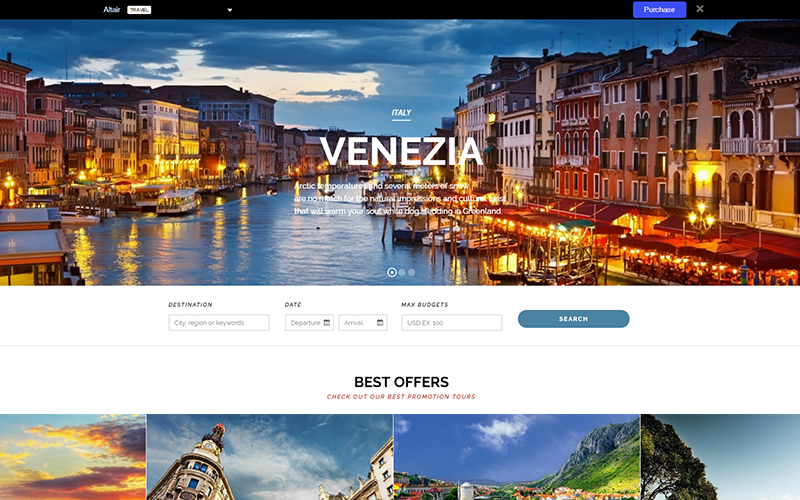 Altair is a modern and clean WordPress travel theme for websites of tourism-related business. Well, you may find it's a colorful and exotic styles theme with the features of 100% fully responsive and retina ready.
Like other one page WordPress themes and just as your first impression of it, you can create modern traveling websites based on Altair. All you need to do is just to fill with your considerate and versatile schemes. All the images of your gorgeous and exotic landscapes and well-recognized packages will be a charming and huge temptation for your potential clients. Moreover, you can vary your plans from the perspective of addresses, hotels, facilities. Your clients will know which one packages are the best according to their needs and interests. Hence, try to keep them stay on your websites by making good use of the Woocommerce and vast resources and rich WP elements of Altair. You'll thank Altair!
That's it. All of the above are the possible popular best WordPress travel themes. If you come across any problems in best WordPress travel templates download/install, or if you have no idea of how to start a travel blog or website, please inform us by the comment. To get more information about MageeWP WordPress themes or website building, please see our blog. Many thanks.
You can add these best WordPress travel themes to your circle on Facebook, Twitter, LinkedIn, Google+, Reddit, Digg to keep it updated on all the latest from WordPress.