New Free Business Theme: Cubby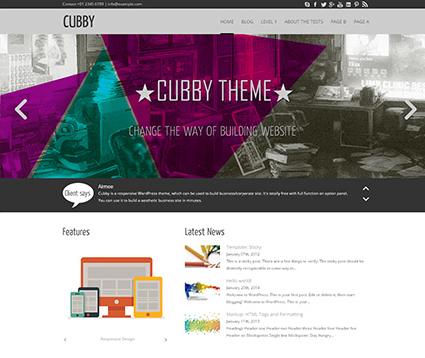 Cubby, a free business WordPress theme, is newly released by MAGEEWP, a web development and design company that provides diverse WordPress themes with not only attractive appearance but also functional features. All our themes are designed with high standards and latest web design trends, allowing users to build their websites exactly what they want.
Unlike our former themes, such as Zippy and Journal Box that come with blog or magazine appearance, Cubby is designed specifically for business purpose. No matter what your business is, Cubby helps you to create a website according to your requirements. All of the following basic features are guaranteed: responsive HTLM5+CSS web design for well display on all devices, highly adaptable and secure platform, easy customization, unlimited support and updates, etc.
Among various free business WordPress themes, Cubby is different for making your homepage extremely dramatic by grabbing one's eyes with its absorbing top slideshow. With clear and neat layout, the Home page displays the products of your business through various means of propaganda, such as Slogans, Features and Latest News, which guarantee direct and effective exhibitions of your products. The bottom carousel slideshow gives you the opportunity to introduce your business partners. One of Cubby's most obvious advantages is the flexibility of the slider options, thanks to multiple pictures and images can be easily attached through managing your "Cubby Options" in the admin panel. Automatic slideshows on the Home page provide customers much more information with less labor.
With all of the features and advantages explained above, Cubby offers you a perfect template for your business website, either aiming at giving information about a business or selling products online. Though we've claimed the business purpose of Cubby, you can also simply use it for your personal blog, since slideshow is also a good method to present your photos. Anyway, more benefits are waiting for your discovery, and moreover it's free.
For more information, please visit https://mageewp.com/