Magee Released New Free WordPress Theme Torch
Magee Released a new free WordPress theme Torch recently. With custom widgets included in this theme, users can easily create wonderful homepage and customize sidebar.
On Wednesday (Aug. 14), Magee officially released its new free WordPress theme Torch. On the Magee official site, free download is available now. Users can download and try this theme free.
About Torch
Bearing providing a free, easy-to-use yet powerful WordPress theme, Magee team developed this Torch theme. Using the latest coding technique and dedicate design, this theme should not let you down. It is somewhat similar to the previous themes, however, some new features are added to this theme.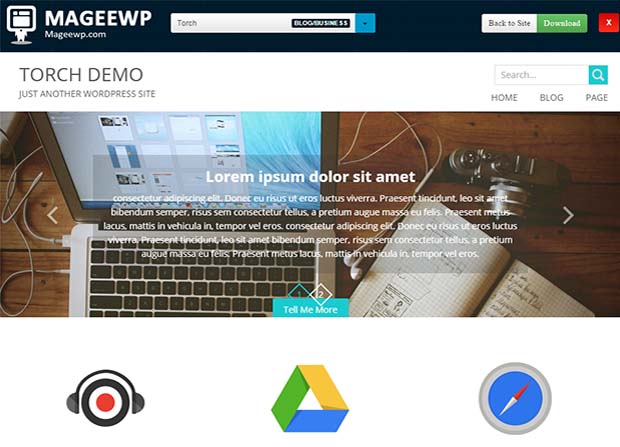 At first glance, this theme is like another theme from Magee—Meris. Yes, they are quite similar, especially in the home sections. Both of the two themes use widgets in the sections, or rather, the homepage of the two themes are composed with some widgets. This feature make the homepage easy to customize and flexible. Another impressive feature of this theme is the custom sidebar. Users can add widgets to the sidebar to display any content next to the pages and posts.
Key features
1. Responsive design
Built with Bootstrap 3 framework, Torch WordPress theme is fully responsive in all browsers such as IE, Firefox, Google Chrome, Opera, etc. It works fine in all desktops, tablet pcs, and smartphones.
2. SEO friendly
Taken SEO requirements into consideration, this theme is SEO friendly. Coded with standard HTML5+CSS3 language, this theme will be loved by search engines and make users sites rank high in the search results.
3. Custom homepage sections
The homepage of this theme is customizable. Users can add different custom widgets to the sections. So, it is very easy to add elements to the homepage. Creating a complicating homepage will not take too much energy and time.
4. 12 custom widgets are available
12 custom widgets are available in Torch theme, including Service, Slogan, Testimonial, Divider, Section title, Blog, Carousel, Portfolio, Post tab, Testimonial, Widget Slider, and Social network. These widgets almost contain every element you may need in a website.
5. 7 Custom sidebars
With the built-in widgets in WordPress and custom widgets, users get more freedom to custom the sidebars. In Torch theme, users can custom page left sidebar, page right sidebar, post left sidebar, post right sidebar, category sidebar, tag sidebar and archive sidebar, etc.
6. 4 page and post layouts
In Torch theme, users can set layout for each page and post. Four layouts are available: no sidebar, sidebar in both sides, left sidebar, and right sidebar.
Price and availability
Now, only free version Torch is available, and if the Pro version is ready, another press will be post here.