WordCamp Salt Lake City is going to be at Salt Lake City and County Building on September 10th!
Venue
WordCamp SLC will once again be held at the Salt Lake City-County Building in Washington Square. Paid parking is available at the Salt Lake Main Library parking garage across the street. Public transportation is also available and a Trax station is just across the street as well.
451 South State St
Salt Lake City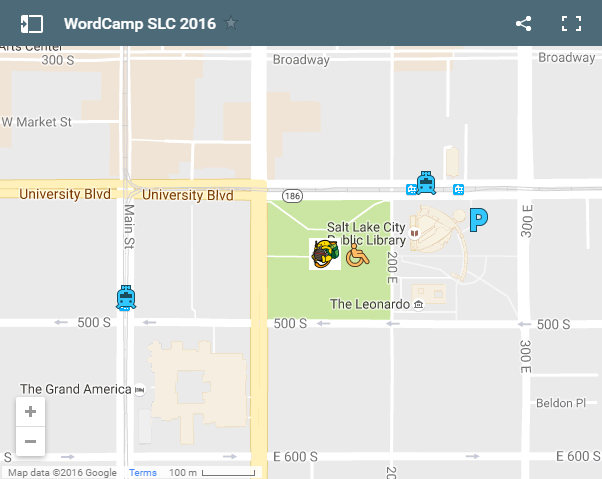 Schedule
Saturday, September 10th
All times subject to change before the event.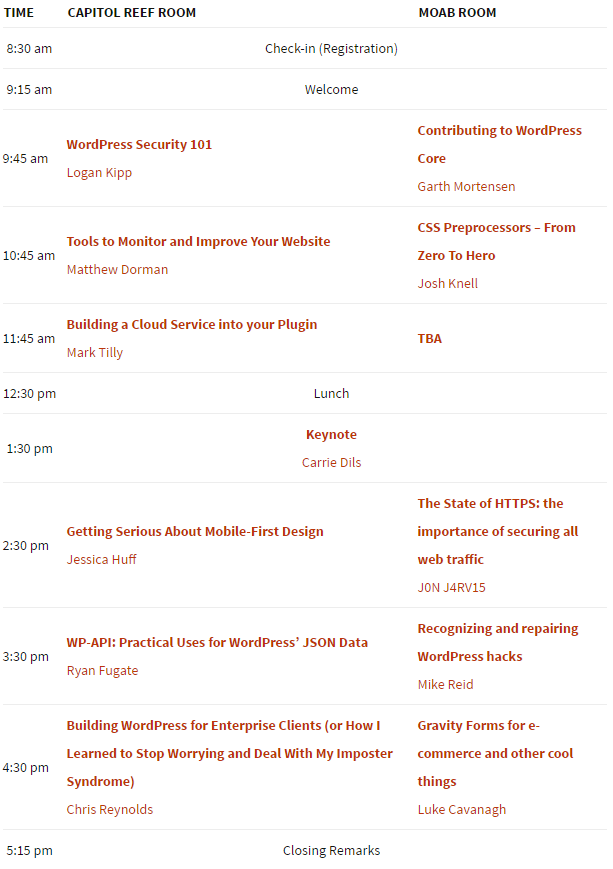 Speakers
Carrie Dils
I'm a WordPress developer, consultant, speaker, and teacher – I love sharing what I've learned with others to help them be more successful in their business. I host a weekly WordPress podcast at OfficeHours.fm and am a course instructor for Lynda.
Jessica Huff
Jessica Huff is the founder of The Pixelista, a creative agency specializing in business branding and WordPress web development. Her passion is working with small, women-owned businesses to create brands and websites that not only look great, but drive results.
Josh Knell
Josh Knell is currently CTO at SkyRocket Media. Josh works with a team of amazing WordPress developers as they support their flagship product: bestcompany.com (A WordPress MS site!) When Josh isn't coding you can find him hanging out with his family and playing computer games, preferably at the same time
Mike Reid
I currently work for BoldGrid as the Assistant Product Line Manager – where I research and optimize WordPress integration, which includes compatibility between plugins and the WordPress core. This means usability testing, studying how users interact with WordPress and BoldGrid, reviewing user feedback, and planning upcoming features and product releases. I was with InMotion Hosting as a senior technician and then supervisor for the Support Department. In these roles, I have seen literally thousands of hacked WordPress sites – so I can tell you what doesn't work and lessons learned from helping mitigate these hack attempts. I wrote our internal documentation for WordPress security and developed the scripts our support team uses for hack mitigation. Finally, I was responsible for conducting server reviews to evaluate a site's performance and how to better handle traffic spikes – so if you had a slow WordPress site, I was the guy looking at making it faster. Outside of work, I'm from Texas originally, a football fan (Go Aggies!), love strategy games, and consume the typical amount of nerd pop culture you would expect (Stephen King, Sherlock, Harry Potter, Marvel, and Grand Theft Auto)!
Chris Reynolds
Chris is a Developer Lead at WebDevStudios and has been building things with WordPress since around — long enough to remember 4 major WordPress admin redesigns. Chris is an author for the online developer training provider, Pluralsight, and has been involved with WordCamp Salt Lake City as a volunteer, speaker or organizer (or allof the above). When Chris isn't sitting in front of his computer, he can be found playing Magic: the Gathering, camping in southern Utah or cheering for Real Salt Lake.
J0N J4RV15
J0n is a resident of Utah and wants to help make the Internet a safer place for everyone. After speaking at Utah's SAINTCON on the importance of HTTPS he decided to extend his interest in secure communications beyond the Con and commit to advocating for widespread HTTPS adoption. He created SecureUtah to serve as an information resource as well as a public tracker of which prominent Utah websites implement HTTPS correctly. His goal is to work with and convince every website to switch entirely to HTTPS and to inspire advocates in other states to champion the cause in their communities.
Ryan Fugate
Hi, my name is Ryan and I'm a WordPress plugin, mobile app developer and BuddyPress contributor, developer.
Mark Tilly
Mark Tilly is the CEO of Target Info, the developer of the top ranked MyCurator Content Curation WordPress plugin first introduced. Mark has over 30 years of software development experience. He founded iMany (now Revitas) with a partner in 1988 to build client server software for Pharmaceutical firms and grew it to over $30 million in sales and an IPO. He has been working with WordPress for 6 years building, marketing and supporting the AI based MyCurator plugin utilizing Amazon cloud services.
Logan Kipp
Logan has been an intermittent WordPress user since "Strayhorn" 1.5 in and has used WordPress as a primary platform since "Coltrane" 2.7. Logan has over seven years experience in the website hosting and security technology field, starting with three years at GoDaddy, followed by four years at SiteLock. Logan most recently served as SiteLock's Lead Security Analyst before taking his current role as a Product Evangelist – WordPress earlier this year.
Garth Mortensen
Garth currently works on the WordPress Team at Bluehost as a Perl/Full Stack Developer. He is also the Release Deputy for WordPress 4.6.
Matthew Dorman
Matthew is a co-founder of Ndevr, Inc, a distributed WordPress development company. He started building websites as soon as he got an internet connection back in 1995, and hasn't stopped since. He built successful sites for clients as big as Time Inc., Johnson & Johnson and Fox News; and as small as, well you wouldn't even know who they are anyways. He recently moved West to Colorado, where he's thoroughly enjoyed camping and snowboarding with his wife and two boys.
Luke Cavanagh
Luke Cavanagh is a WordPress Core contributor, who hails from Maidstone in the United Kingdom. He is an avid Doctor Who fan, movie buff, music specialist, and a British TV nerd. He has extensive WordPress experience and currently resides in Utah with his lovely wife and daughters.
Parking and Public Transportation
Parking
There is parking available at the City Library located on 400 S between 3rd E and 4th E. The cost of this parking is $3 hour with a $12 max. There is parking on the street that is free on Saturdays but it is limited. Parking at the City-County Building is restricted unless you have a handicap permit. With a permit the parking is on the east side of the building and the ADA entrance is south of the main steps.
Trax
If you want to ride the local public transit, a day pass for Trax is only $6.25. You will need to find your way to the Blueline Route. Once you are on Trax you will need to find either Courthouse Station or Library Station. Library Station is about 1/2 a block east and Courthouse Station is about 1 1/2 blocks west of the venue. Both are within walking distance.