WordCamps are casual, locally-organized conferences covering everything related to WordPress, the free and open source personal publishing software that powers over 75 million sites on the web.
WordCamp DFW will be September 24th at The University of Texas Arlington.
LOCATION
University of Texas at Arlington (UTA)
E. H. Hereford University Center
2nd Floor
300 W First St, Arlington,TX 76010
PARKING
Parking is FREE in the College Park South lot (near the College Park Center building). If that lot is full, find an overflow parking space in a faculty/staff lot nearby. Parking elsewhere on campus may result in your car being towed, so choose wisely and look for signs!
TRANSPORTATION
There's a lot of great things about Texas, but convenient public transit isn't one of them. Both Lyft and Uber are available or, if you're flying in, you can easily grab a rental car.
LODGING
UTA is located within a couple of miles of the famous Dallas Cowboy's Stadium, the Ballpark in Arlington (home of the Texas Rangers) and Six Flags. That said, there are TONS of hotels around. You can also use airbnb or vrbo, if that's your thing.
Here's a handful of hotels within 5 miles of the UTA at a variety of price points. Please note that we have no arrangements with these hotels – we're just providing these suggestions as a starting point:
Americas Best Value Inn – $75.00/night
Courtyard Dallas Arlington South – $110.00/night
Sheraton Arlington – $169.00/night
Courtyard Dallas Arlington/Entertainment District – $179/night
Hilton Garden Inn – $194/night
Crowne Plaza Suites Arlington Ballpark/Stadium – $220.00/night
SCHEDULE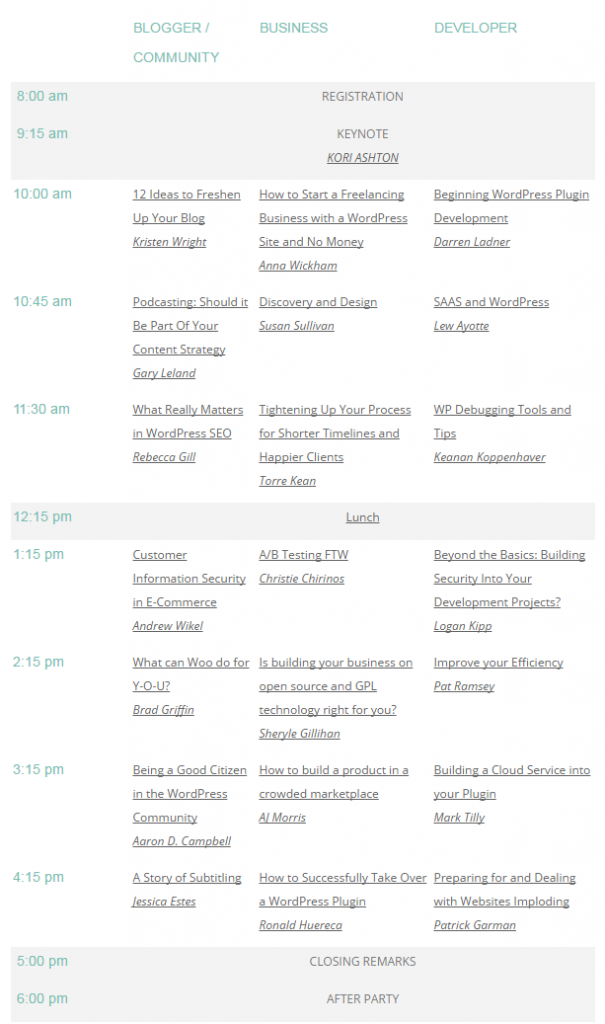 AFTER PARTY
Inevitably, after WordCamp comes to an end you might feel a pang, but it's not hunger (maybe it is…) But have no fear, your WordCamp experience doesn't have to end with the closing remarks! THERE IS AN AFTER PARTY!!!
CODE OF CONDUCT
Purpose
WordCamp DFW believes our community should be truly open for everyone. As such, we are committed to providing a friendly, safe and welcoming environment for all, regardless of gender, sexual orientation, disability, ethnicity, religion, preferred operating system, programming language, or text editor.This code of conduct outlines our expectations for participant behavior as well as the consequences for unacceptable behavior.We invite all sponsors, volunteers, speakers, attendees, and other participants to help us realize a safe and positive conference experience for everyone.
Open Source Citizenship
A supplemental goal of this code of conduct is to increase open source citizenship by encouraging participants to recognize and strengthen the relationships between what we do and the community at large.
In service of this goal, WordCamp DFW organizers will be taking nominations for exemplary citizens throughout the event and will recognize select participants after the conference on the website.
If you see someone who is making an extra effort to ensure our community is welcoming, friendly, and encourages all participants to contribute to the fullest extent, we want to know.
You can nominate someone at the Registration table or online at URL HERE.