WordCamp Nashville is set for Saturday AND Sunday, September 17 and 18, at redpepper and Deavor.
Location
This year's WordCamp Nashville is already turning out to be bigger and better than ever. Along with the move from just a one-day event to two solid days of WordPress goodness, this year's event moved from the Nashville School of Law in south Nashville closer to the heart of the city at redpepper and Deavor located in Historic Germantown.
For those coming from out of town, Germantown is a must-visit. For locals, there's no other area that is so close to the city center while also feeling like home. Germantown is listed on the National Register of Historic Places since 1979 and was Nashville's first suburb. It is one of Nashville's most architecturally heterogeneous neighborhoods, containing a significant concentration of Victorian building styles and has been designated as a city Arboretum by the Nashville Tree Foundation.
Nearby points of interest include: The Nashville Farmers' Market, home to up to 100 farmers and artisans, 16 restaurants and shops, and more than 50 merchants selling clothes, jewelry, home goods, and more; Bicentennial Capitol Mall State Park, where you can explore Tennessee via a 200-foot granite map of the state, a walkway featuring the 95 counties, 31 fountains representing the major rivers of Tennessee and an extraordinary wall depicting the history of the state; restaurants including Germantown Café, Monell's, Mad Platter Restaurant, City House, Rolf and Daughters, Butchertown Hall, and The Red Bicycle Coffee and Crepes; and the new First Tennessee Park, the new home to the Nashville Sounds, AAA affiliate to the Oakland A's.
Accommodations
Here are the recommended accommodations for WordCamp Nashville.
Millennium Maxwell House Nashville
Transportation: 
7 minutes via car, walking not recommended
Located north of downtown, this hotel is an affordable alternative to staying in the heart of downtown. You can get your honky-tonk on quickly via shuttle or ride-sharing. Taking your car downtown after the camp is not recommended, as parking prices are shocking and unpredictable.
DoubleTree by Hilton Hotel
Transportation: 8 minutes via car, 20 min walk via 5th Ave
A pricier alternative, this hotel is located in downtown proper within walking distance of downtown attractions. If you have a car, keep in mind the price of parking, which is not included in the room cost. Both lines of the free Music City Circuit bus also pass the hotel.
Transportation
Music City Circuit
Nashville runs a free downtown circulator bus that has two lines: Blue and Green. This is the cheapest way to move around downtown without walking. The Blue Line goes down Broadway (honky tonks!) to the Riverfront, and the Green Line goes down Demonbruen St to The Gulch (great places to eat). On weekends, the Blue and Green Circuits operate every 15 minutes from 11 a.m. to 7 p.m. and every 30 minutes from 7 p.m. to 11 p.m.
Lyft
Lyft is offering new users a free ride up to $20 using the code WCN16.
Schedule
Saturday, September 17th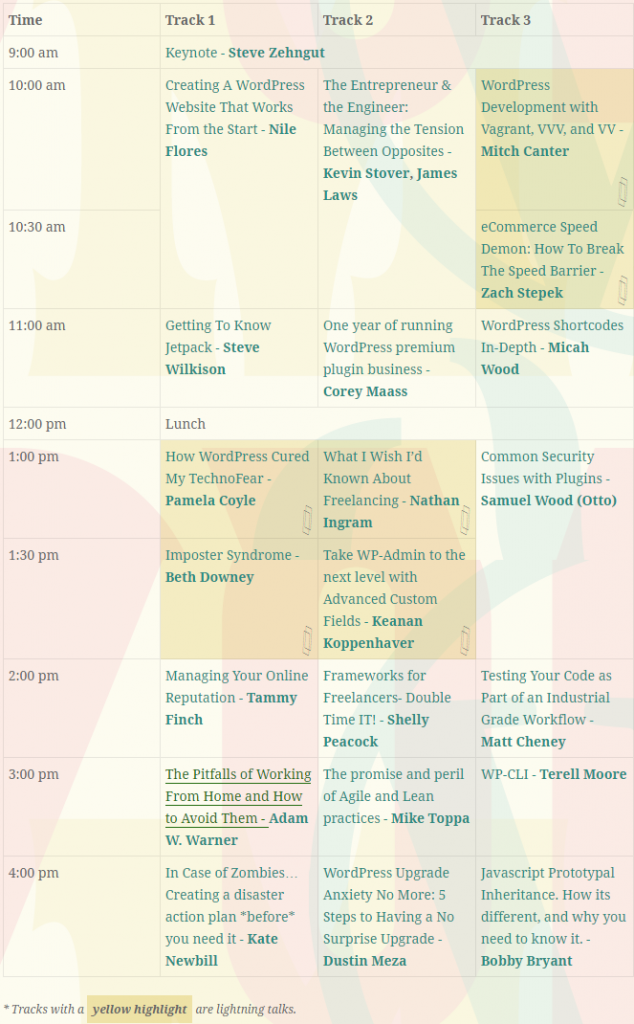 Sunday, September 18th

After Party
The WordCamp Nashville after party is the place to be once you've finished up a full day of WordPressing! Head across the river (less than 2 miles) to the Family Wash on Main Street in East Nashville for a chance to connect over drinks & appetizers with everyone you met during camp. You'll want to take advantage of this opportunity to talk one-on-one with your favorite speaker, find out more from our sponsors about what exciting new developments are happening in their businesses, and make the professional connections you might have missed during camp.
The Family Wash is an East Nashville institution famous for their live music and iconic shepherd's pie. Now in their newer, improved location, the WordCamp after party will take advantage of the large "FishBowl" room (still Shyster Free!), front patio and coffee area. Free parking is included in the venue lot, across the street at Center 615 and in the church lot "two doors" down on the west side of Bolton's Hot Chicken (Note: do not park in spots marked "Bolton's").
The after party will officially start at 6pm, so you'll have a few minutes to head back to your hotel room to freshen up, or grab one last cup of coffee before trekking across the river.
The Family Wash