WordCamp Pittsburgh is a casual, locally organized conference covering everything related to WordPress. WordCamps happen all around the world, and each camp is a unique experience based on the local community.
This first WordCamp Pittsburgh will be held on Saturday, September 17, and will be filled with sessions covering topics for developers, content creators, beginners, designers and more.
LOCATION
WORDCAMP VENUE
Art Institute of Pittsburgh
420 Boulevard of the Allies, Pittsburgh, PA 15219
September 17th
Registration: 7:45 a.m.
Event: 8:30 a.m. to 4:45 p.m.
Check out Parking, Transportation and Hotel Details
AFTER PARTY VENUE
Sharp Edge Bistro on Penn
922 Penn Avenue
Pittsburgh, PA 15222
(0.6 mile walk from Art Institute)
SCHEDULE
SATURDAY, SEPTEMBER 17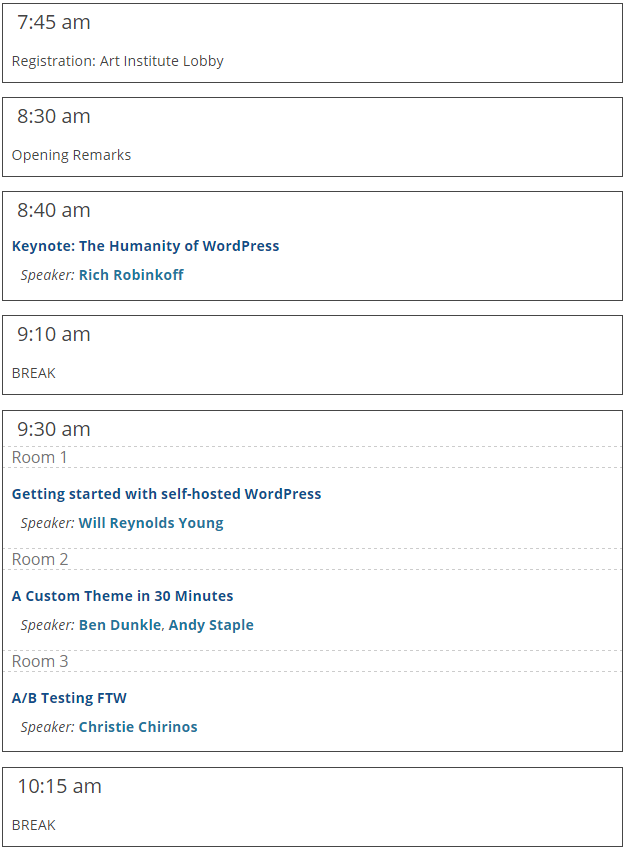 VISITING PITTSBURGH
Downtown Pittsburgh is an extremely walk-able city, and there's a lot to see and do when you're there.
DIRECTIONS
The Art Insitute of Pittsburgh is located at 420 Boulevard of the Allies, Pittsburgh, PA 15219
HOTELS
If you're looking for a place to stay, there are many hotel options in Downtown Pittsburgh. Most of them charge for parking in addition to your stay. If you are driving to Pittsburgh and are looking for a cheaper option, the hotels in Green Tree are just outside of downtown. You would then need to drive into downtown, where Saturday parking is usually in the $5 to $6 range for the day.
Sheraton Station Square
Station Square is just a short walk/drive across the Smithfield Street Bridge from the Art Institute of Pittsburgh. If you happen to venture there, you'll have access to something uniquely Pittsburgh – the Duquesne Incline. You can ride the incline up the hill to Mount Washington and take in the gorgeous view of Downtown Pittsburgh.
Pittsburgh Marriott City Center
Hilton Garden Inn Pittsburgh Downtown
Doubletree by Hilton Hotel & Suites Pittsburgh Downtown
Wyndham Grand Pittsburgh Downtown
There are also some accomodations available a little outside the city, along the most common route from the Airport into the city:
Hampton Inn Pittsburgh/Greentree
Crowne Plaza Pittsburgh West-Green Tree
AIRBNB
Pittsburgh also has a few listings on airbnb, though most are outside of the downtown core and are not walkable to the venue.
AIRPORT
The closest airport is Pittsburgh International Airport (PIT).
Pittsburgh International Pittsburgh
If you're flying into Pitsburgh, here's some transportation options available at the airport.
PUBLIC TRANSIT
Pittsburgh does have a limited bus and light rail system, though service is limited in many areas on the weekend. Learn more at Port Authority's Website.
Pittsburgh also has Uber and Lyft.
PARKING NEAR THE ART INSTITUTE
There are lots of places to park in the area. Below are some of the closer parking garages. If you're staying at an area hotel, you might want to ask if there's shuttle service available if you want to avoid driving in an unfamiliar city.