WordCamp Birmingham will be on Saturday, October 29th, at The Harbert Center.
Location
WordCamp Birmingham is being held in the heart of downtown Birmingham, at the Harbert Center.
Harbert Center
For nearly 30 years, The Harbert Center has been home to more than 20 of Birmingham's top civic clubs, associations, and nonprofit organizations, which meet here on a regular basis. Exquisite food, downtown location, convenient parking, and state-of-the-art event facilities provide the ideal atmosphere for productive business meetings and memorable social gatherings.
DIRECTIONS
Located in the heart of downtown Birmingham, The Harbert Center is easily accessible by major highways and interstates, just minutes from the Birmingham International Airport, and within walking distance of downtown hotels, office buildings and convenient, secured parking.
PARKING
Birmingham Parking Authority deck #3 is located directly across the street from The Harbert Center on 4th Avenue North between 20th and 21st streets.
Schedule
Saturday, October 29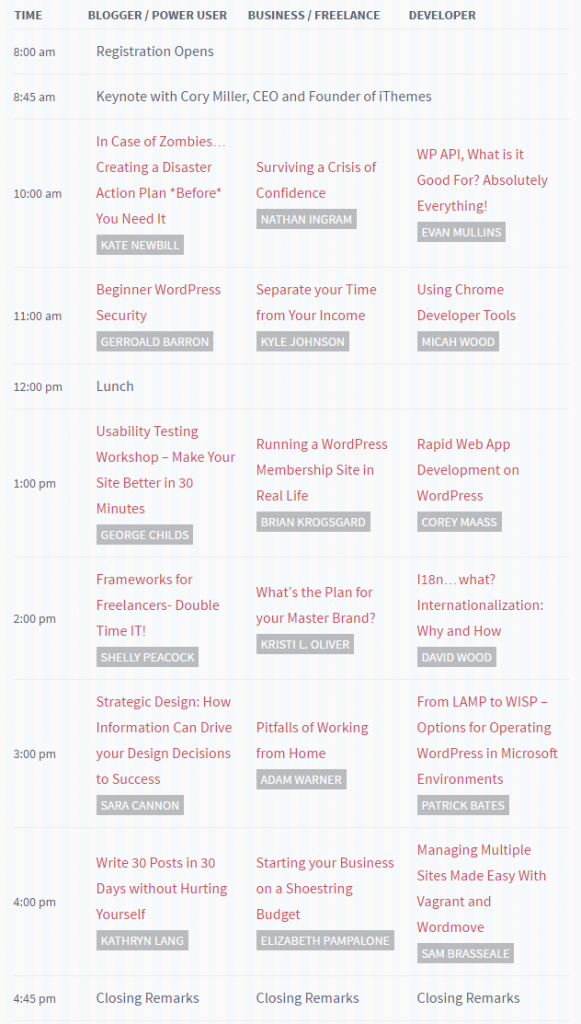 Here are a few tips to keep in mind:
Get here! Use the map, on this page, to get your directions. Also, once you are here and registered, look on the back of your badge to see a map of the location of lunch spots and the afterparty. The parking lot across from the Harbert Center on Richard Arrington, Jr. Blvd. and 4th Avenue North will be free for WordCamp attendees.
Keep track of your badge. It is your admission to Harbert Center activities and contains coupons and your food tickets! We like to recycle the lanyards, so once the day is over, drop it off at the swag table.
Follow and use the #wcbham hashtag on Twitter. A lot of attendees will post quotes they like, photos and other fun stuff. The WordCamp Birmingham Twitter feed will also use this hashtag for updates throughout the day.
Follow @wordcampbham on Twitter. We will post updates and maybe even share some of your Tweets! If you post to other social media websites, such as Facebook or Instagram, feel free to use #wcbham as well.
Stay on track. You'll notice the schedule runs in three columns: the first for the user/blogger, the second for a business or freelancer, and the third for developers. Feel free to use one track or mix and match.
Don't forget about the afterparty! This year's will be at Rogue Tavern starting at 7 p.m. out on the patio. Bring your WordCamp badge.
Code of Conduct
Expected Behavior
Be considerate, respectful, and collaborative.
Refrain from demeaning, discriminatory or harassing behavior and speech.
Be mindful of your surroundings and of your fellow participants. Alert conference organizers if you notice a dangerous situation or someone in distress.
Participate in an authentic and active way. In doing so, you help to create
WordCamp Birmingham and make it your own.
Unacceptable Behavior
Unacceptable behaviors include:
intimidating, harassing, abusive, discriminatory, derogatory or demeaning conduct by any attendees of WordCamp Birmingham and related events. All WordCamp Birmingham venues may be shared with members of the public; please be respectful to all patrons of these locations.
Harassment includes:
offensive verbal comments related to gender, sexual orientation, race, religion, disability; inappropriate use of nudity and/or sexual images in public spaces (including presentation slides); deliberate intimidation, stalking or following; harassing photography or recording; sustained disruption of talks or other events; inappropriate physical contact, and unwelcome sexual attention.
Consequences Of Unacceptable Behavior
Unacceptable behavior will not be tolerated whether by other attendees, organizers, venue staff, sponsors, or other patrons of WordCamp Birmingham venues.
Anyone asked to stop unacceptable behavior is expected to comply immediately.
If a participant engages in unacceptable behavior, the conference organizers may take any action they deem appropriate, up to and including expulsion from the conference without warning or refund.