Bon Appetit WordPress Restaurant Theme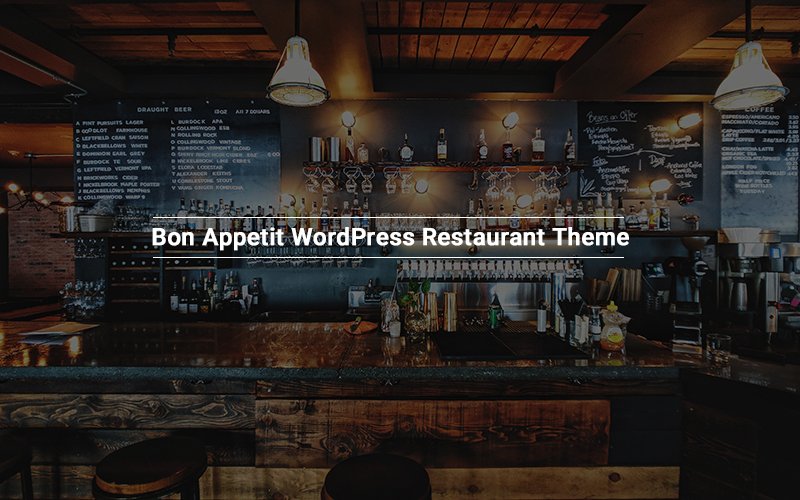 In order to display all of your tasty food and win the reputation of your restaurant, you should build a stunning website that uses bon appetite WordPress restaurant Theme. Maybe you are a restaurant owner or an expert chef, and you feel confusing when coming across the web design and other professional sides. Whether you have a thriving restaurant or not, you should have the best restaurant WordPress themes for business. Also, the WordPress restaurant theme will take some positive influences for your restaurant and brand. What is more, it will turn your restaurant into a higher level restaurant.
A few years ago, restaurant owners spend a lot of budgets in a professional website. They are stumped by the web design. But it's too expensive for them to invite the professional people to build the website, and it also takes some time, even several months. Although a wonderful restaurant WordPress website will bring their restaurant a good benefit, they might give up building their own for an expensive budget. To overcome this problem, we develop a convenient tool – WordPress Restaurant Theme for you. You can use no codes knowledge to build your own style website in a short time.
There are a variety of best restaurant WordPress themes in the online market. They have a different kind of layout styles, different navigate sections and warm services and so on. You can change the sections, features, and more to set up your beautiful restaurant WordPress website effortlessly.
Let's look at the top collection of restaurant WordPress themes now:
VW – Multi-purpose WordPress Restaurant Theme
VW Theme Restaurant is a multi-purpose, functional and professional template. If your restaurant's main dishes are café, pizza, fast food, this WordPress restaurant theme will super suitable for your restaurant. Due to its functionality, you can display your dishes menu with the price on this VW Restaurant Theme. Thus, your customers will take an interest at the first time.
However, this WordPress Theme's layouts, testimonial sections, blogs, stunning pages & post design are different in inner and homepages. When you click "PAGE WITH LEFT/RIGHT SIDEBAR", the landing page's left/right will come out the convenient sidebars so that you can access any page. With this creative design, the inner pages become more advanced. Also, the translation is ready for you because this WordPress restaurant theme was built with bootstrap.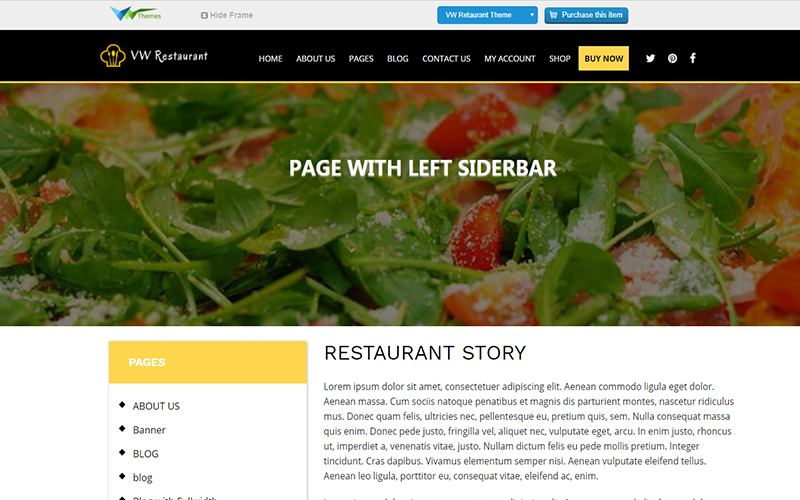 In addition, it's compatible with every browser, social media, language, and so on. Even more remarkable, this wonderful WordPress restaurant theme is completely free. Thus, you can download it to enjoy some basic features such as theme customization, responsive design, logo upload, etc. By the way, you will love it after using it for some time.
WordPress Restaurant Theme Key Features
Theme Customization
Responsive design
Logo upload
Social media Links
Slider Settings
Unlimited of slides
6 Template pages
1 Home Pages Template
1 Contact us Pages Templates
3 Blog Templates & Layout
2 Page Templates and layout
Full Documentation
Latest WordPress Compatibility
Woo-commerce compatibility
Supports 3rd Party Plugins
Secure and Optimized Code
WordPress Restaurant Theme Highlighted Features
Exclusive functionalities
Section Enable / Disable
Section Google Font Choices
Gallery
Simple and Mega Menu Option
Support to add custom CSS/JS
Shortcodes
Custom backgrounds, colors, Headers, Logo & menu
Premium membership
Budget-friendly value
Priority error Fixing
Custom feature Addition
All Acess Theme pass
Seamless customer support
SKT Lite - WordPress Restaurant Theme
SKT Restaurant Lite is one of the most responsive & free WordPress themes in the market. This is an outstanding WordPress restaurant theme because it can meet all the requirements of restauranteurs. Also, the sidebar is easy-to-use so that you can display 5 different parts effortlessly. By the way, this theme is compatible with price table plugins, nextgen gallery, contact form and WooCommerce, which caters to showcase the inside menu card, menu items, gallery of foods, inner contact forms, etc. Also, you can change the menu, front page, and other sections on the homepage with customizer options.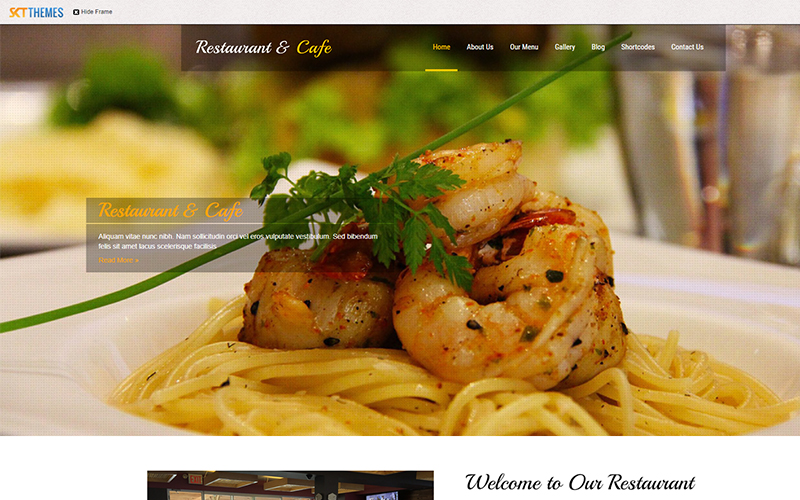 In addition, SKT Restaurant Lite WordPress theme uses the design of slideshow on the homepage. You can put 3 bon appetit food pictures or others on it to demonstrate your signature dishes to visitors. The most important thing is most visitors will be attracted by this highlighted design which leads them to place some orders successfully. With this unique layout of the homepage, you can show the yummiest dishes, restaurant information, today's special dessert or discount, the full menu and more on one-page. Also, it uses the most professional layout to hold the clients and win a good reputation for your restaurant.
WordPress Restaurant Theme Features
Restaurant lite is a free restaurant website templates.
Easy to set up theme with customizer API used.
Is multipurpose and can be used for other industries as well.
Homepage content can be easily set up by clicking on Appearance>Customize
This free restaurant WordPress theme is mobile friendly and responsive
Compatible with Nextgen gallery, WooCommerce, Contact form 7 and other many popular plugins
Default slider can be used to host 5 different slides
Pricing table plugins also compatible for menu items
SEO friendly and SMO friendly
Theme check and other WordPress standard tests passed
Compatible with the latest version of WordPress
Coded with HTML5 & CSS3
Chinese – Relax Restaurant WordPress Theme
This WordPress restaurant theme is an elegant, relax, clean, super flexible and responsive template. If you are a Chinese restauranteur or Chinese foodie, your needs will be extremely catered to this Chinese WordPress restaurant theme. Let's get into this excellent restaurant template's world now!
In addition, this Chinese WordPress restaurant theme's layout will make you more comfortable than ever before. Furthermore, its dominant color is brown – just like the color of Chinese food, exuding the smell of cooked dishes which will attract people to taste it. Also, you can change the color if you do not like brown. It uses the slideshow on the homepage, you have the chance to put two attractive pictures to win customers' heart.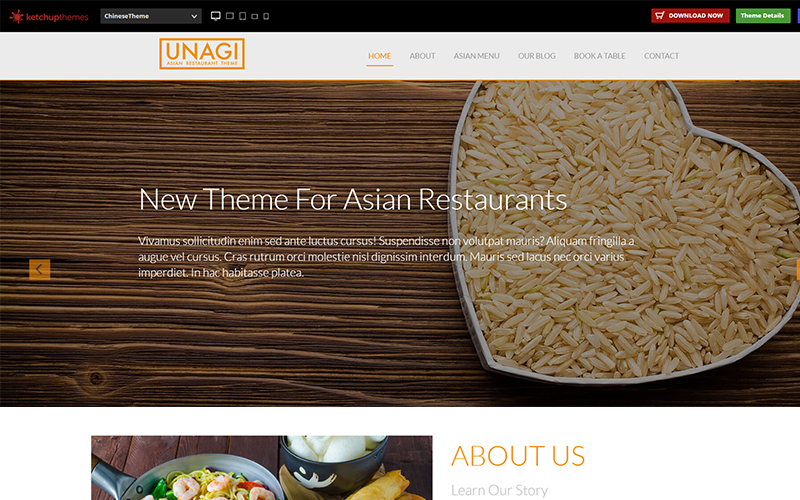 By the way, the Chinese WordPress restaurant theme has massive amounts of services. The services are as important as the products. Such as superior support, constant updates, translations and more. You can preview your native theme through the WordPress customizer, and apply the WordPress customizer to directly take any change that you want. Also, this WordPress restaurant theme provides you the service of SEO optimization. That is to say, your website will be promoted by this functional WordPress theme, and it will be easier to be found on search engine results. At last, your website will show the best performance to every consumer.
WordPress Restaurant Theme Features
Responsive
Restaurant Menu
Reservation
Theme Customizer
Multiple Shortcodes
Color Variations
Responsive Slider
ZARA – Multimedia Restaurant WordPress Theme
ZARA WordPress restaurant theme is a functional and multimedia WordPress theme. This restaurant WP theme looks unique out of many WordPress themes because of the dynamic picture. Also, this dynamic picture will catch your eyes firmly, and it's so real that seems like smelling the meat's taste.
In addition, this WordPress Theme has 8 pages and allows visitors to book a table. What is more, the whole WordPress restaurant theme is elegant and special: you can show the information of food and drink with an interesting hover effect. Also, you can display your food classification and the specific menu list with clickable pictures or icons. With this WordPress restaurant theme, you can put your chef's information and picture on the homepage to show your restaurant's professionalism. At last, all the things become intellective and elegant.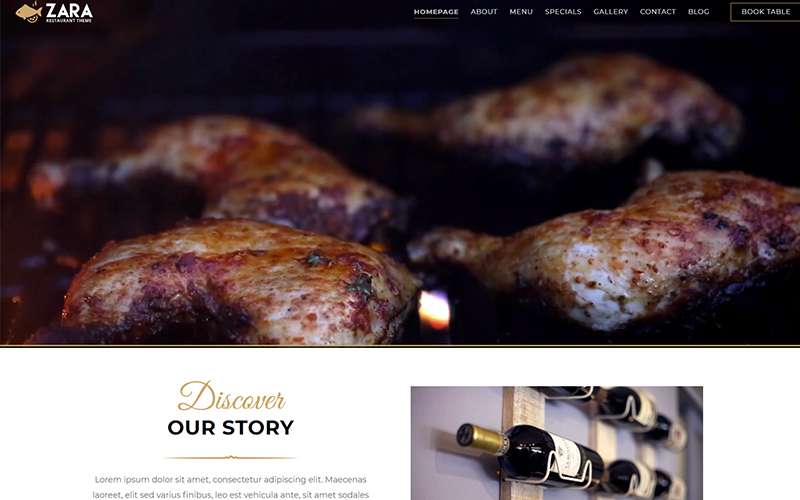 By the way, if you have some news or food's introduction, you can publish it on the website's blog. Every page of the blog is exquisitely, and will attract more visitors coming to your website. Also, it has a comment module in the bottom of every blog page, and you will receive many suggestions through the interaction with consumers.
In addition, consumer's suggestion plays an important role in a restaurant's development. You can adjust the category of dishes, menu style or more according to their ideas to make the restaurant grow stronger.
WordPress Restaurant Theme Features
Menu animations
Hover effects
Master Slider Pro
Menu Slider
Gallery
Reservation forms
Hermis - DIVI WordPress Restaurant Theme
Hemis DIVI WordPress restaurant theme increases a hex color feature that bases on the original DIVI WordPress Theme. What is more, the whole theme looks like a dreamy tower which is full of goodliness. Also, the website uses the special effect feature so that the menu looks as if a book. You can submit the specifical information to book a table quickly. This was all great, but the real kicker was that visitors can click "VIEW DETAILS" in the EVENTS module to see the information of right. When you click the "VIEW DETAILS" again, the information will be hidden on the interface. Also, you can show your restaurant's team, blog and so on in other modules.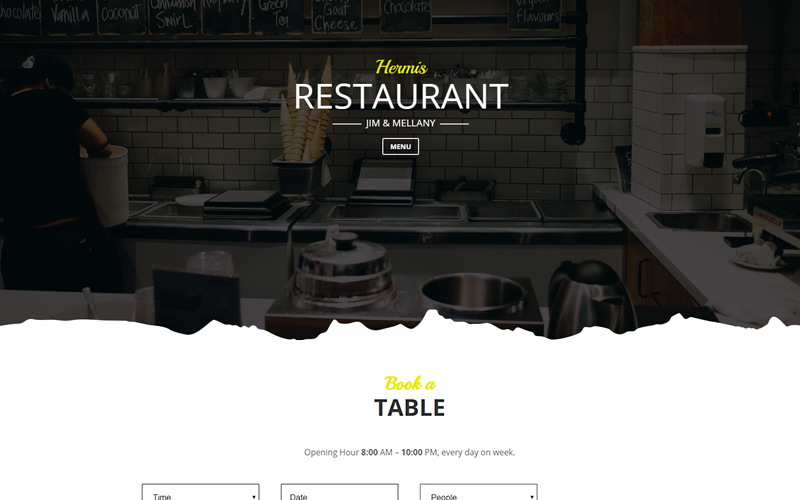 Maybe you have a question: Where are the navigations? That's the ingenious thing about this template. It has two icons on the left and right. When you click the right icon, an elegant navigation will appear. You can jump to any page by clicking the button. By the way, the left icon is a convenient feature that changes the color of typeface and button. You will turn back the original homepage easily by clicking these two icons. This WordPress restaurant theme is such a flexible theme! Also, it's one of the most creative WordPress themes in the world! At last, I think you can't refuse this amazing WordPress restaurant theme.
WordPress Restaurant Theme Features
Book-style menu
Reservation system
Events
Gallery
Custom blog
Vertical menu
Custom footer
Hex color customizer
Hover effects
Gusteau - Stylish Restaurant WordPress Theme
Gusteau, an elegant WordPress restaurant theme, which is custom made for every restaurant. Also, it can be used in coffee, bar, food and more. By the way, this wonderful WordPress theme is the most popular restaurant template in ThemeForest. For example, smoothly parallax effect, easily booking, excellent menu, gallery layout, beautiful and unique shop layout.
In addition, the amazing parallax effect will increase your WordPress restaurant theme' fluency to the maximum. Also, Gusteau is completely compatible with an open table to help your customer book table easily. As a restaurant template, the menu is one of the most significant parts of website's features. By the way, the Gusteau' menu is fancy than other WordPress restaurant themes. It has 3 restaurant menu styles with basic information, such as dishes price, food image and clear description of the receipts.
What is more, you can sort out your Bon appetite dishes to some clear category, such as Salad, Shrimp, Oyster and much more on this special menu. Furthermore, Gusteau is fully compatible with most of the browsers, such as Firefox, Safari, Chrome, IE 9, 10, 11, Edge, Opera. You can safely use this restaurant website template with perfect pixel and size on these browsers.
In addition, to manage this WordPress restaurant theme easier, Gusteau provides the easy-operate Contact Form 7 to receive customers' feedbacks and questions. Once downloading this WordPress restaurant theme, you will enjoy the services of free support and lifetime update. Also, the best one page WordPress theme has rich kinds of fonts and icons: 519 icons with awesome fonts, 160 simple line icons, 671+ Google fonts, and plus the custom fonts' integration.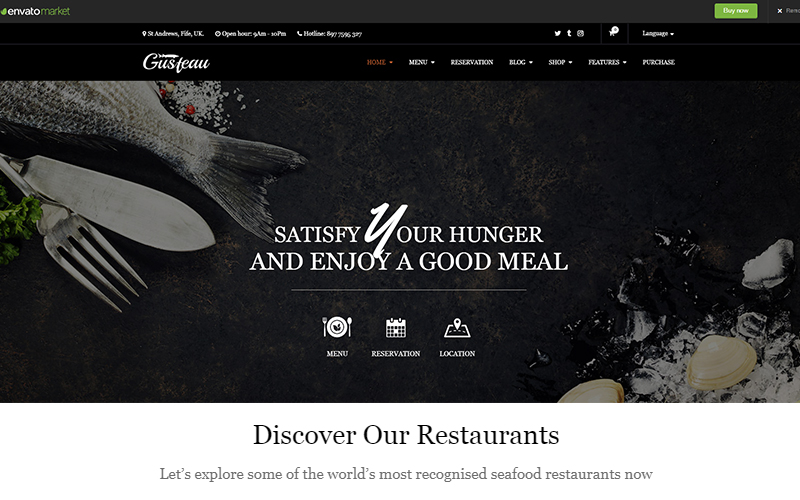 What is more, Gusteau has some practical plugins, such as Visual Composer, Slider Revolution, WooCommerce, Contact Form 7 and advanced custom field (Pro Version). All of them are completely free. The most noteworthy thing is that you will get a free PSD Gusteau after purchasing this WordPress restaurant theme. Hurry up to get this WordPress restaurant theme if you are interested in this wonderful discount.
WordPress Restaurant Theme Features
3 beautiful restaurant menus styles and 4 outstanding premade header styles
Fully compatible with Open Table to help your customer reserve a meal easily
Booking a table has never been so easy with our theme
Amazing parallax effect to make a fancy WordPress Restaurant site
Offers an easy to use Contact Form with Contact Form 7 ready for customers
Provides social media feature
519 font awesome icons, 160 simple line icons, 671+ Google font, plus custom font integration
100% Responsive & Mobile-Friendly
Fully/ partially demo data import
WordPress Restaurant Theme Highlighted Features
Cross-browser compatibility: Firefox, Safari, Chrome, IE 9, 10, 11, Edge, Opera
100% translatable with .po file
Speed optimized with a grade from page speed test
30+ helpful shortcodes
Free support and lifetime update
Packaged and compatible with many popular plugins
More than 44 social options and even more custom social icons are able to be uploaded to create highly shareable contents