Best App Showcase WordPress Themes
WordPress App theme, specially designed for your app's needs, include great features to efficiently flaunt the strengths of your product and encourage people to purchase or download your mobile application.
WordPress App Theme - Agile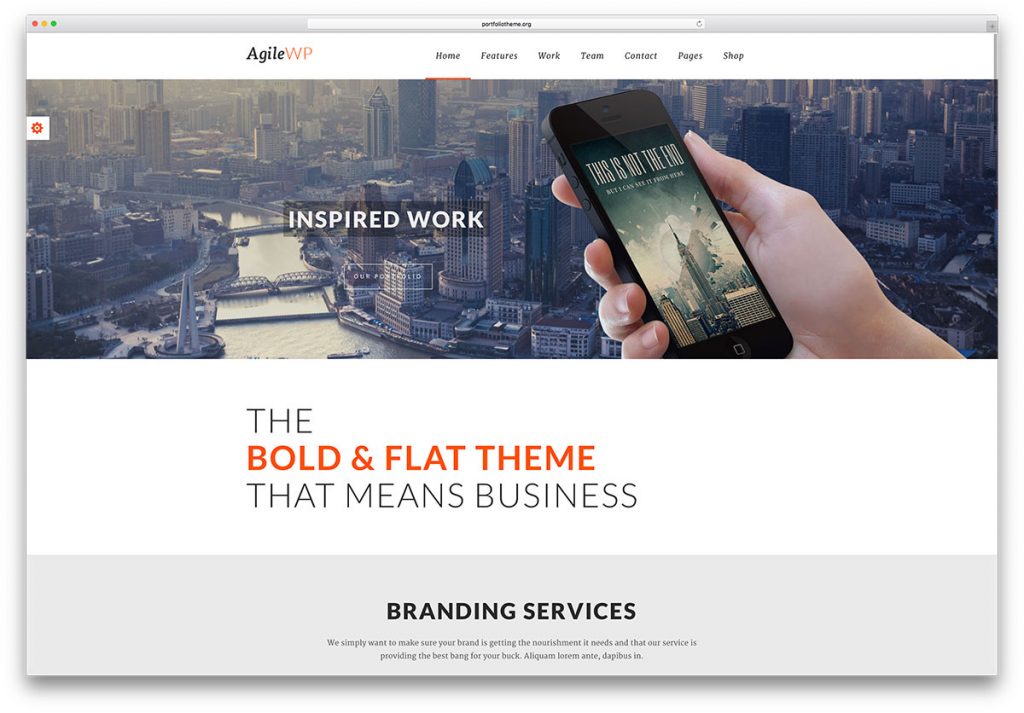 WordPress App theme - Agile MultiPurpose App Showcase WordPress Theme has proved to be one of the most popular multi-purpose themes of recent times in ThemeForest. Its stunning design, clean typography and rich features has resulted in Agile being used across surprisingly wide variety of domains – product showcase, mobile app showcase, design agencies, personal portfolio, corporates, photography, college or schools, small businesses, restaurants, travel, real estate, lawyer or law firms, medical health, sports etc.
Agile comes with a choice of two of the most popular page builders for WordPress – Visual Composer and SiteOrigin Page Builder, each with nearly a million installations. The theme pages are built using Visual Composer and SiteOrigin page builder separately and you can choose either of these two page builders for page composition.
Agile comes with support for about 50+ custom Visual Composer addons and 40+ custom SiteOrigin page builder elements/widgets that are accessible for easy insertion and configuration in their respective page builder including the ones that are part of our popular SiteOrigin widgets plugin. So, building a great website is now as easy as drag/drop/configure and publish.
Agile MultiPurpose WordPress App Theme is one of the most versatile themes that can serve multiple needs – app or product launch/showcase sites, portfolio sites, general corporate sites too. The site Agile can be single page or multi-page depending on the user configuration. Agile theme incorporates the best of several portfolio and corporate themes and popular app showcase theme that we have built in the past year.
WordPress App Themes Features
Unique Design with Cutting Edge Features
– The theme support for large twelve column 1180px grid, wide backgrounds that span entire browser width, premium shortcode builder, trendy mobile menu, easy to use YouTube/HTML5 video sections/backgrounds, smooth scrolling parallax backgrounds/headers, animations, statistics, revolution slider, bold typography, unlimited colors, unlimited page/post header styling etc. makes it one of the most modern themes in the its category.
60+ Shortcodes with Premium Shortcode Builder
– The theme now features a premium shortcode builder with an user friendly GUI for each of the 60+ shortcodes. The shortcode builder provides input plus inline documentation for each parameters that shortcode takes. Easy to use shortcodes help to breeze through development. Many powerful functions like parallax sections, video backgrounds/headers, responsive sliders, animated statistics are all simple shortcodes. Every shortcode with all of its parameters have been documented in detail.
6+ Custom Post Types with backend UI
– More than 6 custom post types with domain relevant data attributes have been created with a user friendly backend UI for inputting data related to team members, sliders, gallery, pricing plans, testimonials etc. The intuitive backend UI for input of data helps avoid dealing with custom HTML and speeds up development immensely.
Easy to Use/Configure Page Sections
– The theme builds on the concept of page sections which enables you to work on your site incrementally on individual page elements independently and then compose a page instantly via drag and drop interface.
Single Page/Multi-Page
– Agile can be used to design single page sites just as easily with the help of page sections. Internal navigation using smooth scroll is supported for top level internal links in the menu. The page sections composing a page can be opened for editing right from the frontend.
Intuitive Admin Panel with 200+ Options
– Large number of options ensures that you get to configure many elements of the site with a click of a mouse button. The Custom CSS option helps you further tailor the theme to your needs without touching the original source code.
Easy Customization
– Along with many theme options, the theme comes bundled with child theme. When you have minor changes to make, the custom.css file, custom-functions.php and Custom CSS tab in theme options are invaluable help.
Modular Framework
– Quality code, semantic markup, standards compliance are core strengths of the common framework that powers our themes. Modular code promotes code reuse and helps us release fixes/updates more quickly.
Portfolio and Gallery Support
– The theme sports powerful Portfolio features including shortcodes for insertion of Portfolio/Gallery practically anywhere in the site. Along with support for native gallery shortcode from WordPress, Agile lets you create gallery items and insert them wherever you need using powerful shortcodes that support filtering, packed/spaced layouts etc. Page templates for portfolio and gallery items lets you do lazy load on portfolio/gallery items and paginated category archives help manage large portfolio/gallery collection.
1500+ Retina Icons and 500+ Google Fonts
– Quality font icons bundled with the theme help speed up development. The theme options panel lets you choose from 500+ Google fonts for headings, body or meta elements.
Boxed/Wide Layout
– The theme can be configured for a boxed or stretched layout with a single click of a button. The theme options lets you set custom color, pattern or image as background for the boxed version.
Excellent Support
– Dedicated support forum helps us provide better support through issue tracking, search and having users help each other. It helps build a knowledge base from which all users benefit.
Extensive Documentation
– The 75+ pages of documentation tries to address all aspects of theme usage. Each and every section has visual screenshots for easier understanding of the theme functions. Additionally, the theme options panel has detailed documentation for every option.
Animo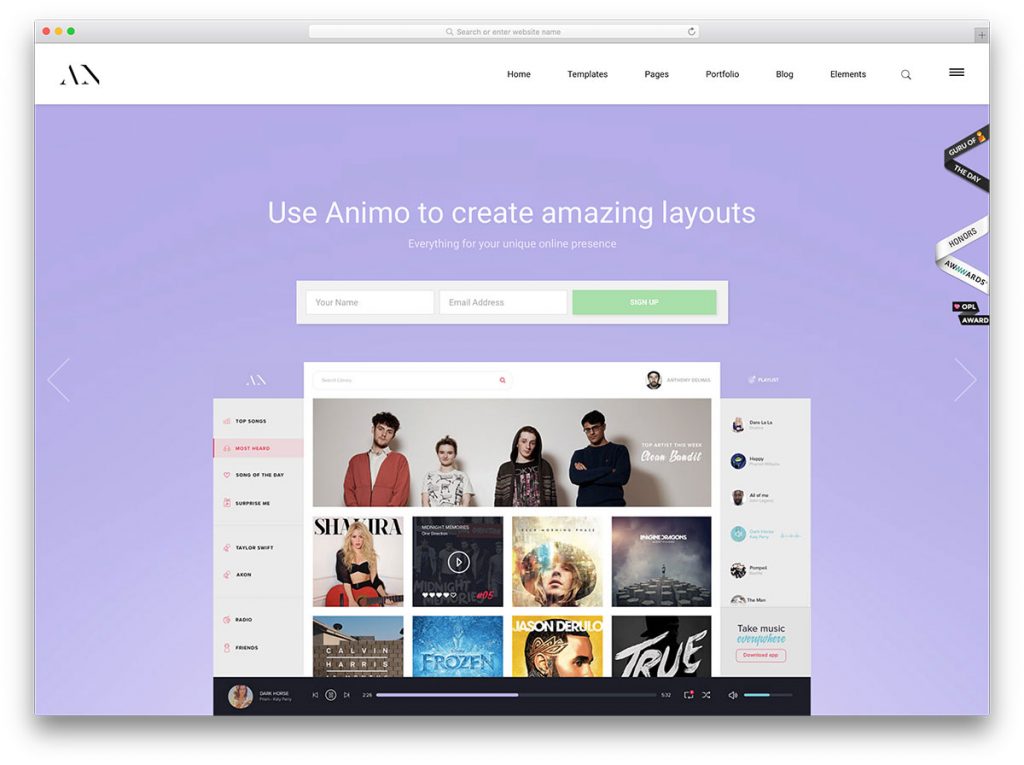 WordPress App Themes - Animo is an Award-winning WordPress theme based on design, creativity, UI & UX. It is suitable for any niche. Animo is crafted with care for each elements and pixels. This is an unparalleled theme packed with features. With Animo, the sky's the limit.
WordPress App Themes Features
Customizer
The Customizer is a framework for live-previewing any change to WordPress. It provides a simple and consistent interface for users to customize various aspects of their theme and their site, from colors and layouts to widgets, menus, and more.
Responsive
Almost every new client these days wants a mobile version of their website. It?s practically essential after all: one design for the BlackBerry, another for the iPhone, the iPad, netbook, Kindle ? and all screen resolutions must be compatible, too. So, don't be worry about obtaining these set's of features, we do already had included in Animo. Let's test it.
Typography
It's the small details that make a project shine. Solid typography, well-crafted with attention and care is one of them. A harmonious visual rhythm, typographic subtleties like soft caps, margin outdents or the correct use of hyphens and dashes ? there are a lot of things that add up to it.So, we do have included all google font sets just to make easy and useful, you can adjust color, size, line-height and so on.
Page Builder
Our customers has endless possibility to make layout as they want, we do have included visual composer plugin to add block of shortcodes to page, just drag and drop.
Shortcodes
Animo includes tons of shortcodes to make endless layout. With Animo, we?ve built 33 shortcodes, allowing you to build virtually any layout your mind can imagine. All shortcodes are included via a custom built plugin.
AppBox
WordPress App Themes - AppBox is a Mobile App / Product / Startup App Responsive Landing Page Wordpess Template with clean and modern style & design. It includes App Product Features, Reviews, Showcase, Video Demo, Support forum , App Blog, Contact and Shop / Online AppStore pages. AppBox is a perfect mobile app showcase with lots of features.
AppBox template is a great tool for keeping your apps neatly organized with the possibility to promote them through WooCommerce based store directory.
Appdev
WordPress App Themes - Appdev is a perfect one page theme for mobile app developers to showcase their work. Built on top of the a clean, modular framework, Appdev has multitude of features that you can leverage to to build a site to act as a launchpad for iPhone, iPad (iOS) or Android apps. The author did a thorough study of requirements of app developers by studying scores of actual app showcase sites, themes etc. Lots of hours of hard work has gone into this theme to make it THE theme that any app developer/marketer would want to use. Appdev is currently designed as a one page site but it can even be used to power a multi page site just as easily. It even lets you have multiple single pages, each with custom top menu navigation to internal sections.
The theme pages are built using popular SiteOrigin page builder. Appdev comes with support for about 35+ custom page builder elements/widgets that are accessible for easy insertion and configuration in the page builder including the ones that are part of our popular SiteOrigin widgets plugin.
The framework powering Appdev is designed to offer maximum help in coming up a unique looking, easily navigable site – easy custom headings for each page/post with option to enter custom backgrounds and/or custom HTML, easy to create uniquely styled page segments with custom parallax backgrounds spanning the entire browser width, wide 12 column 1140px responsive grid that scales down smoothly all the way down to 320px smartphone screen, smart tracking animated LavaLamp menu, great looking yet easy to use auto-generated menu for smartphones and tablets, multiple touch enabled smartphone sliders to showcase your apps and so on.
And, Appdev theme does not skimp on regular features – 70+ useful shortcodes, multi-language support, responsive and retina ready framework, easy demo site replication (demo data included), 500+ quality retina ready font icons, portfolio support with custom fields, 500+ fonts, lots of page templates and custom widgets, nice animations and hover effects, multiple sliders including slider revolution, detailed documentation, dedicated support forum etc.
Appster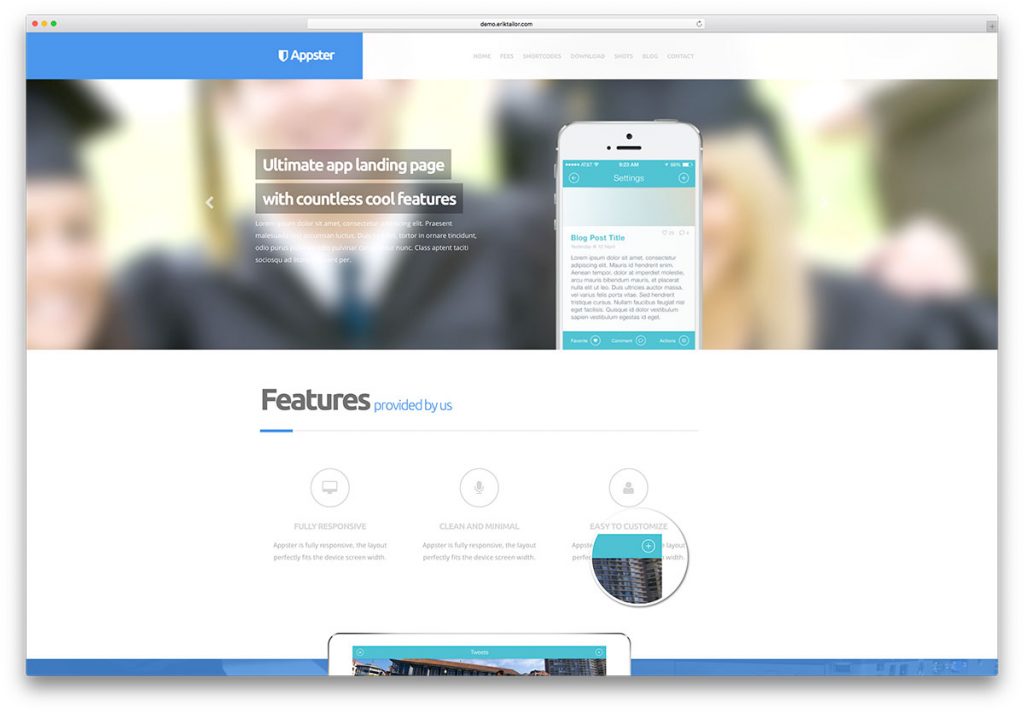 WordPress App Themes - Appster is the ultimate clean and minimal one-page parallax app landing page wordpress theme for advertising and showcasing apps in a sleek elegant delivery.
This app landing wordpress theme was designed to include and cover every possible showcase or usage purpose that an app selling theme should contain. Appster has 12 different home sections, it's fully responsive crafted with the latest html5/css3 coding standards with dozens of user friendly customizing options, featuring an elegant sleek and minimal design with unlimited color schemes.
Avada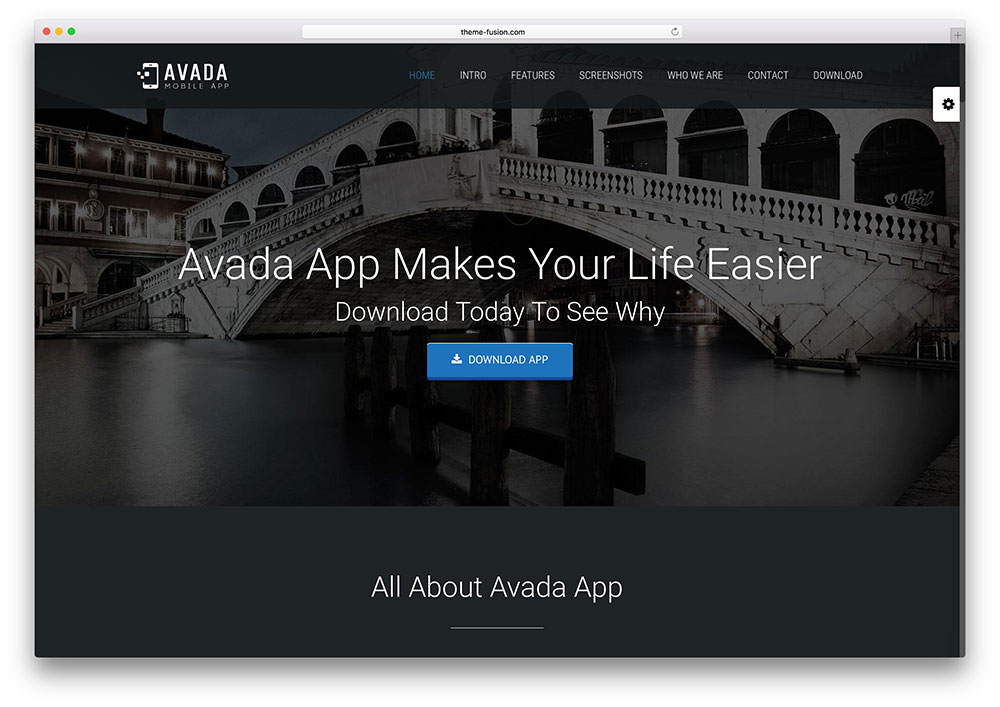 WordPress App Themes - Avada is the #1 selling WordPress theme on the market. Simply put, it is the most versatile, easy to use multi-purpose WordPress theme. It is truly one of a kind, other themes can only attempt to include the vast network options that Avada includes. Avada is all about building unique, creative and professional websites through industry leading options network without having to touch a line of code. Our amazingly flexible network of options is paired with an easy to use interface that allows anyone from beginner to advanced build beautiful, responsive websites. It is not only a theme, it is a powerful design tool. Avada can be anything you wish it to be because of our flexible framework. It has a clean design, a fully responsive framework, industry leading options network and the intuitive Fusion Builder that makes page building a breeze. Avada definitely sets the new standard with endless possibilities, top-notch support, and incredible featured packed updates requested from our users. Avada is the most easy to use theme on the market and completely ready to operate out of the box. Built with HTML5 & CSS3, a lot of thought and care went into this theme making it a pleasure to use.
Avada has a ton of raving user reviews and real world features that give you power to build something great. We've highlighted some of our features below! Avada can be used for any type of website; business, corporate, portfolio, blog, products, etc. Don't wait, Buy Avada and join the largest theme community around!
Bateaux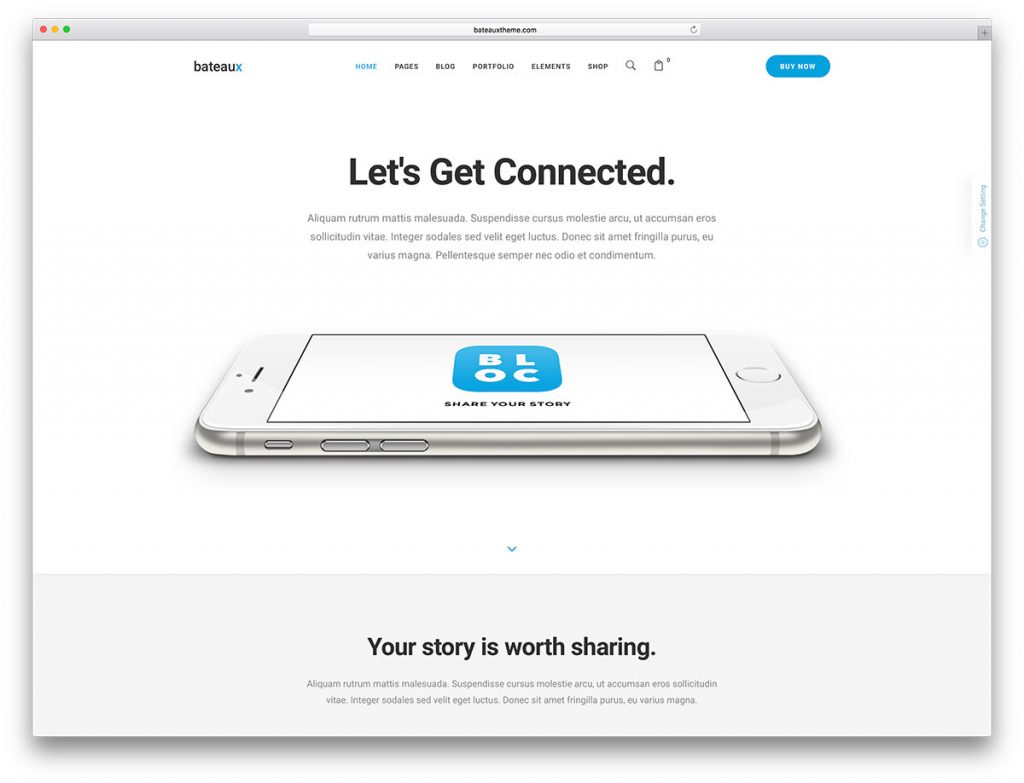 WordPress App Themes - Bateaux is a creative multi-purpose WordPress theme pixel-perfectly designed to make awesome websites. Responsive, Retina read, Clean design powerful unique page builder, 40+ elements and unlimited layouts, you can create infinite possibilities of website.
To fit with any purpose: blog, magazine, news, portfolio, agency, freelance, photography, business, corporate, industry, e-commerce and more, Bateaux will give you a stunning website.
Blueprint, the fastest and lightest drag-and-drop page builder, delivers you the new experience of creating a website. User friendly, app-like interface, real time response comes with exclusive inline text editor, all of these features will help you save time, double up your workflow speed and easily work with your clients. With latest technologies, creating page can be done within minutes with no coding skills required.
Bivio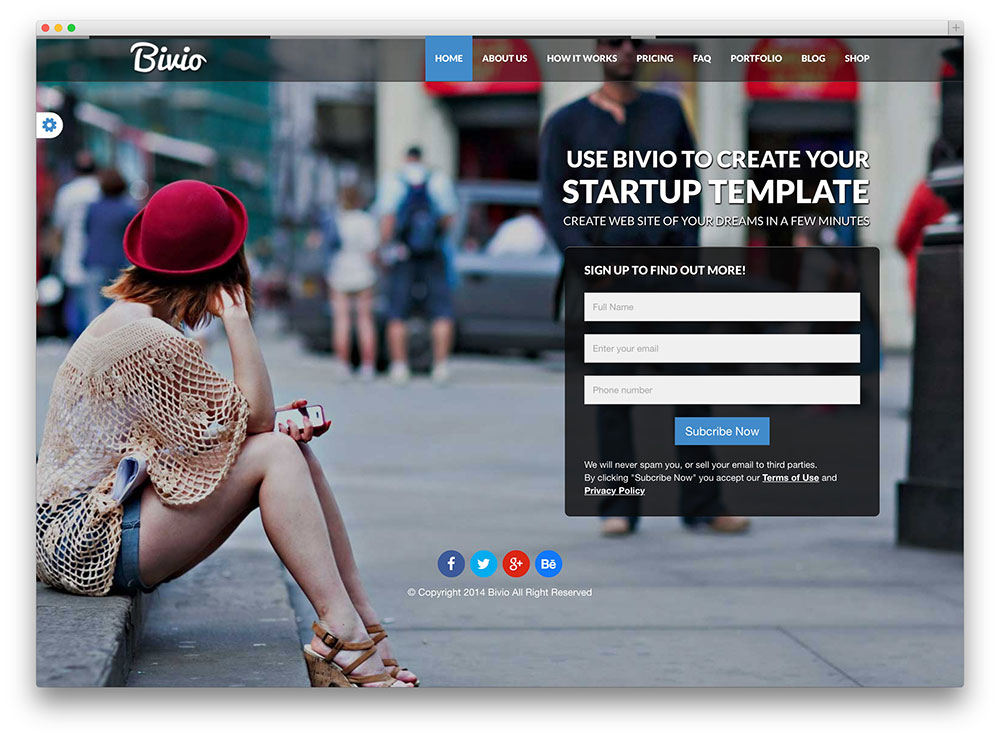 WordPress App Themes - Bivio – Bootstrap 3 App Landing Page WordPress Theme it's an advanced and powerful premium WordPress theme suited for startup / landing page websites, personal, blogs or business websites. Using it, you can create the web site of your dreams in a few minutes for example it can be used to promote web services or launching startups. This is a WordPress theme with unique features and well-structured code. Bivio is powered with Twitter Bootstrap v3.1.1 and Font Awesome v4.1.0 Framework. It's fully responsive, and looks stunning on all types of screens and devices (desktop, notebook, tablet and mobile), it's flexible, clean, with a professional design and Search Engine Optimized.
It comes with an advanced framework with tons of powerful and flexible theme options in order to make your life easier and build your site very quickly. Also it has included Visual Composer Page Builder which gives you freedom to create awesome web sites with almost any layout you can imagine in only couple of clicks and will save you tons of time working on the site content!
Dalton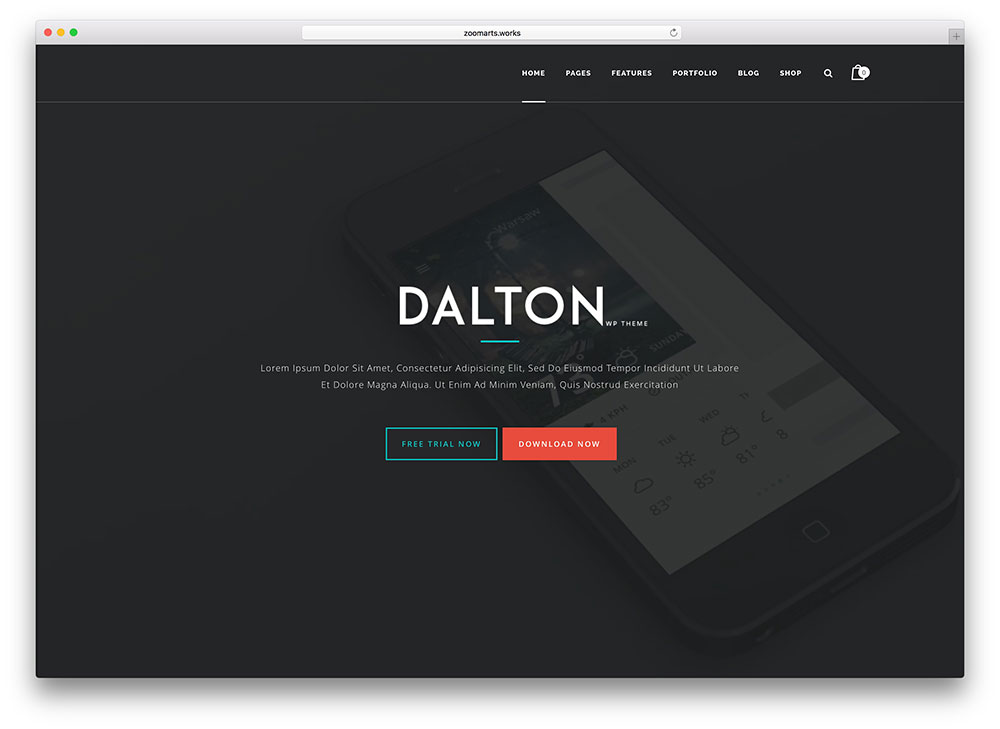 WordPress App Themes - Dalton is a clean multi-purpose WordPress with tons of features to help you easily build a modern corporate site. It's built to offer you the maximum ability to build and customize your website the way you like, with creative tool and professional features you will get with Dalton you will feel the pleasure and ease of creating a modern business WordPress site and show your projects or services to world in a modern, creative and clean portfolio.
Dikka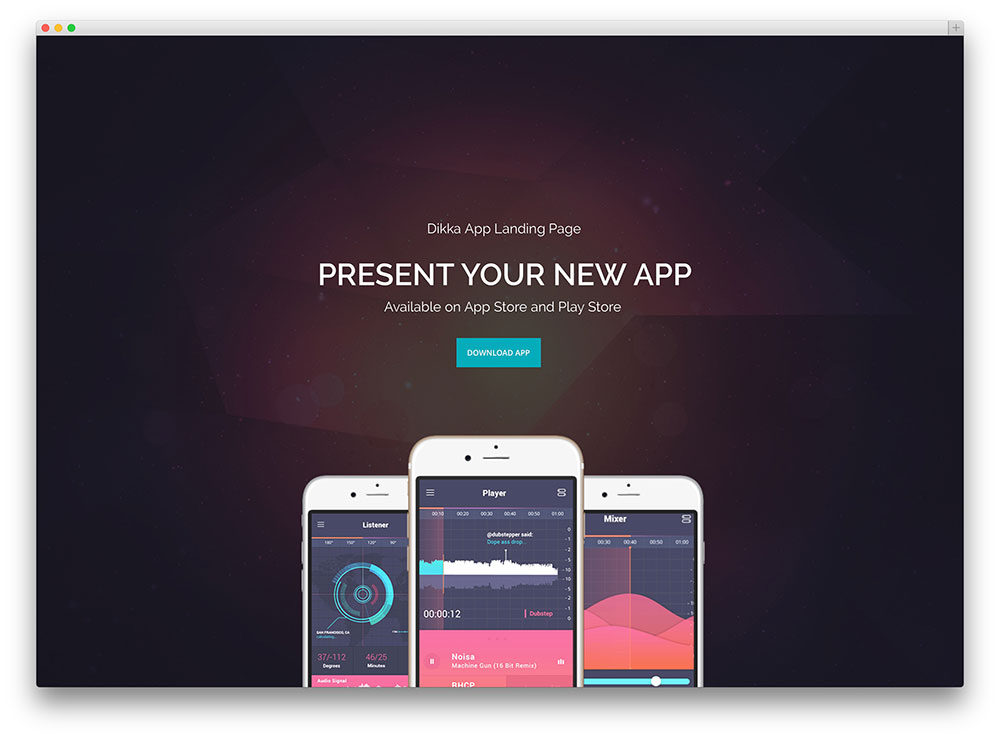 Responsive multipurpose WordPress theme suitable for almost any type of website, creative design agency, web development agency, corporate, fashion shop, startup company, app landing page, one page style and tons more. With great collection of elements to choose from and present your product it is ideal theme for your brand new website!
WordPress App Themes - Dikka is based on popular Twitter Bootstrap framework. This All-In-One package includes the awesome Revolution Slider Plugin (18$ Value), unlimited customizability, full WooCommerce design integration, premium Cube Portfolio plugin (16$ value), typographic options with over 600+ Google fonts, hundreds of options to make it your own, tons of useful page builder elements and pre-configured page layouts to get you started in no time! Also data content xml is included for all 4 demos.
Fusion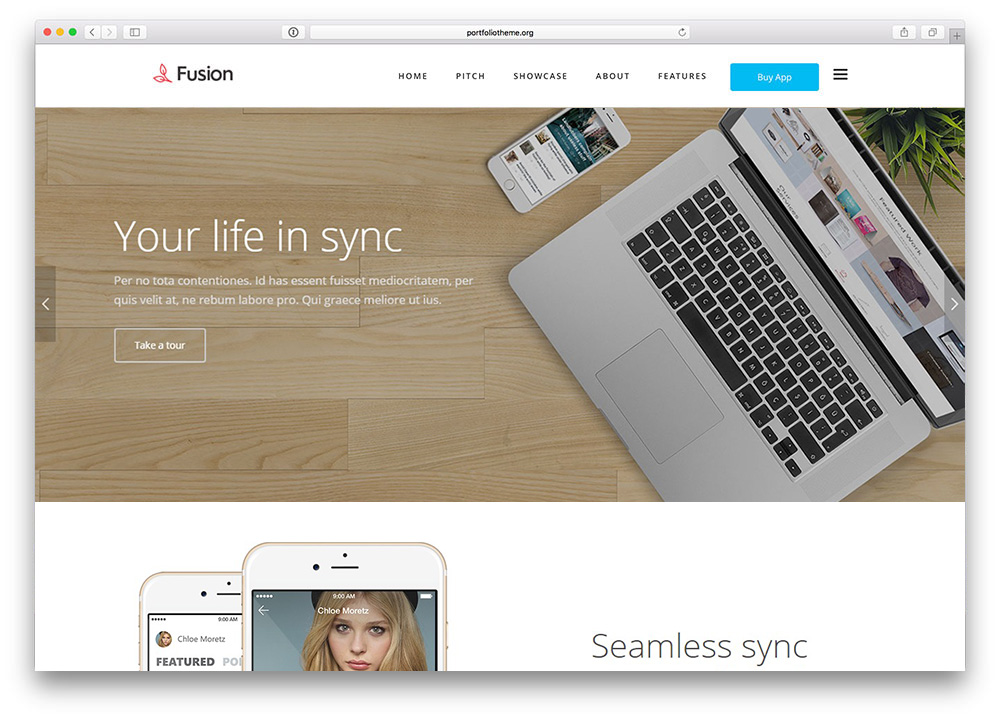 WordPress App Themes - Fusion is a WordPress App Landing Page and Portfolio theme delicately handcrafted to meet the needs of a mobile app developers, creative design agency or similar businesses. Fusion theme is our best-creation so far – lots of thought and effort went into this theme to meet our one goal of capturing all features required by any firm or individual with a creative portfolio of apps/products/services.
Clean typography, effective management of whitespace, elegant design with purpose are some of things that make this template special. The theme strives to meet the needs of both a team of developers showcasing a app/product built by them or a design agency trying to showcase their work (including mobile apps or other software products developed for their clients). The two home pages make it easy to address these two distinct needs.
A huge number of real app landing pages by top authors on app store and actual websites built by top design agencies were studied by us to help arrive at a theme that meets the real requirements of any developer or design agency needing a website to help showcase their work in an effective way. Towards this end, if you think we missed something, do let us know and we will be happy to incorporate the same in future updates.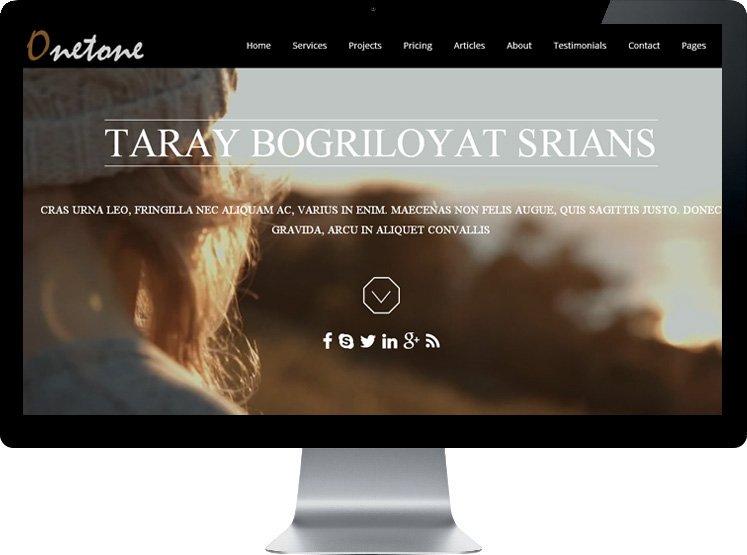 WordPress App Themes - Onetone is a one-page business WordPress theme based on Bootstrap framework and coded with HTML5/CSS3. All required information are displayed on a single page with clear order according to users' preferences. The basic sections designed for business purpose have already been built for you, such as services, about, gallery, clients, etc. There's also an extensive admin panel where unlimited sections can be easily added. Multiple options are available if you prefer to do some adjustments, such as changing background, parallax scrolling background, video background, Font Awesome Icons, uploading logo and favicon,adding custom CSS and so on. The theme is also responsive, clean, and SEO optimized. Please note that with updation, interface of your blog can grow up with futher more diversities.
WordPress App Themes Features
Homepage Sections
10+ built-in general sections, include banner, services, team, recent posts, gallery etc. Easily filling in brings out wonderful websites.
Shortcode Generator
One of the most popular features in Onetone are the wonderful Shortcodes you can use. With Magee Shortcodes, there is a shortcode for anything you need, and they allow you to create so many different page layouts.
WordPress App Themes Highlighted Features
Fully Responsive Design
With Onetone, you can rest assured that no matter what device people access your site from, it will look pixel perfect. All browsers such as Google Chrome, IE, Firefox, Opera etc. are supported.
Well-coded & SEO Friendly
Built with HTML5+CSS3 language, Onetone is coded well according to the latest SEO requirements. This SEO friendly theme with the latest coding technique will make the search engines love your site.
Primary Color
Onetone supports changing global color via one simple click, the color picker will help you find the color you prefer easily. But please notice changing primary color only affect most default color.
Sticky Header
With sticky header, your main menu and logo will always be at the top of the screen, automatically following when you scroll.
Full Width Slider
Onetone theme allows adding full width slider to the homepage, which means, you get one more option to set up your homepage.
Parallax Scrolling Background
With built-in parallax scrolling effect, one can add parallax scrolling background to each section, creating an animated effect once scroll down the page.
YouTube Video Background
You can easily add your background video by simply adding the YouTube video ID to the section option. Moreover, the latest version allows setting background video for any section in the homepage.
Font Awesome Icons
Onetone is fully integrated with the entire Font Awesome Icon Set. Each icon can easily be used via shortcodes. Besides, Font Awesome gives you the power to customize the icons' size and colors.
Flexible Layouts
When editing a page, you can switch the page content to yes or no, set the page padding, whether to display the title bar and slider. Choose from 4 different design styles, having individual blog pages.
Translation Ready
The theme has been updated to support translations in more than one language. You can upload a file to set your native language to your site.
bbPress Support
bbPress is forum software with a twist from the creators of WordPress. Easily setup discussion forums inside your WordPress site.
Retina Ready
With retina ready images and graphics, your website can be totally ready for all devices that has sharp high resolution screens.
Shore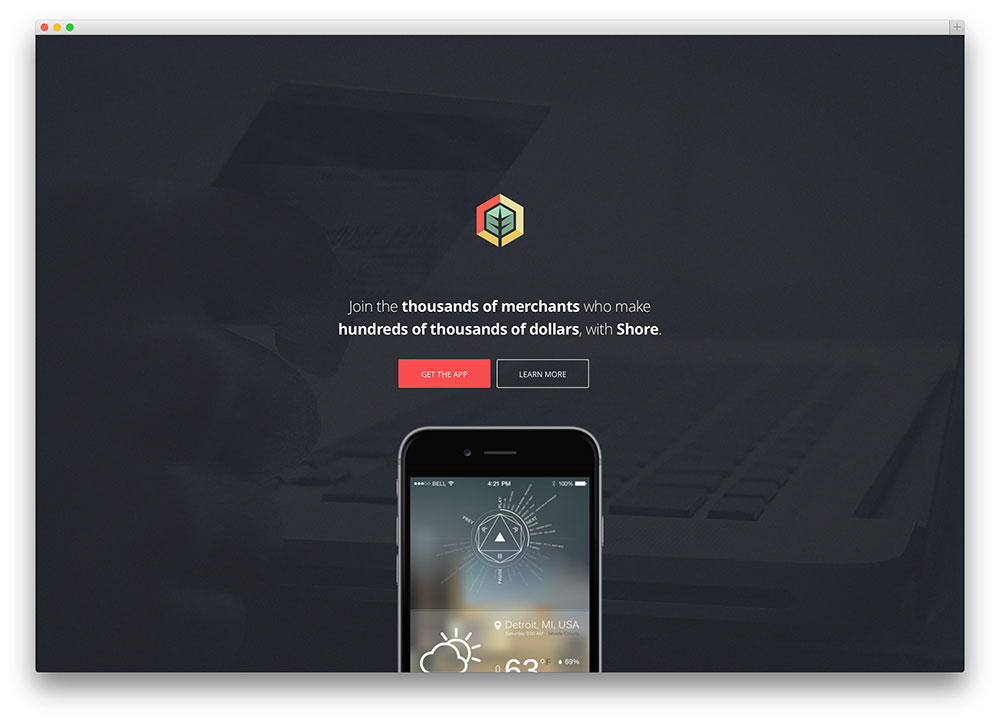 WordPress App Themes - Shore is a powerful and easy to customise WordPress Theme, that can use both OnePage and MultiPage layouts.
It features Visual Composer Page Builder with over 40 default amazing elements + 20 custom designed elements for this theme.
It also includes the latest version of Revolution Slider (not affected by the latest discovered vulnerability) and a powerful grid manager (can be used for portfolio, image galleries or shop).
Shore is compatible with the latest version of WooCommerce (all templates styled) and offers WPML capabilities (.po and .mo files included).
Stratus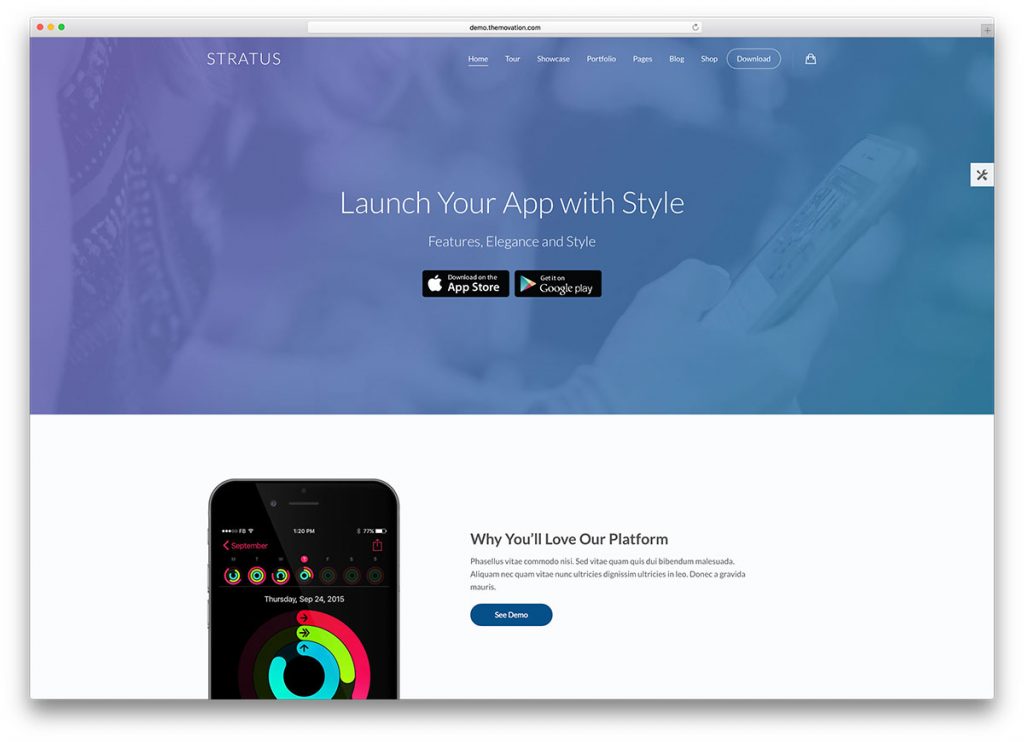 WordPress App Themes - Stratus is a premium WordPress theme. It designed specifically for App and SaaS companies, startups, product development companies, and businesses with a specific focus on lead generation, product and service showcasing as well as all the important features you need to make your business successful.
TheGem
WordPress App Themes - TheGem is a versatile, responsive, high-performance WordPress theme with a modern creative design to suit a multitude of creative uses for building websites.
Designed and developed as an ultimate web building toolbox of design elements, styles & features, TheGem will help you build impressive, high-performance website in minutes, without touching a line of code. Don't waste time on coding, explore your creativity!
TheGem has been carefully crafted for a variety of creative uses with such flexibility. It really could be called the Swiss Army Knife of WordPress Themes!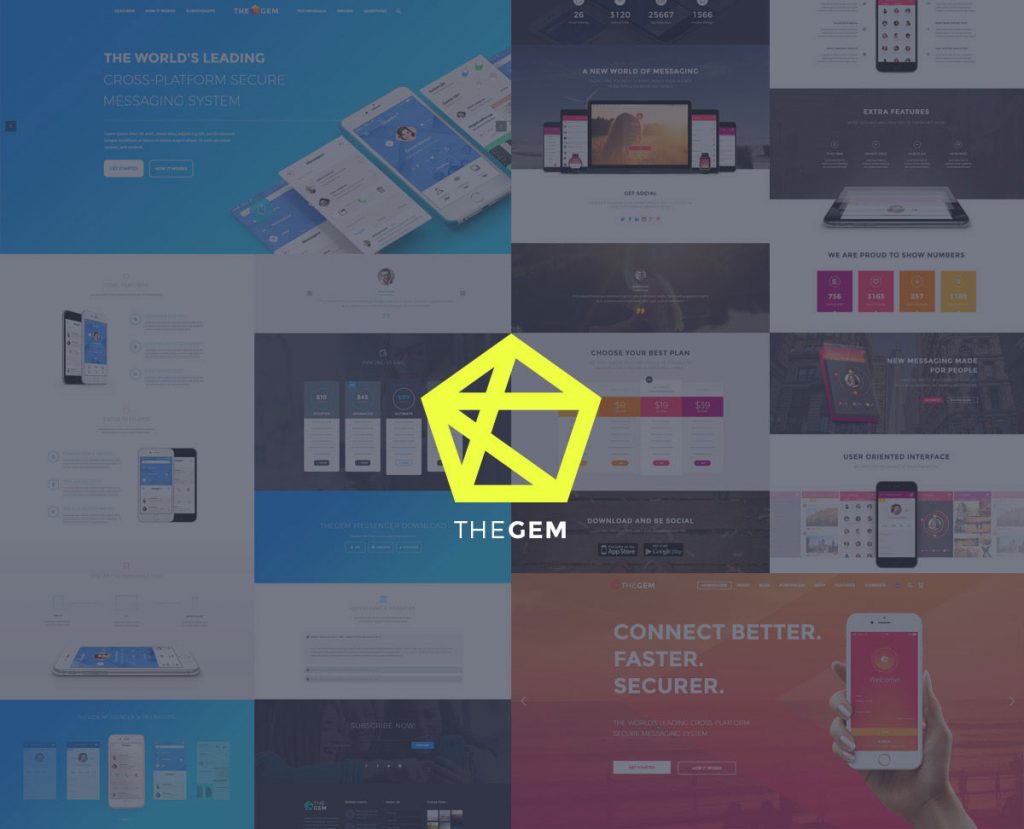 With over 40 unique multi-purpose design concepts, 150 stunning demo pages, eight navigation settings in over 20 styles, plus flexible page layouts, the possibilities are really unlimited. Perfect for corporate business of any size and purpose, creative agency with fancy ideas, including fully featured WooCommerce fashion store ready to go, your website will spring to life within minutes. This theme also covers the needs of freelancer, photographer, architect & digital artist, offering amazing portfolio features with dedicated designs to suit individual needs. As experienced blogger seeking for unusual blog layouts that help to stand out, you will be inspired by TheGem's blog features.
If you are a designer looking for a website with flair, then look no further. TheGem has been built with creative passion at heart, collaborating with top designers from Behance you will find eyepopping slick designs we know you will love.
TheGem for WordPress delivers everything to cover your ambitions & creative needs. Not convinced? Take it for a spin and check out some of the amazing demos NOW!
Uncode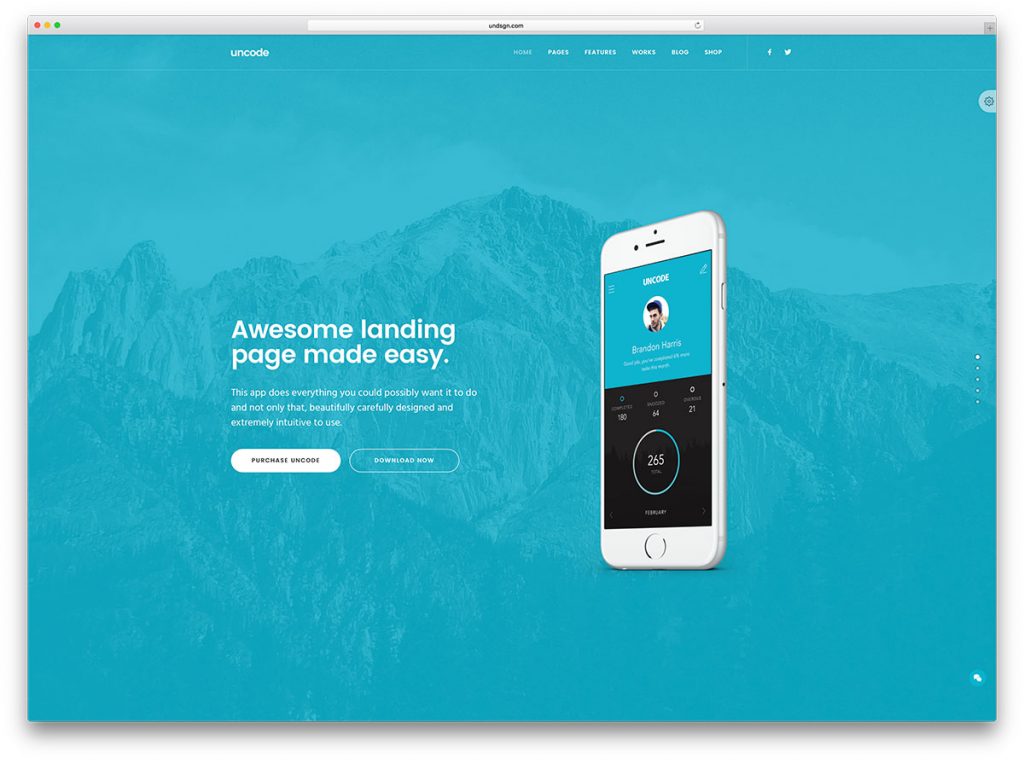 WordPress App Themes - Uncode is a pixel perfect creative multi purpose WordPress Theme based on Visual Composer designed with terrific attention to details, flexibility and performance. It is ultra professional, smooth and sleek, with a clean modern layout, for almost any need: agency, freelance, blog, magazine, portfolio, photography, corporate and ecommerce shop. Build beautiful, intelligent websites. Uncode is the result of many years experience in creating award winning web designs by a team of designers and developers dedicated to creating visually stunning websites.
With over 30+ Homepage Concepts ready to go or combine, build a layout has never been easier. There is a huge range of styled pages waiting for your customisation, anything you can think of can be built with our unique take on Visual Composer. If you are searching for innovative, modern and clean WP Theme, Uncode is Top Recommendation.
Verko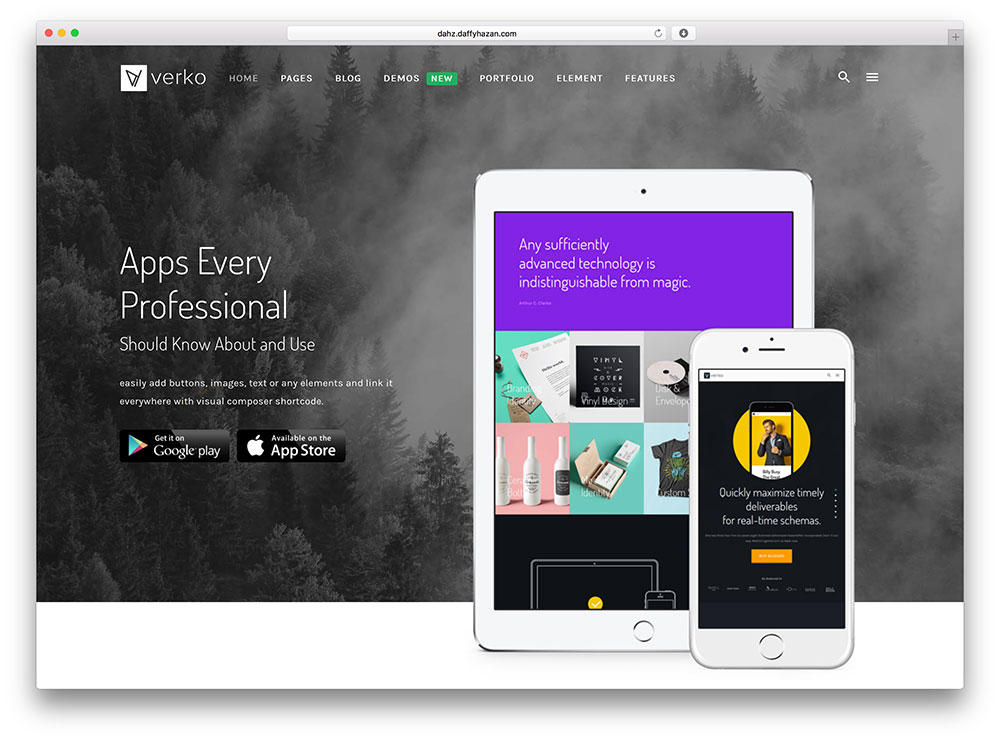 WordPress App Themes - Verko is a WordPress theme that focused on Marketing your services or products. With landing pages template, encourage user to take another step forward to your business using the form, call-to-action, photo or video.  Verko is suitable for any business and agency that need to deliver messages to their potential customer.
xLander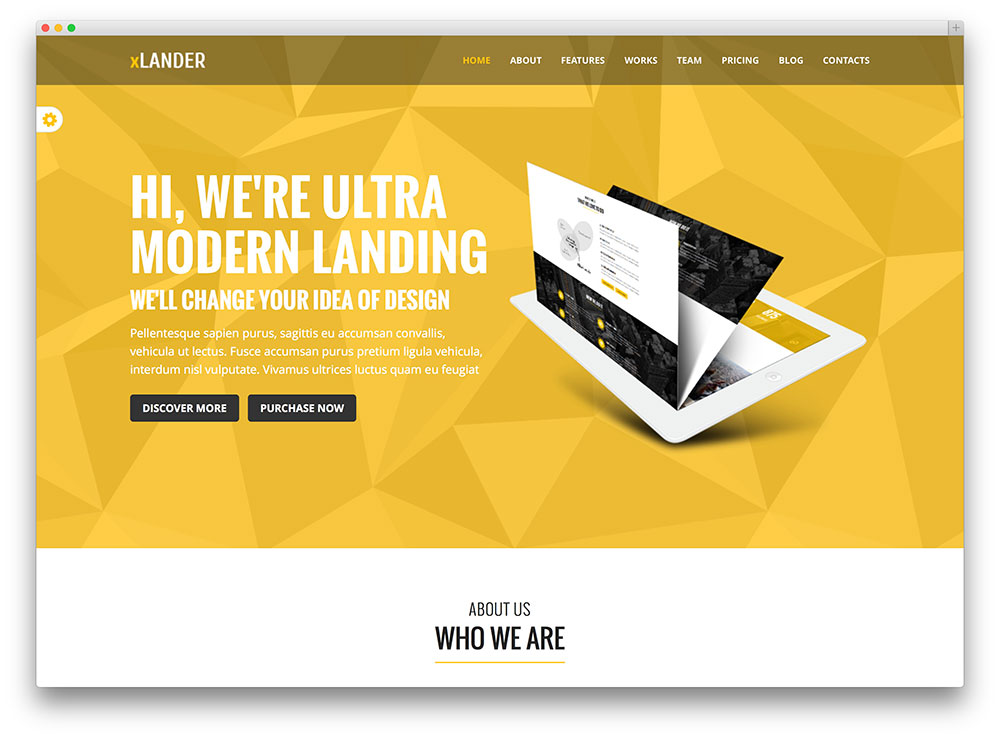 WordPress App Themes - xLander Bootstrap Responsive Landing WordPress Theme. It's an advanced, unique and powerful premium WordPress theme. It is suited for personal onepage/singlepage websites/blogs, business websites, users who want a very nice portfolio website. It's fully responsive, flexible, and clean. With a professional design, Search Engine Optimization and an advanced framework, this theme will help to build a site quickly. Also, it contains Visual Composer Page Builder. This gives you freedom to create awesome web sites with almost any layout in only couple of clicks. It will save your tons of time working on the site content!