Best Blog WordPress Themes for Personal and Business Blogs
Best WordPress blog themes for personal, adventure, corporate, fashion, food, travel, lifestyle tech, apps and any other awesome blog.
MYBLOG
MyBlog WordPress Theme is perfect for Creating Daily Blogging & Latest News Magazine Website Or Sharing Lifestyle & Personal Life Story. The theme has got benevolent features which add meaning to your site. MyBlog WordPress theme built with HTML5 and CSS3 gives a crispy, light, and clean layout so that your content shines and looks great while your visitor read the content. Leading features are images with boxed style and its description with button text, WPML ready, access to Members Area & future Updates, individual Page/Post customization etc.
Astro
The performance optimized Astro offers a sleek and simple design equipped with features you actually need. Focused on displaying your content in the best way possible and making things straightforward for both you and your visitors, Astro is a fuss-free WordPress theme.
WordPress Blog Themes - Astro is responsive and flexible with endless customization options including layouts, fonts and colors, allowing you to make your website your own. Handy social media integration means you can keep connected with your visitors across multiple platforms in one handy place, and the single column and minimal design ensures your content will be the focus of everyone's attention.
BloMag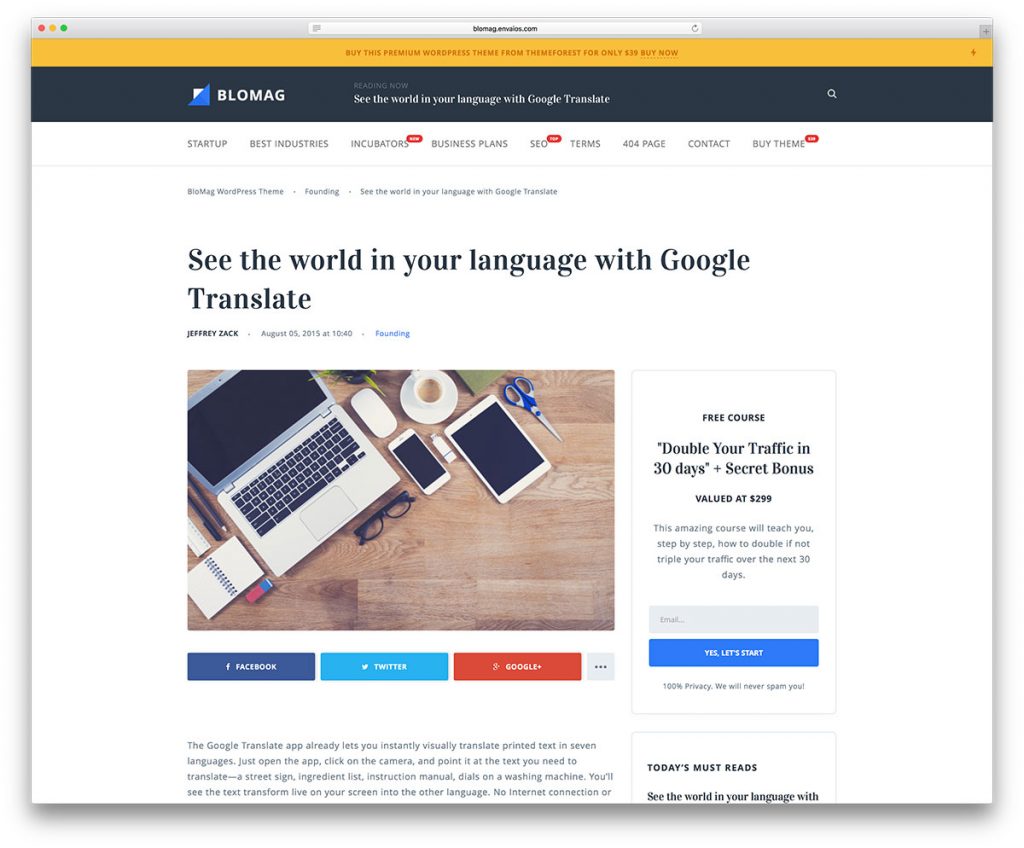 WordPress Blog Themes - BloMag WordPress Theme was built exclusively for Blog Marketers. So wether you have a blog or an article based online business that makes money through banner advertisements or through affiliate marketing, this WordPress Theme might be a great modern solution for you.
Brixton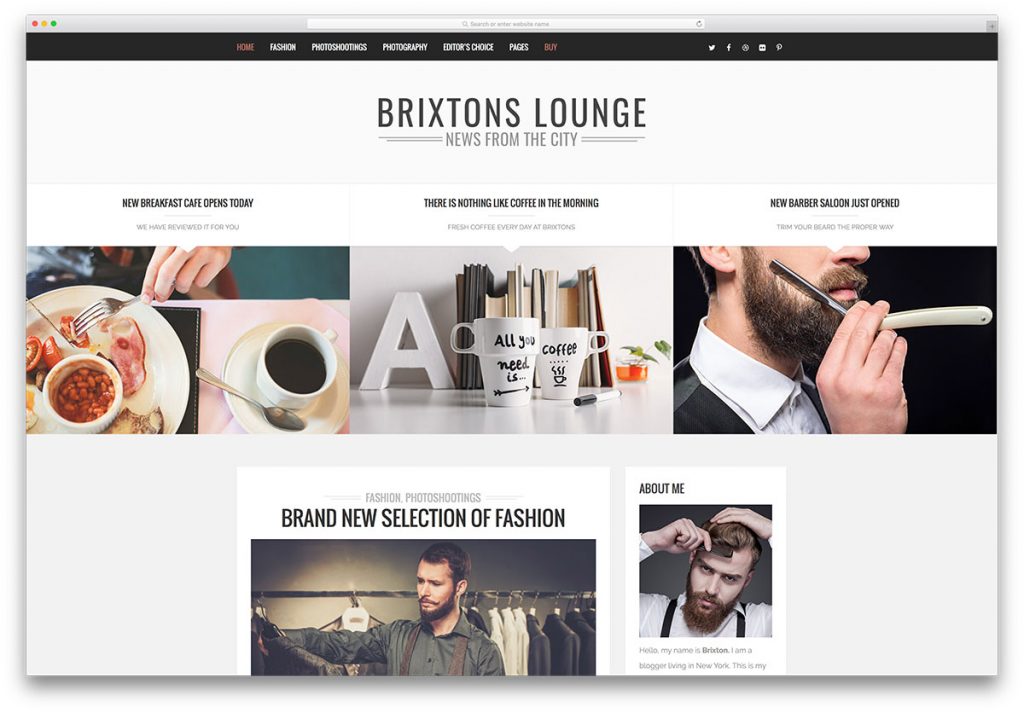 WordPress Blog Themes - Brixton is a WordPress Blog Theme in Elegant and clean Design. It is perfect for any personal blog. It follows the trendy hipster design with a combination of pure elegance. With Brixton you get right to the point, no unnecessary Slideshows and animations, just the information that you need, presented in a clean and minimal way. With Instagram, Facebook and Twitter widgets all your main social medias are covered with no extra hassle. It was designed by our small team of talented designers with passion, with desire to make the best possible wordpress blog for you.
BuzzBlog
WordPress Blog Themes - BuzzBlog is a simple, clean, personal, modern and professional blog ideal for spreading stories. It's totally responsive so it adapts to your style as well as the device it's viewed on. It's loaded with great features: unlimited styles support with 11 predefined css styles, header styler, widget manager, 15 custom page templates, built in categorized image gallery with 2, 3, 4, 5 columns and integrated lightbox, 8 custom widgets, 60+ shortcodes, features 9 post formats: Standard, Aside, Gallery Slideshow, Gallery Grid, Link, Image, Quote, Audio, Video, powerful theme options panel and more.
Camille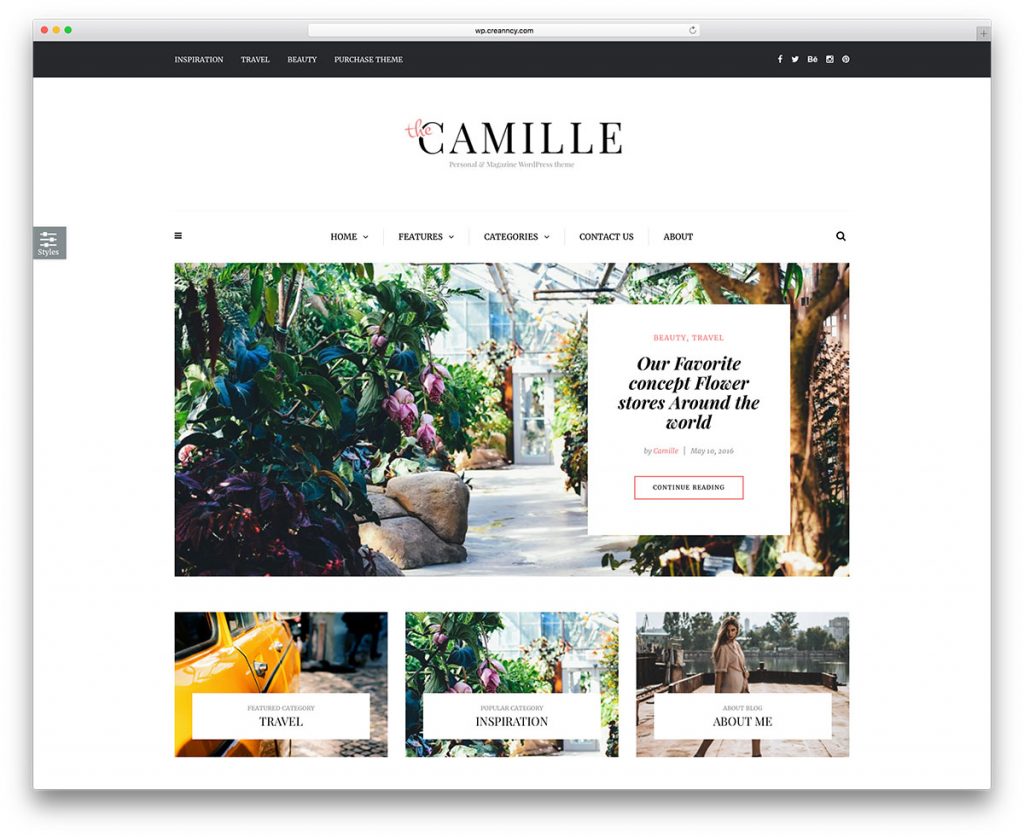 WordPress Blog Themes - Camille is a very stylish, elegant and powerful multipurpose WordPress blog theme perfect for any personal blog. Theme has an unique design with a lot of options, that can help customizing you blog, changing fonts, colors, layouts, post views and more. Camille's stunning slider and creative promo boxes offer a unique visual experience to showcase your content in different ways with responsive layouts optimized for all devices.
Caress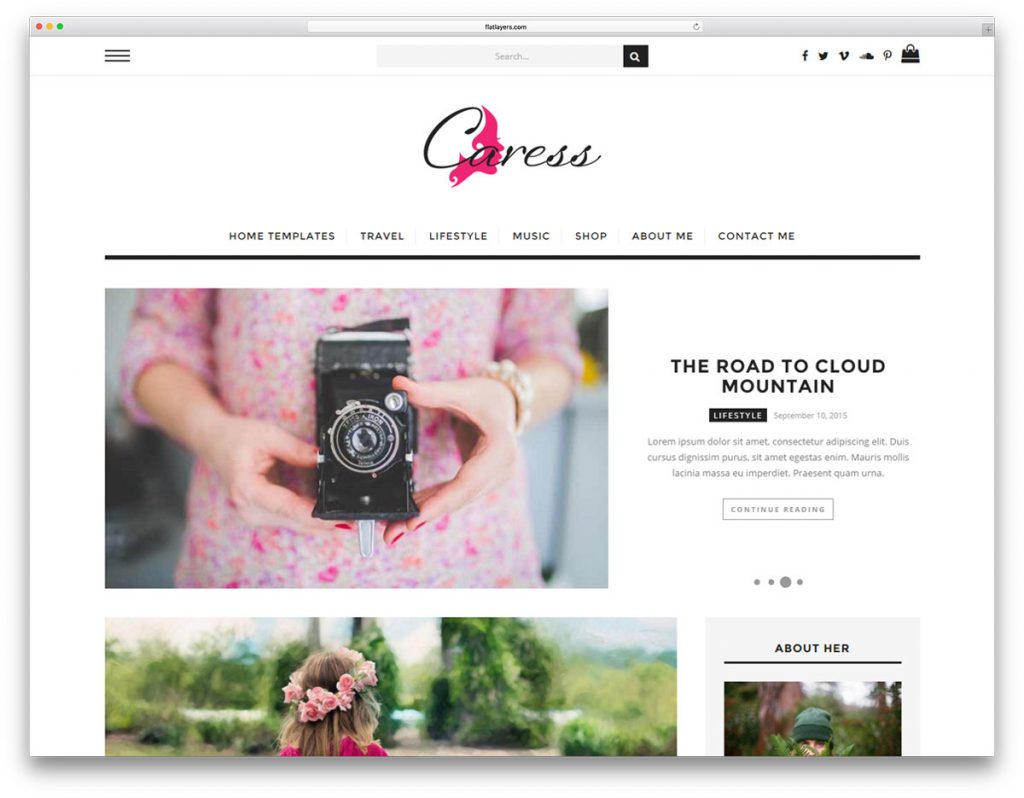 WordPress Blog Themes - Caress is a wonderfully innovative, clean and fresh-faced, dynamic and easily customizable, flat and modern responsive WordPress blog theme. Caress is perfect for bloggers that deal with a lot of image content, as it has excellent tools to share high resolution images, galleries, videos and articles integrating these in a graceful manner. With over 70 Live Customizer options that will let you transform your website so that it looks and feels exactly the way you wish in a matter of minutes. Caress let's you create your awesome store using WooCommerce plugin.
Entrepreneurship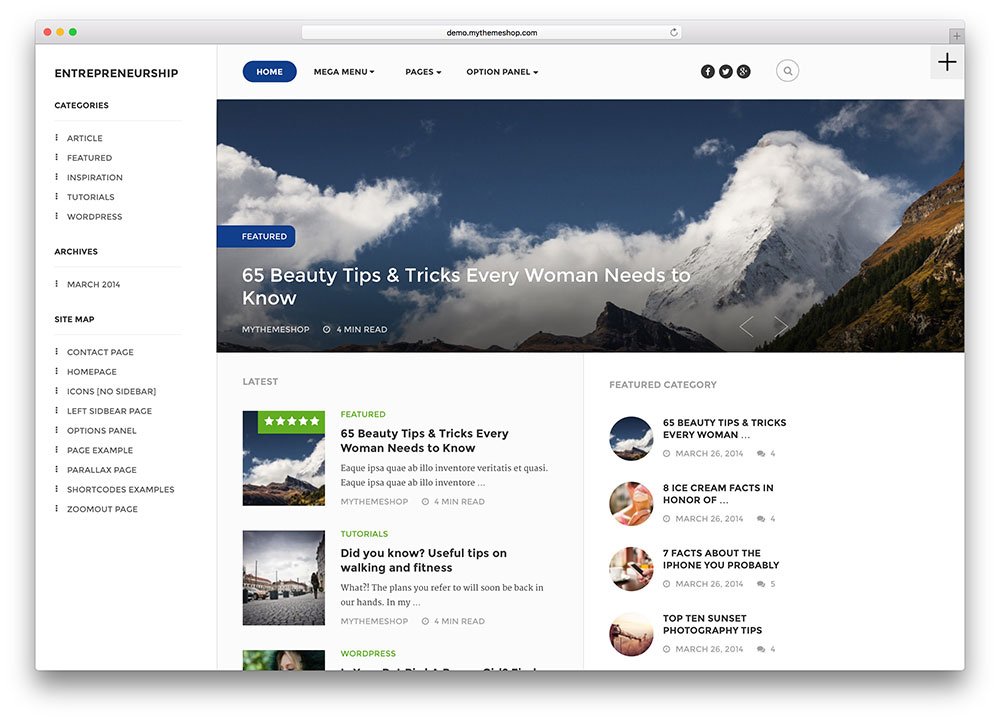 WordPress Blog Themes - Entrepreneurship is a WordPress magazine theme with multiple layouts and features, several page templates, and features to help grow your site. Social media integration, speed and search optimization, and mega menu support let you build a large blog while not sacrificing any control or granularity.
Feather
WordPress Blog Themes - Feather is one of the best seller blogging themes on ThemeForest with a perfect simple design for blogging in style. Take advantage of Feather's clean, aesthetic and straightforward functionality to ensure your blog stands apart from the rest in minimalistic sophistication. It's packed with essential features such as different post formats, useful shortcodes, widgets and a great design, this theme is for those who just want to write.
Foodica
WordPress Blog Themes - Foodica is perfect for creating food based blogs, magazines and recipe websites. Six colour schemes, a beautiful featured slider and carousel and WooCommerce integration mean Foodica is featured packed to help you stand out.
Blog WordPress Themes Features
Theme Options Panel
With our advanced Theme Options Panel, you can easily change every detail of your theme to best suit your needs.
Responsive & Retina Ready
The layout of this theme automatically adapts to fit on any screen resolution on desktop and mobile devices (iPhone, iPad).
6 Color Schemes
Foodica includes 6 color schemes: Pink, Dark, Yellow, Blue, Dark Green and Light Green.
Multiple Ad Zones for Banners
Foodica includes 4 banner locations in which you can upload ad abanners or insert Google Adsense.
Visual Customizer
Use the visual customization options to get the color and font choices which match your tastes and branding.
Recipe Shortcodes
Foodica's custom shortcodes for Ingredients and Directions allow you to quickly create beautiful recipes.
Gladiolus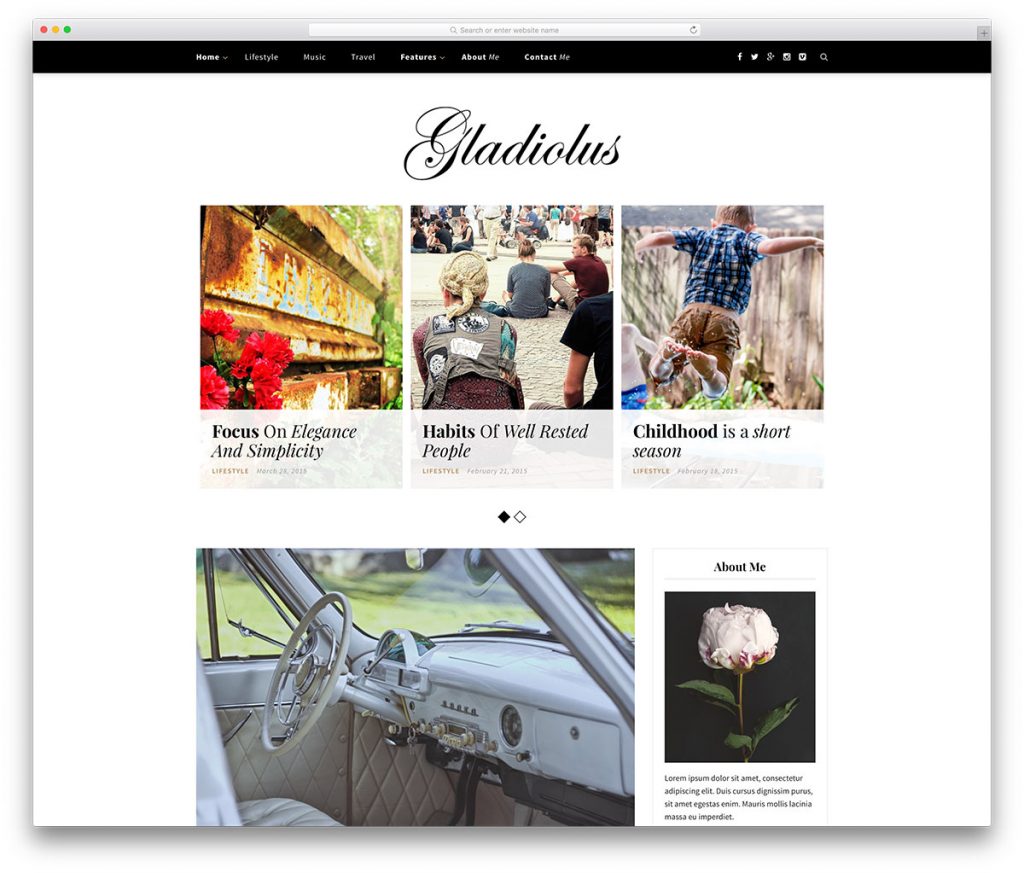 WordPress Blog Theme - Gladiolus is a responsive WordPress blog theme which brings simple and clean design. It's very flexible, fully customizable by WordPress Customizr. It's a perfect fit for Fashion, Lifestyle, Photography, Personal, Business, Non-profits blogs or people looking for a theme with clean design to share their photos, galleries, videos and articles.
GoBlog
WordPress Blog Theme - GoBlog is a blog style responsive WordPress theme. It supports 8 post formats (Standard, Gallery, Link, Quote, Video, Image, Status and Audio). For video and audio post formats, it is really easy to embed video and audio files to posts. This theme has beautiful slider just below header for intro text or anything like that. For standard articles, the main focus is on content.
GraceUnderPressure
A touch optimized theme for writers with a focus on responsive design optimized for today's touch and swipe mobile devices, includes 6 months support.
Careful attention to detail has been paid to every aspect of GraceUnderPressure, and as the name implies this beautiful WordPress theme has been designed from the ground up with today's mobile user generation.
Optimized for Tablets, everything about it, the interface, the typography and overall design has been researched thoroughly and the outcome is a theme that is both easy to work with and aesthetically pleasing for the end user.
WordPress Blog Themes Features
Responsive Layout
– With a true mobile-first layout, the theme's design offers a minimalist and distraction free experience on mobile devices while expanding to a full website on large desktops.
Optimized for Tablets
– The theme's interface, typography and contrast have been carefully researched to offer a pleasant reading experience on tablet devices.
Beautiful Cover Photos
– Cover photos expand full screen on mobile devices overlay the article's title and description in a manner that reminds of quality vintage books.
Touch-swipe Gestures
– The theme's navigation menu is hidden on mobile devices so it doesn't distract from your content but can be toggled with a simple swipe gesture.
Screenplay Format
– A unique feature of this theme is the styling of preformatted text in the screenplay standard, so you can just display some snippets or write full screenplays.
Custom Typography
– The font families of headings, body copy text and contextual elements can be changed from the customizer and you can select any font from the Google Directory.
Beautiful Author Profiles
– Author post pages show you avatar and your biographical info next to your posts so you can showcase your works like a true writer.
Customizer Friendly
– The customizer has been carefully built so that every simple customization can be previewed instantly without the need to refresh the page.
HEAP
WordPress Blog Themes- HEAP is a Personal Blogging Theme for WordPress and an effortlessly tool for publishers of all kind, cherished for its flexibility, clean layouts and speed.
Whether you're looking to share your own thoughts, write about your latest findings or just have a scrapbook of photos, videos, quotes or other stuff, HEAP is designed to fulfill these and a lot more.
This is what HEAP is all about: offering the right tool, in the right place, right when you need it!
Hello World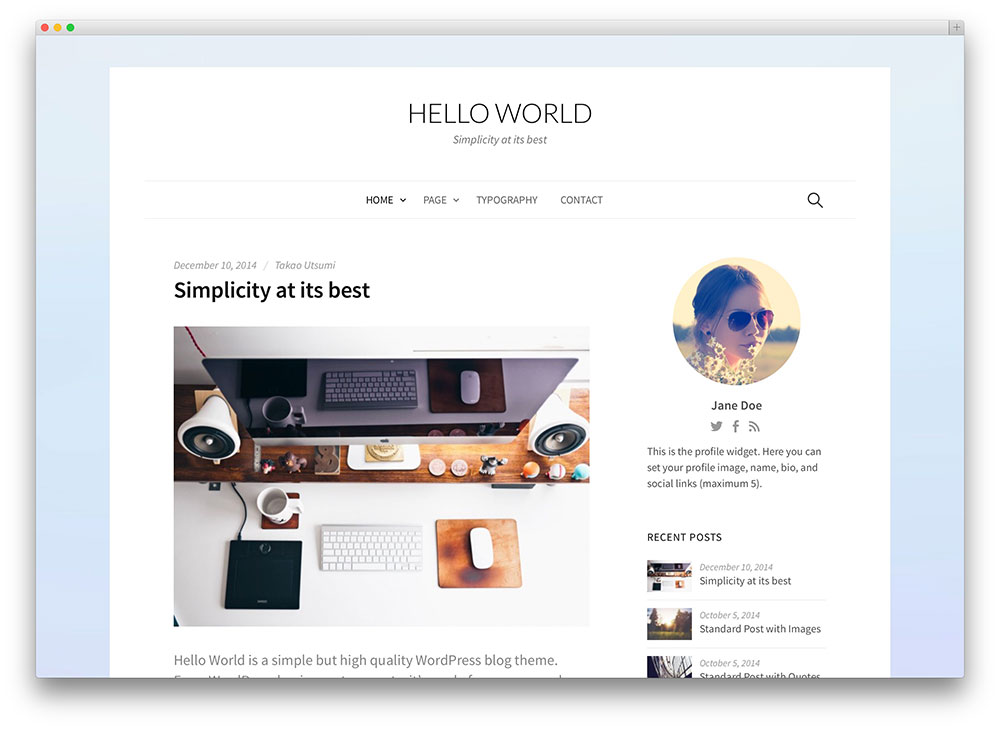 WordPress Blog Themes - Hello World is a simple but high quality WordPress blog theme. From WordPress beginners to experts, it's made for everyone who wants a simply beautiful blog.
WordPress Blog Themes Features
Simple but high quality
Hello World is a theme that has a high quality feel while remaining simple. Unnecessary frills have been cut out and emphasis has been put on attractive layouts and typography. It's recommended not just for male users, but female users as well.
Simply easy to use
Hello World is made to be easy to use even for new WordPress users. Hello World is perfectly functional from the moment you enable the theme. You don't have to fight with the Customizer or pages to get the theme working.
Effective customization
Hello World offers excellent customization while remaining simple. In addition to 7 widgets and 4 menus, you can also set custom headers and backgrounds. Furthermore you can also modify various theme options including fonts, colors, layout, title, and logo through the Customizer.
Ink
WordPress Blog Themes - Ink is a finely crafted WordPress blogging theme, based on the latest narrative trend with sites like Exposure and Medium. With an emphasis on telling stories with style, Ink is designed with attention to details, and coded with the best possible coding practices.
Fully compatible with the latest WordPress version, Ink is so simple to use that it does not come with a theme options panel. Instead it makes use of the built in Theme Customizer, which provides all the options you need, and lets you preview the changes as you customize on the fly.
INNOVATION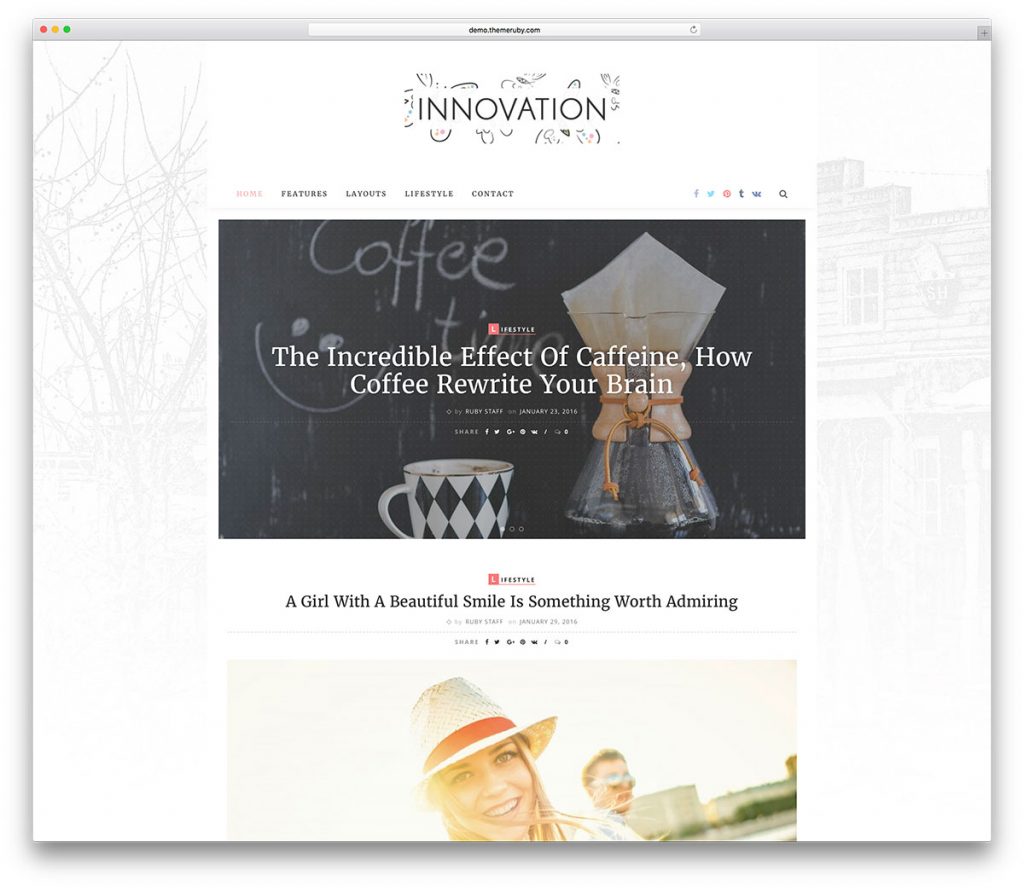 WordPress Blog Themes - INNOVATION is a Multi-Concept News, Magazine & Blog Template best suited for sites that deliver news about Technology, Fashion, Sport, Travel, Personal, Entertainment, Recipe etc.
INNOVATION is WordPress template packed with tons of features, with 1 Click Installer, a powerful Page Builder & include 6 months support.
With INNOVATION, you only purchase once template and receive a beautiful modern website with multiple layouts, but you will also have access to lifetime updates at no extra cost, making this an excellent value WordPress themes for Magazine , Newspaper and Blog websites.
With elegant and intuitive design, you can easily create a website that will put your best work first. Coded with HTML5 & CSS3 all of INNOVATION features including animations and effects are elegant and purposeful with a focus on your content first.
INNOVATION comes with a huge range of powerful tools in the back-end saving time and more money including a Page Builder, Theme Options, Shortcodes, Widgets, Mega Menu and much more.
Include a comprehensive Review System that allows your users to provide meaningful feedback with rating systems which are a great way to help boost your content to make it go viral.
Everything has been thought of with INNOVATION to help you create the most modern design newspaper, magazine or blog style theme today. With so many pre-built layouts and our easy to use 1 click install, designing your website couldn't be easier. Flexibility and affordability combined in one easy to use web design package.
Every website demo shown is included for FREE and can be quickly imported and set up with one click via the Theme Options.
John Doe's Blog
WordPress Blog Themes - John Doe's Blog is a simple, clean, personal, modern and professional blog ideal for spreading stories. It's totally responsive so it adapts to your style as well as the device it's viewed on. It's loaded with great features: unlimited styles support with 10 predefined css styles, widget manager, WPML ready, 15 custom page templates, 8 custom widgets, 60+ shortcodes, features 8 post formats: Standard, Aside, Gallery, Link, Image, Quote, Audio, Video, powerful theme options panel and more.
Kalium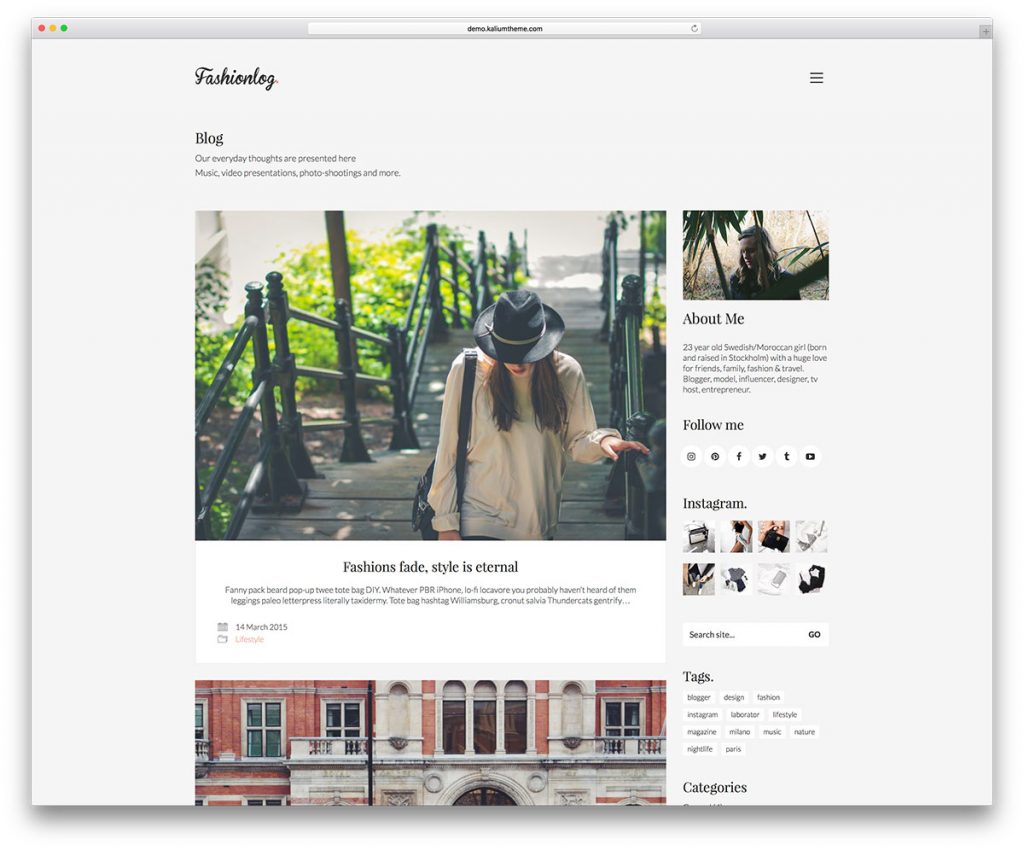 WordPress Blog Themes - Kalium is a creative WordPress theme that will showcase your Portfolio, Agency, Photography or Blogging (plus much more). With stacks of layout designs, user friendly Theme Options and rich 'Drag and Drop' content builder to help create your perfect site in minutes, Kalium is well organized and visually stunning and constantly evolving.
MarketBlog
WordPress Blog Themes - MarketBlog is Premium Blog wordpress theme which have many useful features to allow you build a personal,branding, marketing , seo blogs in a few minutes!
MarketBlog also support retina display which will make your site look great in retina devices suck as iphone,ipad,macbook pro retina…ect. It also use our new framework so it will load very fast , easy to update functions and SEO friendly.
Merapi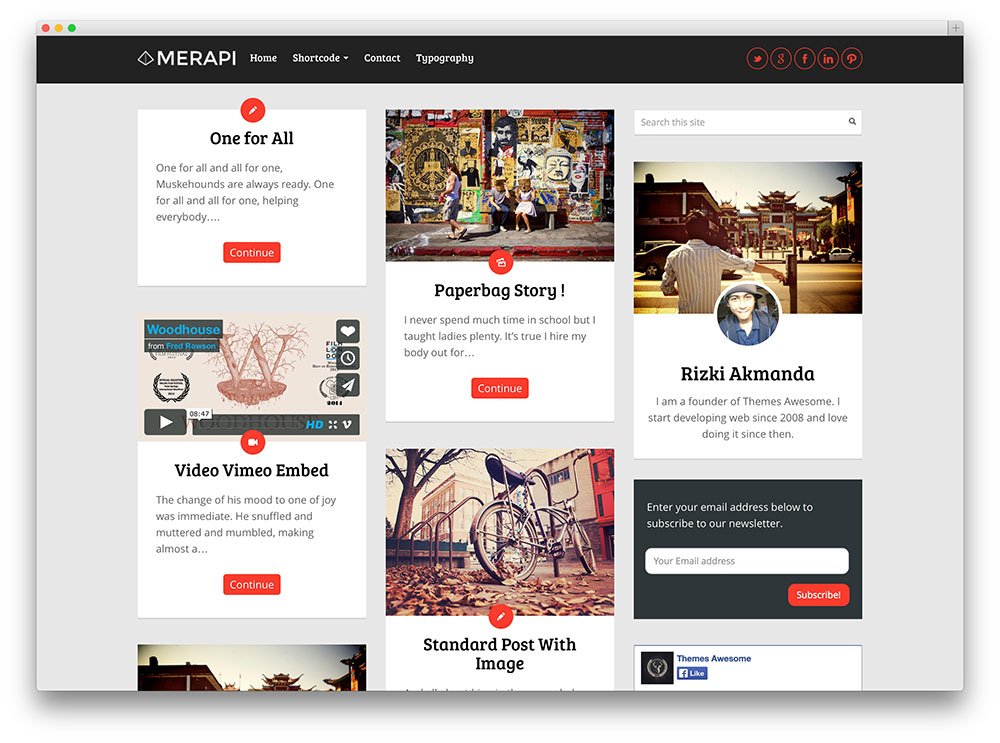 WordPress Blog Themes - Merapi is modern and clean blogging WordPress theme from ThemeAwesome. This theme is so hot with orange color like the vulcano lava. Suitable for all kinds of magazines, news websites, personal blogs, journal, story and other related projects, with an emphasis on mixed media and typography.
Merapi is Responsive, the theme is highly optimized for both mobile and desktop platforms. The layout also will encourage your viewers to read all of your content and get all attention it deserves.
Morning Time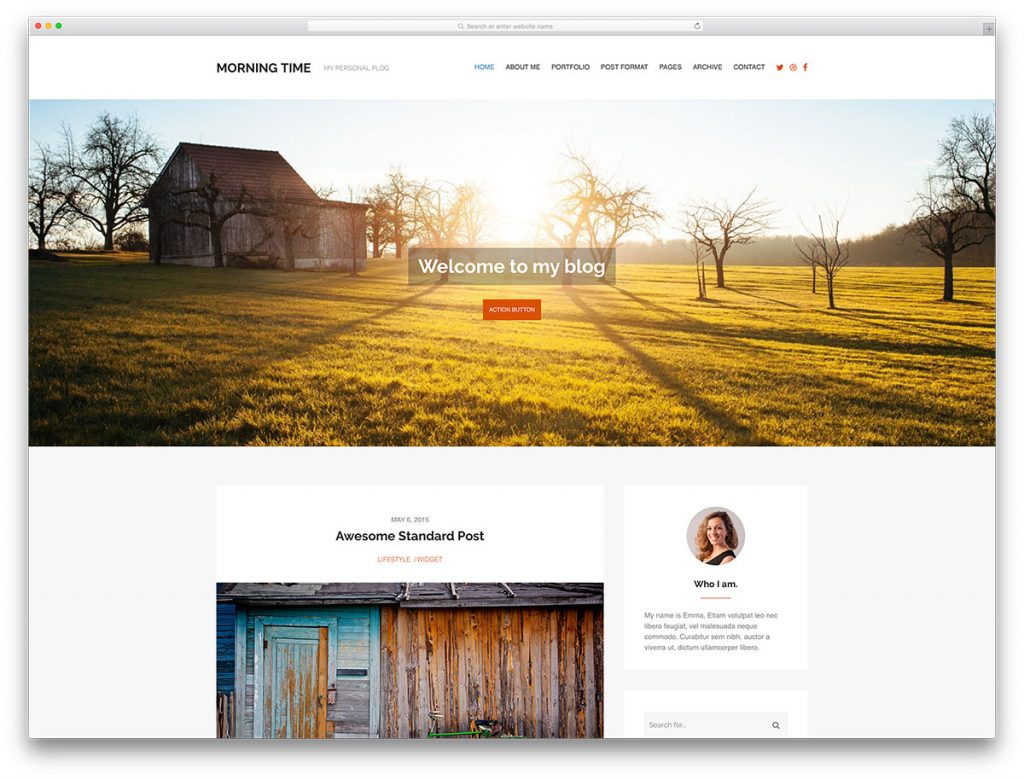 WordPress Blog Themes - Morning Time is a Premium WordPress theme with a beautiful design ideal for a Personal Blog, Family Blog, Journalists and anyone who loves to share their daily thoughts in a very professional and unique manner.
WordPress Blog Themes Features
Extremely Fast
The best quick site speed for a Personal WordPress Theme, with a Page Speed Grade: A96%
Responsive Design
The theme looks awesome at any size, be it a Laptop screen, Mobile or Tablet.
Advanced Options & Customizer
Take advantage of our user friendly and gorgeous Option Panel.
Child Theme Included
Use the child theme and you will never miss any future theme updates.
Unlimited Color Schemes
The color options will keep the site in the same style with your brand identity.
Unlimited Widget Areas
The theme comes with unlimited Widgets Areas for any Pages, Posts or Portfolio.
Multilingual Ready
With a multilingual site you will reach different clients on a global scale.
Foundation 5
The theme is based on Foundation 5.
WooCommerce
WooCommerce will transform your website into a fully featured store.
Custom Post Type ready
The theme comes with 1 Custom Post Types to showcase your portfolio.
MyBlog
WordPress Blog Themes - My Blog is a fully responsive, clean, and modern WordPress theme. Featuring two blog layouts, numerous sidebar & footer widgets, featured posts area, post formats, and more.
My Blog is the ultimate theme for bloggers. It has everything that you will need to create a well designed blog. Thanks to HTML5 & CSS5, WordPress Live customizer, and custom widgets, building your blog has never been easier. It also has a beautiful featured posts area or slider to showcase your best content.
Onetone

 - Best WordPress Blog Themes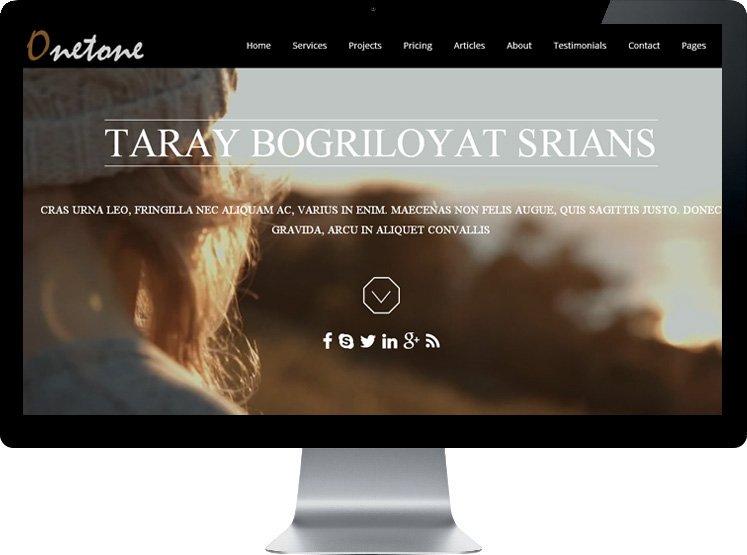 WordPress Blog Themes - Onetone is a one-page business WordPress theme based on Bootstrap framework and coded with HTML5/CSS3. All required information are displayed on a single page with clear order according to users' preferences. The basic sections designed for business purpose have already been built for you, such as services, about, gallery, clients, etc. There's also an extensive admin panel where unlimited sections can be easily added. Multiple options are available if you prefer to do some adjustments, such as changing background, parallax scrolling background, video background, Font Awesome Icons, uploading logo and favicon,adding custom CSS and so on. The theme is also responsive, clean, and SEO optimized. Please note that with updation, interface of your blog can grow up with futher more diversities.
WordPress Blog Themes Features
Homepage Sections
10+ built-in general sections, include banner, services, team, recent posts, gallery etc. Easily filling in brings out wonderful websites.
Shortcode Generator
One of the most popular features in Onetone are the wonderful Shortcodes you can use. With Magee Shortcodes, there is a shortcode for anything you need, and they allow you to create so many different page layouts.
WordPress Blog Themes Highlighted Features
Fully Responsive Design
With Onetone, you can rest assured that no matter what device people access your site from, it will look pixel perfect. All browsers such as Google Chrome, IE, Firefox, Opera etc. are supported.
Well-coded & SEO Friendly
Built with HTML5+CSS3 language, Onetone is coded well according to the latest SEO requirements. This SEO friendly theme with the latest coding technique will make the search engines love your site.
Primary Color
Onetone supports changing global color via one simple click, the color picker will help you find the color you prefer easily. But please notice changing primary color only affect most default color.
Sticky Header
With sticky header, your main menu and logo will always be at the top of the screen, automatically following when you scroll.
Full Width Slider
Onetone theme allows adding full width slider to the homepage, which means, you get one more option to set up your homepage.
Parallax Scrolling Background
With built-in parallax scrolling effect, one can add parallax scrolling background to each section, creating an animated effect once scroll down the page.
YouTube Video Background
You can easily add your background video by simply adding the YouTube video ID to the section option. Moreover, the latest version allows setting background video for any section in the homepage.
Font Awesome Icons
Onetone is fully integrated with the entire Font Awesome Icon Set. Each icon can easily be used via shortcodes. Besides, Font Awesome gives you the power to customize the icons' size and colors.
Flexible Layouts
When editing a page, you can switch the page content to yes or no, set the page padding, whether to display the title bar and slider. Choose from 4 different design styles, having individual blog pages.
Translation Ready
The theme has been updated to support translations in more than one language. You can upload a file to set your native language to your site.
bbPress Support
bbPress is forum software with a twist from the creators of WordPress. Easily setup discussion forums inside your WordPress site.
Retina Ready
With retina ready images and graphics, your website can be totally ready for all devices that has sharp high resolution screens.
Personal
The most innovative Personal WordPress blog theme is suitable for all the blogging masters and it is equally good for Video websites with dozens of awesome functionalities you would have never seen in any other premium WordPress blog templates. Each of the 9 innovative Homepage designs is perfect in itself, can caters to the all around needs of a specific blog niche. The supported post types include audios, videos, images, text, sliders and many more. The layout can be either single column or multi-column and with or without sidebar.
Piemont
WordPress Blog Themes - Piemont theme is one of the fastest, clean and aesthetic responsive WordPress Blogging themes with WooCommerce support on Themeforest. This theme can be used for any personal or business needs to easy create and launch your WordPress based blog or magazine in 2 minutes.
Unlimited blog styles and layout combinations (20+ header styles, 5 blog listing layouts, 5 blog styles, 4 Featured Posts Slider layouts, 650+ fonts), Unlimited color themes (11 predefined, unlimited to create yourself), dozens of configurable options – and all of this you can manage with 1 click of your mouse in our advanced user friendly Piemont Control Panel.
PinThis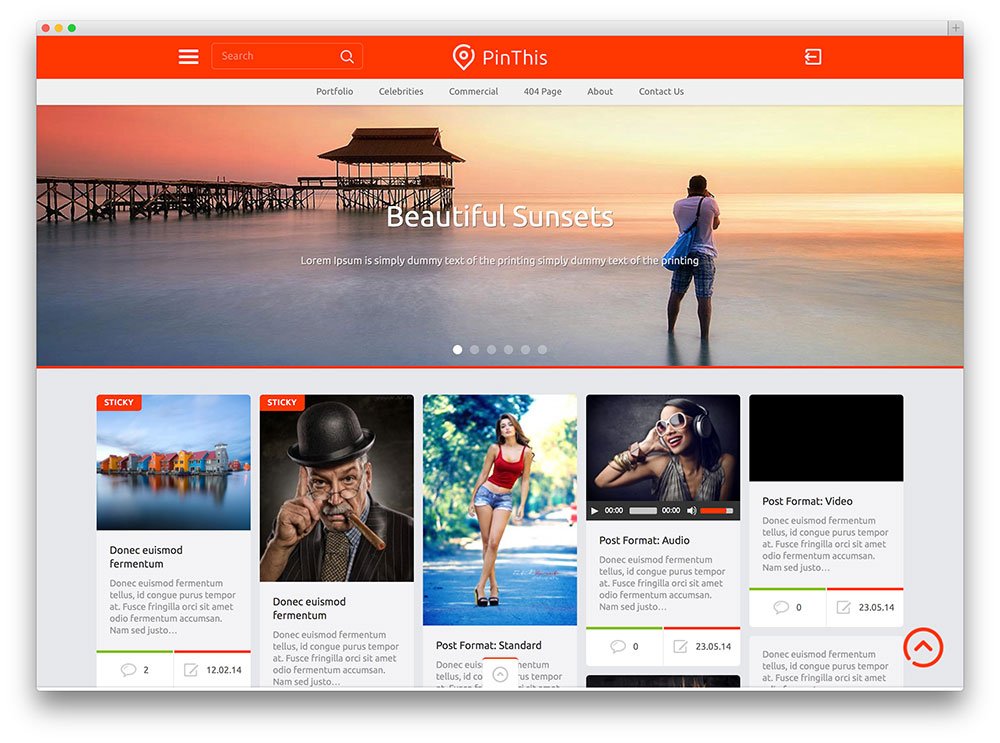 WordPress Blog Themes - PinThis is Pinterest inspired WordPress theme that comes chock full of style and customisation options. PinThis is a cutting-edge, masonry based, multi-purpose theme. With its clean design it is great for projects that emphasizes a stylistic and modern look. Design Theme is made in a beautiful FLAT style. It is suitable for Personal Portfolio, Creative Agency, Designer Portfolio, Illustrator Portfolio, Photographer Portfolio and more. PinThis has been built and designed with simplicity in mind.
Rinjani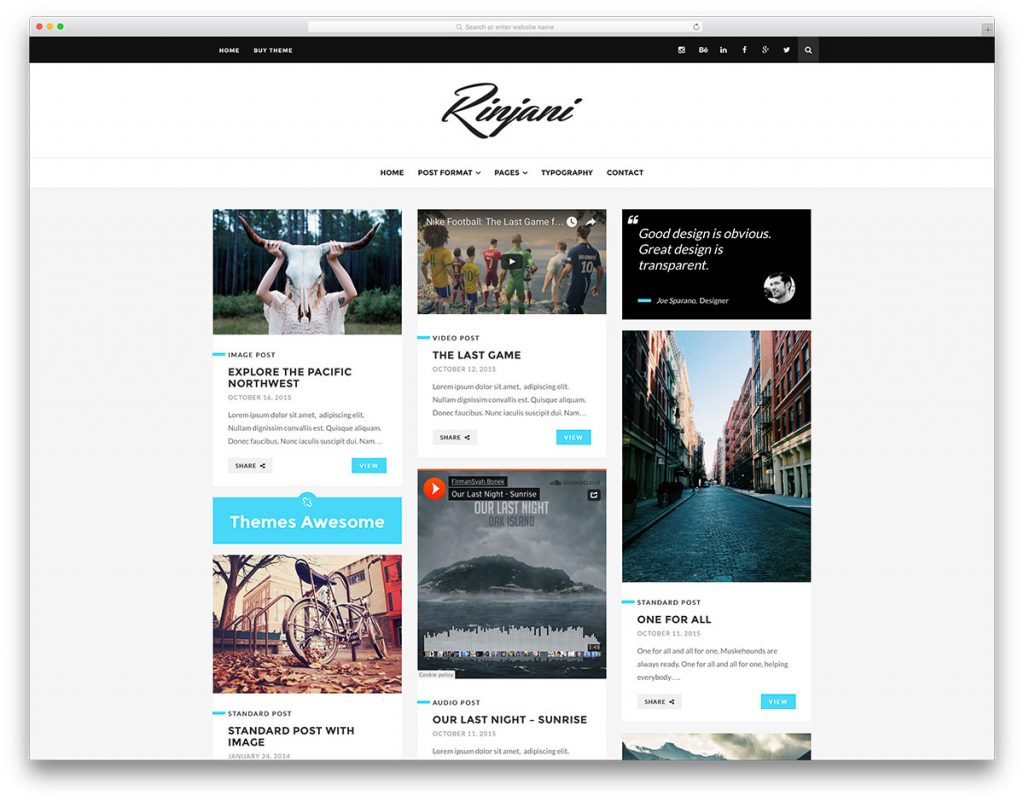 WordPress Blog Themes - Rinjani a Grid WordPress Blog Theme This theme is perfect choice for your personal blog, niche blog, corporate blog, marketing blog, authority blog or any type of creative blog. Built by effortlessly timeless style and support any type of post format, Rinjani is designed with flexible color to customize by yourself. So, you would be able to choose whatever color that you like.
Rinjani is highly optimized for both mobile and desktop platforms. The layout also will encourage your viewers to read all of your content and get all attention it deserves.
Rosemary
WordPress Blog Themes - Rosemary is a light & bright blog theme, tailored to showcase your content in an effortlessly timeless style. Boasting popular features such as a full-width Instagram footer area, a showstopping featured area slider, and an abundance of post & layout options, Rosemary's clean, contemporary design is guaranteed to wow and inspire!
SeaShell
WordPress Blog Themes - SeaShell is a professional WordPress blog theme, created by experienced WordPress developers. Perfect choice for your personal blog, niche blog, corporate blog, marketing blog, authority blog or any type of creative blog.
Made with modern responsive design, awesome typography and focus on readability. Highly customizable so it can match your personal taste. Also, SeaShell theme is developed with SEO in mind, as well as for fast page loading and security.
Sensational
WordPress Blog Themes - Sensational brings out the awesomeness of your blog to the fullest. It will transform your average looking Website into an absolute stunner. You can play with different Color Options and layout styles to make it a perfect fit for showcasing your content. Whether it's the amazing hovering effects or awing transition slides, you will find everything you need, that too at an unbelievable price.
WordPress Blog Themes Features
Multiple Layouts
Sensational includes 4 layouts to choose from, giving you the maximum flexibility to customize your site.
Fluid Responsive Layout
Sensational provides awesome reading experience on various screen sizes, from iPhones, smartphones and tablets to laptop and desktop computers.
Options Panel
User-friendly options panel that allows you to easily add the logo, analytics code, advertisements, social buttons, change the layouts and much more.
Unlimited Color Schemes
Customize Sensational's color scheme and pick the colors that suit you, with unlimited options available to choose from.
Unlimited Backgrounds
Customize Sensational even more, by choosing from unlimited backgrounds including textures, patterns, solid colors and more.
Custom Typography
Typography is important part of website design. You can switch between 620+ Google fonts from admin option panel without touching the code.
Lightbox
Sensational includes our sleek lightbox, so you can show off your multimedia content in style.
Custom Widgets
Sensational comes with our 12 custom widgets already included, so you can set up your blog quickly without having to add a bunch of plugins.
Optimized for Adsense
Sensational is click-optimized and will help you earn more from Adsense than ever before.
Custom Dashboard Design
Sensational includes our custom dashboard design that optimizes and streamlines your blogging experience by providing easy access to the most commonly used functions.
Related Posts
Just one click and each post will show the related posts with thumbnails.
Shortcodes
The shortcodes included in Sensational will allow you to build posts and pages in a breeze and add functionality with 1 click.
Translation Ready
Sensational is translation-ready, so by adding a translation file, you can reach new audiences around the globe.
SEO Optimized
Sensational is search engine optimized, so your posts and content will automatically be indexed and outrank your competition naturally.
HTML5 and CSS3
Sensational is hand-coded with the latest in HTML5 and CSS3 techniques, giving you access to everything the web has to offer.
Icon Fonts
Load your icons lightning fast, with no need for images, thanks to our icon fonts(350+), which allow you to quickly and easily add icons anywhere in your blog without any hassles.
WooCommerce Support
Integrated with the web's leading eCommerce plugin, WooCommerce, Sensational will help you sell products and services to customers. Simple to set up and feature-rich, WooCommerce + Sensational is the perfect combination.
Singkarak
WordPress Blog Themes - Singkarak is the only theme you'll need to create sleek personal blog theme on top of WordPress platform. This will be the perfect one column WordPress theme for your blog!
The theme is also fully-responsive from top to bottom ensuring you get the best benefit from desktop computer to small screen mobil devices.
This blog theme comes with a lot of features such as unlimited colors, support WordPress post format (Standard, Gallery Slideshow, Gallery Grid, Link, Image, Quote, Audio, Video), tons of shortcodes, and a powerful unbranded theme options.
SmartBlog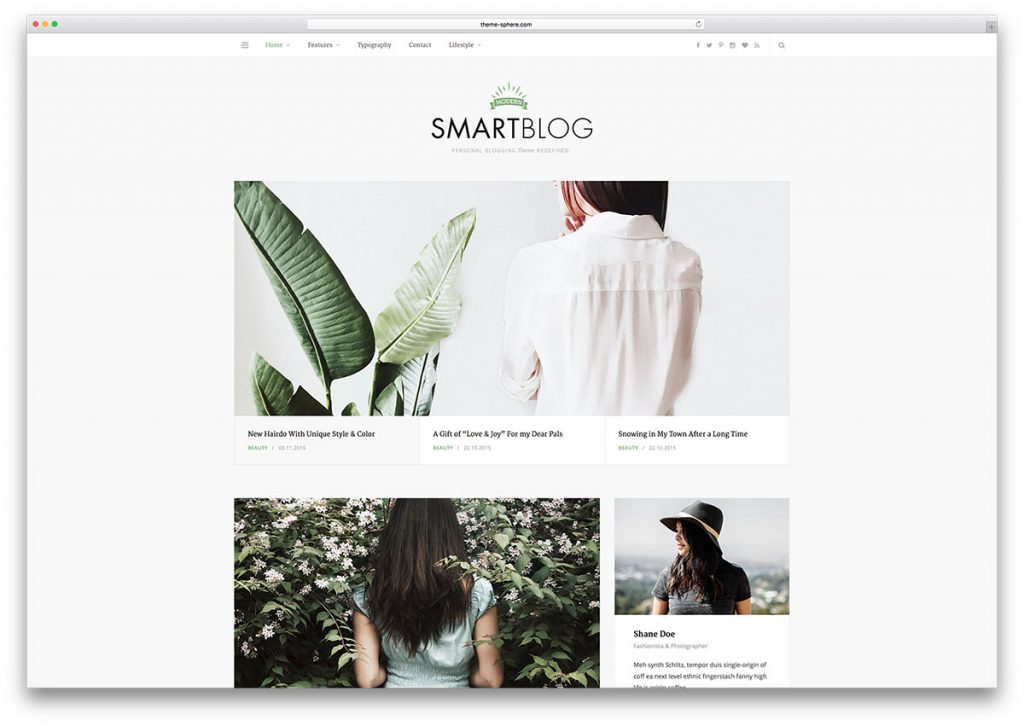 WordPress Blog Themes - SmartBlog is a light and elegant theme tailored to be exceptional on all kinds of blogs. Not only its modern design is pleasing to the eyes, it packs in robust yet easy-to-use backend system all managed through WordPress Live Customizer. If the numerous theme options are not enough for you, rest assured that our support staff will be at your service to assist you.
Spike
WordPress Blog Themes - Spike is a bright and colorful WordPress blog theme. Spike is packed with a sleek post slider, all our widgets and shortcodes, plus our best optimizations. Spike is fully responsive and coded with the latest HTML5 and CSS3 techniques.
SteadyIncome
WordPress Blog Themes - SteadyIncome is the ultimate WordPress theme for online marketers, bloggers, and entrepreneurs. It's packed with features such as a powerful subscription tool, ad optimization, featured products section, and a beautiful responsive design that will all boost your online earnings.
Tulip
WordPress Blog Themes - Tulip is a one of the most Responsive WordPress themes which brings simple and clean design. It's very flexible, fully customizable by WordPress Customizer. It's a perfect fit for photographers, artists, writers, or people looking for a theme with clean design to share their photos, galleries, videos and articles.
Uncode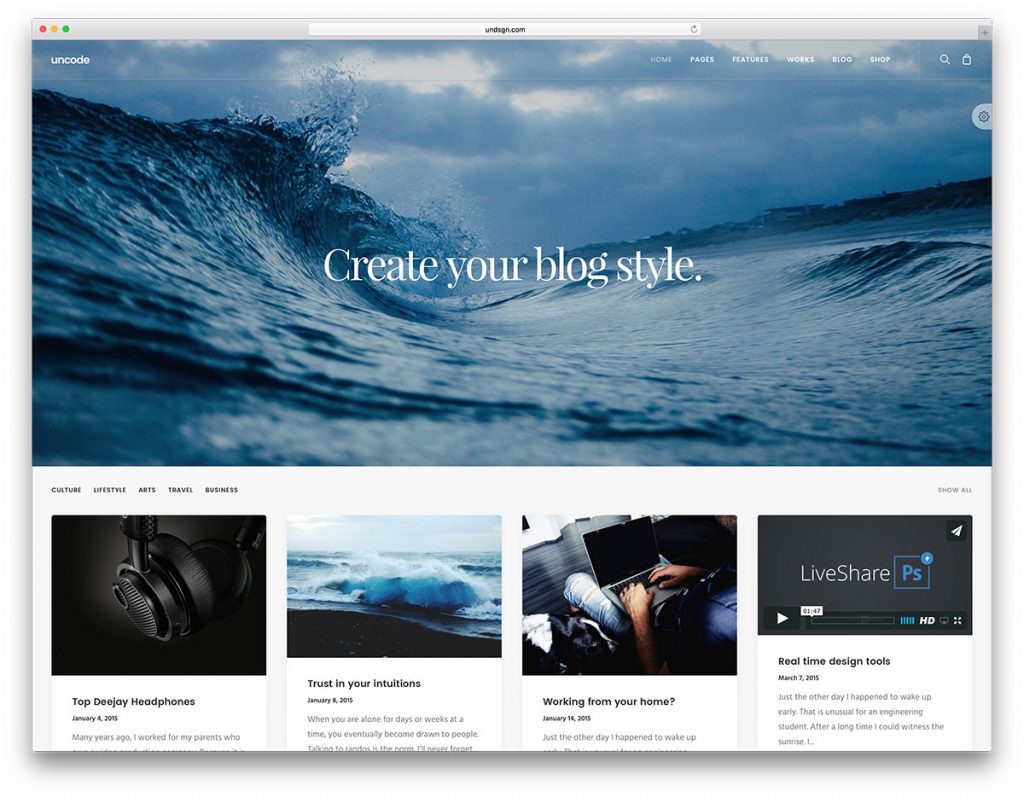 WordPress Blog Themes - Uncode is a pixel perfect creative multi purpose WordPress Theme based on Visual Composer designed with terrific attention to details, flexibility and performance. It is ultra professional, smooth and sleek, with a clean modern layout, for almost any need: agency, freelance, blog, magazine, portfolio, photography, corporate and ecommerce shop. Build beautiful, intelligent websites. Uncode is the result of many years experience in creating award winning web designs by a team of designers and developers dedicated to creating visually stunning websites.
With over 30+ Homepage Concepts ready to go or combine, build a layout has never been easier. There is a huge range of styled pages waiting for your customisation, anything you can think of can be built with our unique take on Visual Composer. If you are searching for innovative, modern and clean WP Theme, Uncode is Top Recommendation.
Vivid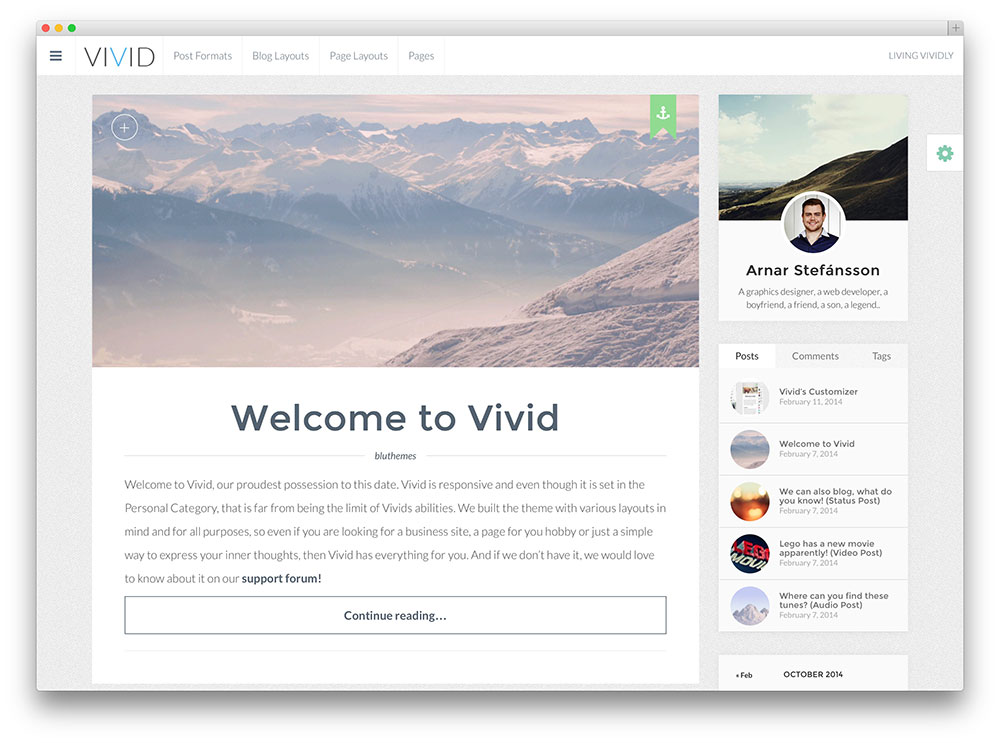 WordPress Blog Themes - Vivid is an extremely easily customizable WordPress blog with multiple options you can choose from, watch you website change live with our fantastic use of the native customizer from WordPress, alter things like font types, icons, colors, elements and images with a simple click of a button.
With superb visual design and great support for mobile and tablet devices you can easily reach all your readers wherever they are!
Vivid has 15 custom widgets most directed at social media (Facebook, Twitter, Google+, Instagram, Flickr and more), 10+ specially made shortcodes and a very easily customizable theme options panel.
Webly
WordPress Blog Themes - Webly is a WordPress Blog Theme in clean and bold Design. It's perfect for any personal blog. It follows the trendy design with a combination of pure elegance. With Webly you get right to the point, presenting your content in a clean and minimal way.
Webly comes with both sidebar layout and full width layout. Both of them can have featured posts or about us blocks under the menu. This means you have 4 available layouts from which you can choose. You can preview 3 different layouts in our live demo (you can have more combinations since you can combine any of the blocks with full width version and sidebar version).
Writing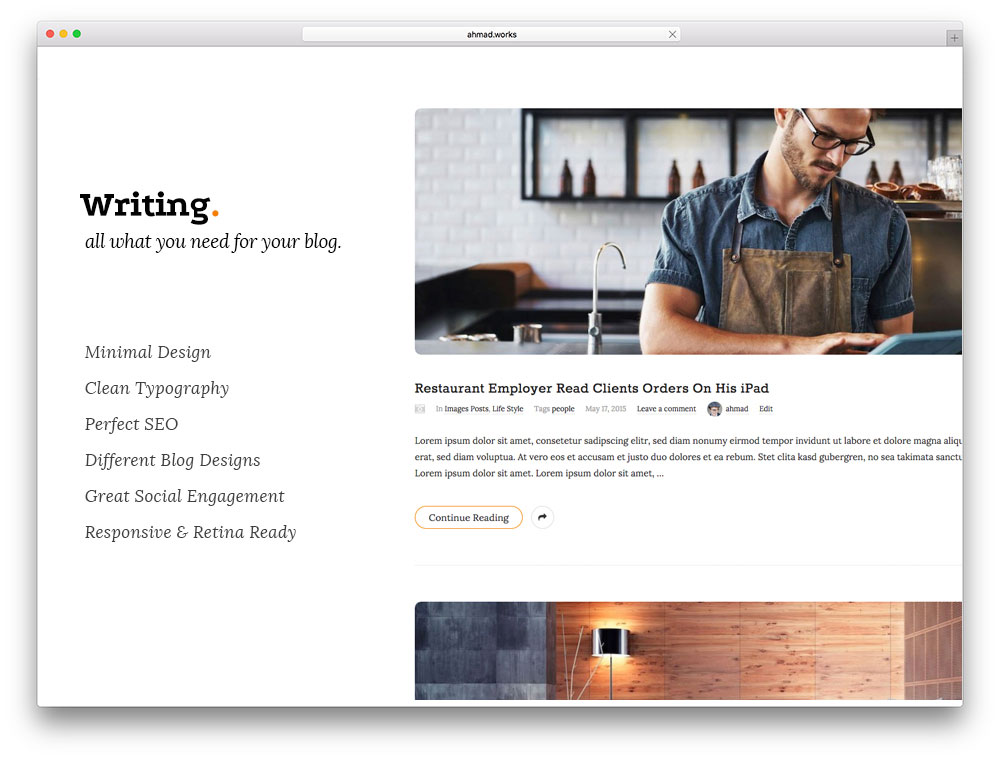 WordPress Blog Themes - Wrting is a clean and minimal blog theme for perfect for writers who need to create personal blog site with simple creative features and effects to make readers feel the pleasure of reading blog posts and articles, Writing minimal WordPress blog theme mixes between modern, classic and minimal styles, if you are a blogger, then it's a perfect choice for you if you don't need to have any experiment to setup your WordPress personal blog, it's super minimal and easy to setup, you will get high quality, responsive, well crafted blog out of the box to make writers only focuses on writing content, and it has great typography to make your fans and followers focus on every word you write.
WordPress Blog Themes Features
Minimal design to focus on readability.
Writing is a minimal blog theme for WordPress, everything was made very simple just for you.
You have to focus only on writing your content and this theme will give the great reading experience for your blog followers.
Amazing SEO results, It will boost your SEO.
Writing theme has been well structured and has the most advanced and perfect HTML outline to make a friendly relationship between search engines and your website.
Everything is build according the most recent rules of Search Engines, so using this theme will boost your SEO results and will bring right readers to you.
Many ways to show your blog content.
You have many options to show your blog posts, you can simply switch between blog styles (Default, Classic, List, Masonry) you choose the best way to show your content.
Everything is Super Easy to setup.
Not only has a simple design, but also everything is simple and very easy setup, you don't need any skills to customize your blog, you only need to install the theme and you will get your blog ready.
Great social engagement, you can show yourself.
Your social profiles are your ID on the web, with Writing WordPress theme you can show yourself on several social networks.
Your articles will have a good relation with social networks too, all pages are well built using Open Graph to look good when you share them on social networks.