Beginner's Guide For WordPress SEO 1
What Is SEO
If you don't know, SEO stands for search engine optimization, and it is basically the discipline of getting search engines, often with a heavy focus on Google, to send you visitors.
---
SEO is complicated, and it can be hard to explain all that it entails without dragging on, so we'll keep it short and sweet. The simplest way to explain SEO is to say that it is about communication. On one hand, knowing your potential audience and communicating to them in their language, on the other hand communicating to the search engines that your awesome content is worthy their bots' attention and reverence.
---
SEO is often made out to sound like some kind of mystical, magical, endeavor. A voyage through murky seas that only the 'gurus' and experts can navigate (or gaming the results by 'cheating the system'). And when it comes to breaking into the top 10 results on Google for the most competitive terms out there and maintaining your rank, maybe this is true.
---
But that's not what this WordPress SEO guide is about. This guide will show you some best practices that can start getting you some small, but significant, search traffic that will add up over time.
---
When it comes to whether or not you should spend time on SEO as beginner, the blogging community seems to be split in half. People who blog about SEO "can not understate the importance of doing SEO", whilst people who do Social Media, Networking, you name it, all kind of disregard it.
---
While I've seen some compelling stats that show that guest blogging traffic converts a better than search traffic, the potential volume is also quite different. While guest posts might bring in a few hundred visitors, thousands even, the potential lifetime traffic of getting a single post ranking is of a different scope. Even for some 'measly' search term that only gets 30 daily searches, that's thousands of potential visitors per year (and of course, thankfully there's no networking/cold emailing required). So let's dig into WordPress SEO!
The SEO Jargon
Search volume = The amount of searches a specific keyword gets per month.
Keyword = Most often refers to a word or phrase searched for in the, in the context of putting it into your content.
Search phrase = Something someone searches for in search engines.
Exact match keyword = Keyword that is the exact match to a search phrase ('Organic Cat Food' is an exact match but 'Natural Cat Food' is not).
Backlink = A link from an outside website to a website or page.
Permalink = The full url of a post (or page). Basically where you find a post when it's no longer on the front page.
In this concise guide, you will learn how to optimize your WordPress site and get extra visitors you might be leaving on the table.
Keyword Research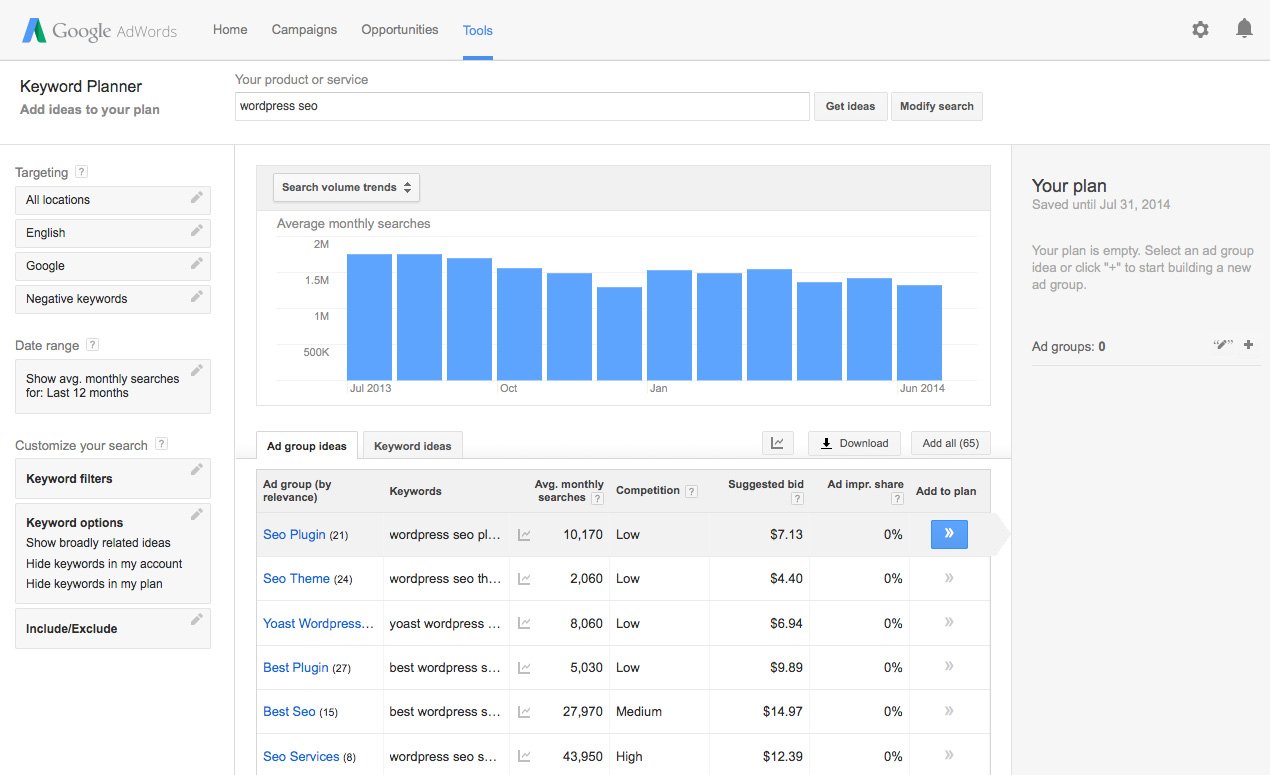 If you think about how a search engine works, by crawling and indexing your pages and your content, and then matching it up with requests made by the searchers, you can get a feel for what it's all about. Search engine optimization, in a sense, is about communicating effectively to a potential audience. you have to know how to communicate with the audience.
---
And that's where keyword research comes in. Keyword research is all about speaking the language of the potential visitor. A slightly different phrasing can mean a 1000% difference in potential audience. Sometimes more (but that doesn't mean you should always target the more popular one, more on that later).
---
While there is a large number of software for doing keyword research out there, for the purposes of this guide, we are going to use the free alternative of Google Keyword Planner (you are going to need an active AdWords account to use it, which is easy enough if you already have a Google account – it's free).
---
One of my favorite functions about the keyword planner is that you can use it to get suggestions and insights into the language your audience uses when searching for content, by simply typing in one broader topic, or problem.
---
The second part of keyword research, is assessing the competition. This is key, as it will help you decide whether or not it is worth your time to try to go after a specific keyword, or you should simply save it for later and move on to greener pastures.
SEO Best Practices According To Google
Google advises against "artificial link building", including guest blogging to build backlinks. Instead Google advises you to:
Optimize your website structure
Write accurate page titles
Improve your website urls
Properly use meta descriptions
Write kick ass content, or deliver kick ass services
Properly use heading tags
Optimize your images
Preparation
And now onto the actual doing. The following stuff will help you get your website ready for implementing the SEO best practices we will tackle in the next part of the guide.
1 Make sure you allow search engines to index you.

LEAVE THIS BOX UNCHECKED! No matter how well you do all the other things, if you mess up on this step, it won't matter at all. Your site will tell the googlebots, and the bingbots, and the yahoobots, that they're "not welcome around here". And they will move on, making you effectively invisible on most (if not all) search engines.
2 Get Your Site Indexed If It Isn't Already
To get indexed by Google, you will need an already indexed website to link to your website, or you will need to manually get your website indexed. You can do this by submitting your sitemap (created easily by using a plugin like WordPress SEO by Yoast, or XML Sitemaps) using Google Webmaster Tools (to get indexed in Bing use Bing Webmaster Tools to submit your sitemap). More on creating an XML sitemap and submitting it here.
3 Leave The Ugly Permalinks Behind
Not only is the default structure (p=999) bad for looks, it also indirectly damages your ranking, because having keywords in your page url does help a little bit. It's such an easy fix too. Simply go to settings>permalinks and choose the "post name" link structure, and you're all set.

Next Article