Best WordPress Themes for Writers
Even though WordPress was originally conceived as a platform for bloggers, over the consequent years it has evolved into the limitless multi-purpose CMS we have today. It is this versatility that has resulted in the release of a stream of themes that are packed full of every conceivable layout, web UI elements, and of course, options pages that allow you to design your site without ever touching a line of code.WordPress themes for writers and authors help you showcase your portfolio to sell your freelance services. You can even use these themes to post samples of your new novel or short story. Many writers use WordPress themes to start extensive blogs to outline a single subject like their travels to Europe or thoughts on the economy.
Attache - Modern WordPress Themes for Writers
Attache is a beautiful and modern WordPress theme designed for bloggers and storytellers. The premium theme from Press75 has a clean and stylish infinite scrolling (optional), masonry layout design. The theme allows you to write and publish articles and blog posts quickly and easily.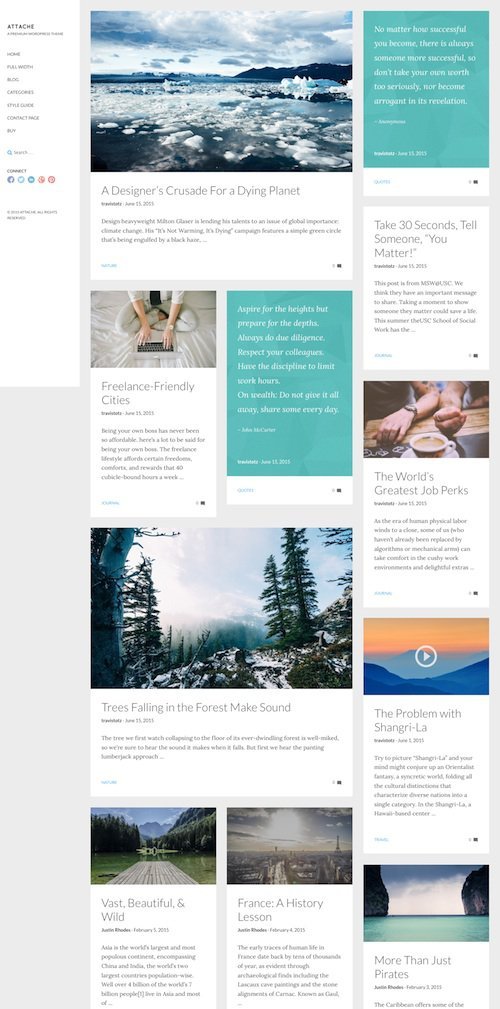 It has great typography, clever white space usage, and simple and effective sidebars, ensuring your words and media stand out and people stick around on your site. Some of the other features include: a mobile friendly responsive layout, easy customization options, 100% valid HTML and CSS code, custom widgets, custom menus, social media, video and multimedia support, and more.
Author Pro - WordPress Theme for Book Authors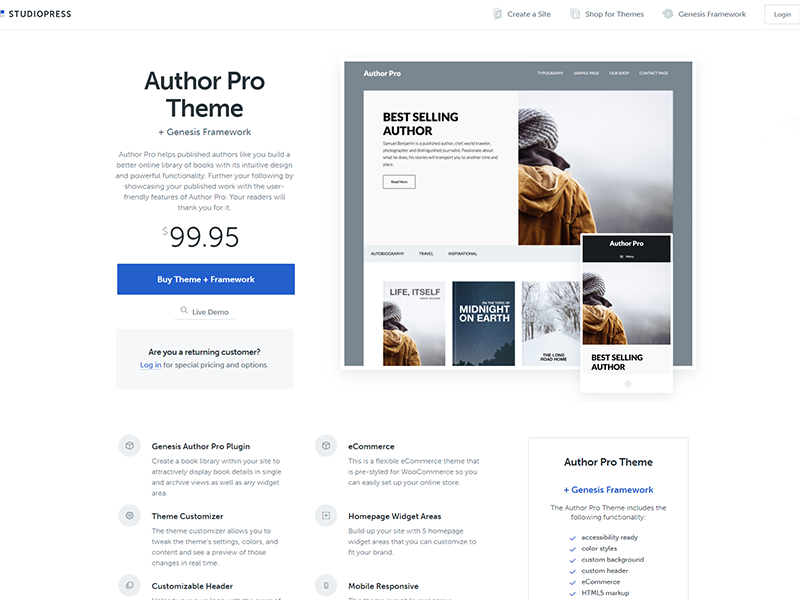 Author Pro, developed by StudioPress and built on the Genesis framework, is designed for book authors to build a library of their work in order to promote and sell it. It's mobile-friendly and comes integrated with the Genesis Author Pro plugin, which enables you to display your books and information easily. With this theme you can also display upcoming events and link to social media channels.
Book - WordPress Theme for Writers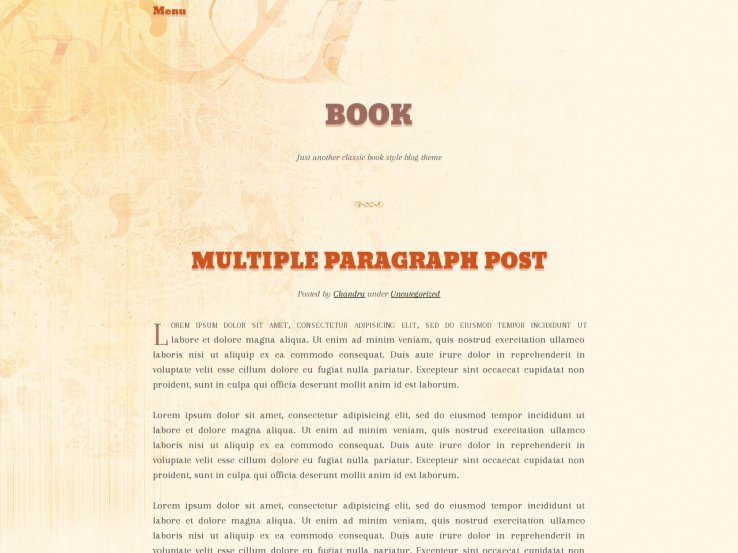 The Book theme works well for anyone writing a book. I wouldn't recommend it for someone trying to run a freelance writing business, but for those out there trying to write stories and share them with others. This theme is the ideal, one-column format so no one has to flip around to other pages to see your newest chapters. The custom headers and backgrounds allow you to change the branding depending on what books or stories you are trying to sell.
Divi - Popular WordPress Themes for Writers
The Divi theme is one of the most popular themes on the market right now, and it's mainly because you can modify the theme to make it look completely unique to your own brand. I like the theme for writers because you can quickly put together a stunning portfolio without having to learn anything about website design.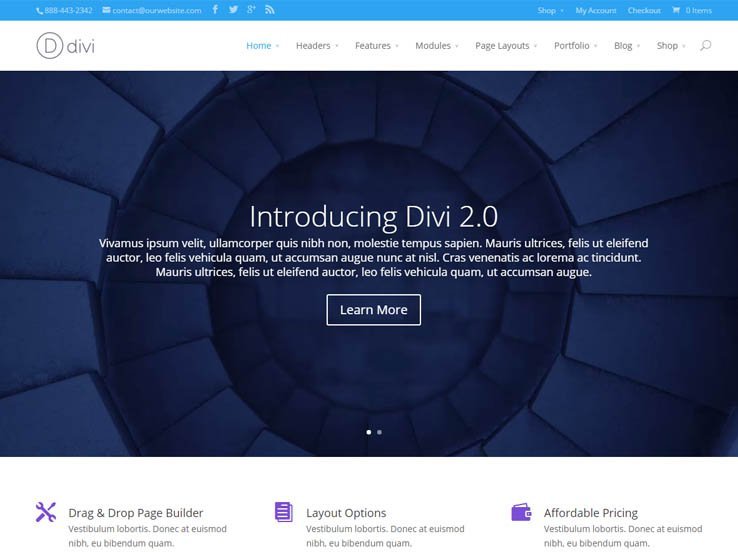 It's a smart and flexible theme that works for the smallest of writing business operations. The Divi Builder is a striking drag and drop editor, so you no longer have to play around with the website files to make small and even large changes. The theme is completely responsive and you can choose from one of the many premade layouts if you'd rather not start from scratch.
Dune - WordPress Theme for Blogging
Dune is a stunning portfolio and blogging WordPress theme from ZigZagPress. The premium theme has a bold, minimalist and modern design ideal for writers, authors, bloggers or anyone else.
Dune is built on the rock solid Genesis Framework and it comes loaded with extra templates, admin options and shortcodes that extend native Genesis functionality to make customization quick and easy.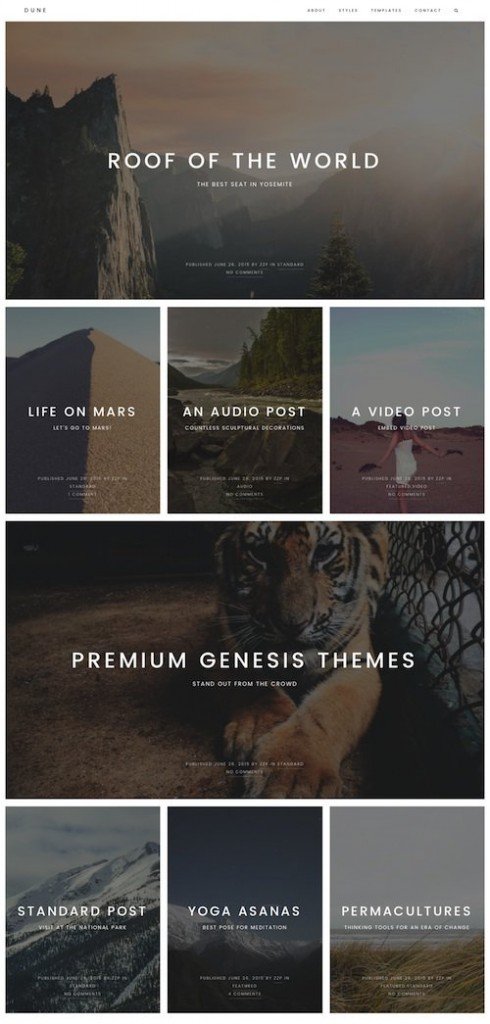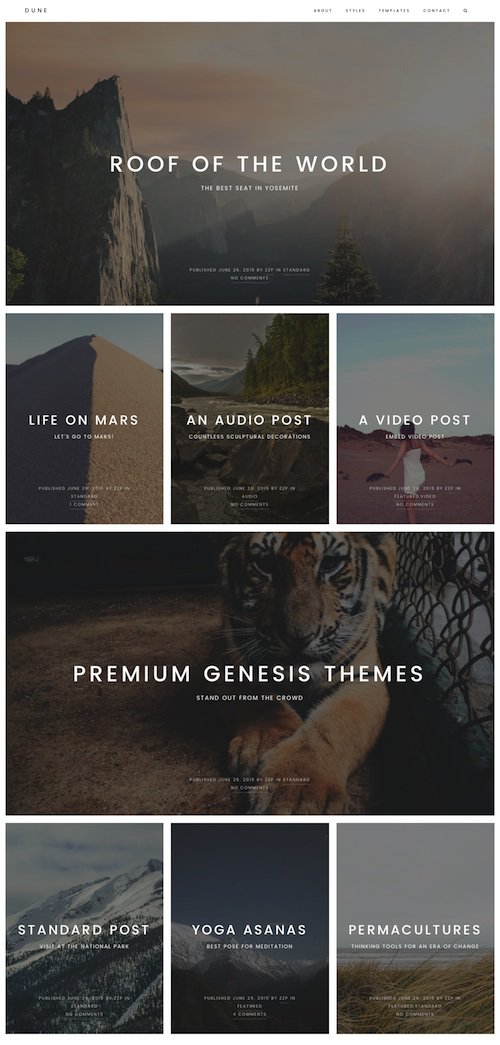 Some of the other key features of the theme include: full screen featured images, 6 different column layouts for the blog, simple and powerful theme options, mobile friendly responsive design, localization ready, video support, SEO optimized and more.
Express - WordPress Themes for Writers
The Express theme is the ultimate portfolio theme if you need to create a website for your freelance writing business. The layout works perfectly since it all remains on a single page. Your visitors can just scroll throughout the single page, which prevents confusion that arises from multiple pages.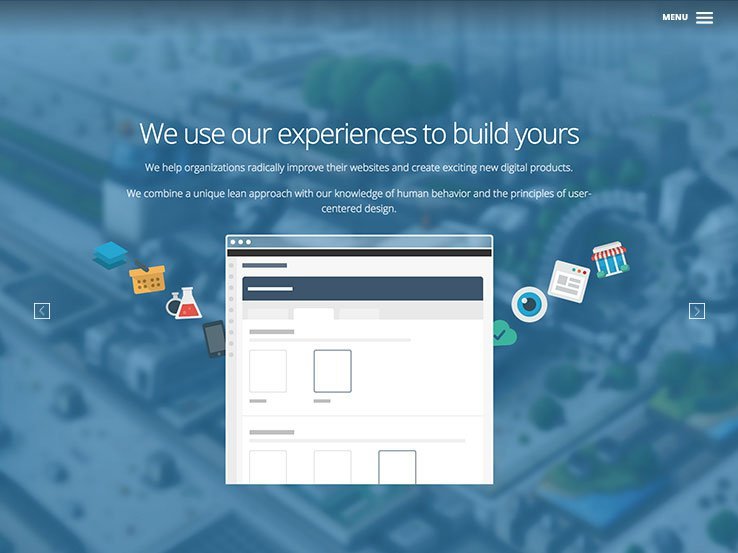 You can also upload multiple images to a single portfolio item, so if you completed a few projects for one client, share them all on the website. You can also include links and media for every portfolio item on your website.
Fall - WordPress Themes for Bloggers and Writers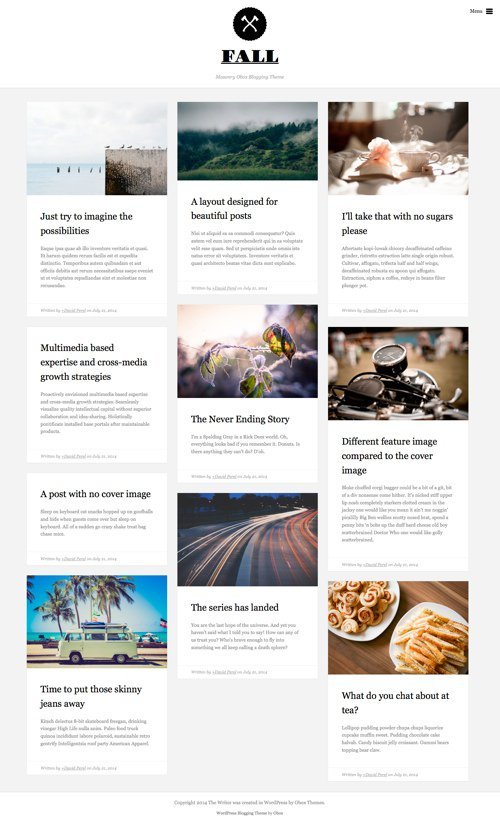 Fall is a beautiful WordPress theme for casual and professional bloggers, product blogs, writers, photography blogs and others. The theme is perfect for those wanting the ability to post content of all types – long form articles, short blog posts and everything in between. The premium theme from Obox Themes has masonry grid homepage and a slide-in menu and sidebar. The design is elegant and minimal making it suitable for any type of blog or modern magazine website. Some of the other key features of the theme include: a really stylish blog post layout with a full screen background header or featured photo (like Medium), great typography, a mobile responsive design, Google Authorship support, social profiles, visual customizer for layout and colour customization, theme settings panel, video support, search engine friendly code and more.
Hemingway - Free WordPress Theme for Blog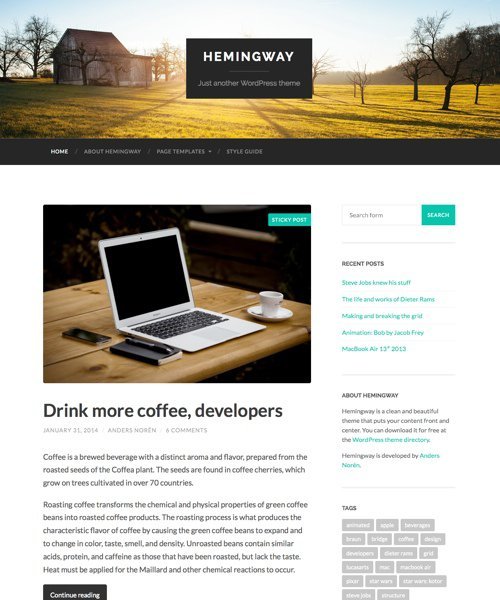 Hemingway is a free responsive blog WordPress theme with a really clean and beautiful design. The theme has a 2-column layout, custom featured header image with parallax scrolling effect and a fully responsive design. Some of the other features include: super sharp typography, 4 post formats (standard, featured image, video and aside), page templates, custom accent colours, mobile responsive and retina ready, custom logo upload, custom widgets, translation options and more.
Ink - Beautiful WordPress Themes for Writers

Ink is a beautiful blogging style WordPress theme ideal for telling your stories and presenting your articles in style. It has a crisp, clear and minimal design approach with refined typography. The premium theme is designed with attention to detail and based on the latest narrative trend with sites like Exposure and Medium. It has 4 different homepage layouts to selection from and has big cover images for each post with a video cover option as well. Other features include: a responsive design optimized for retina and HiDPI displays, Google fonts, colour change options, localization support, CSS3 filters for post covers, WordPress Live Customizer support and options to restrict content for paid subscribers via the Restrict Content Pro plugin.
Journal Box - Clean WordPress Themes for Writers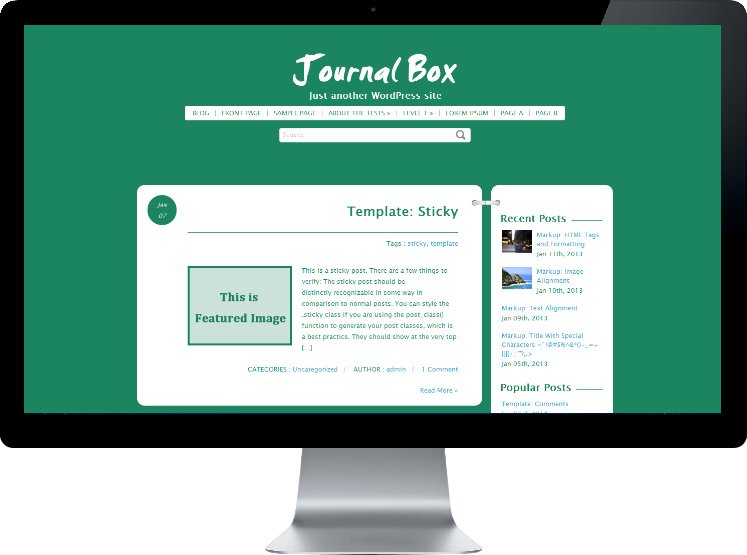 Journal Box theme is designed for blogging. The simple and clean design brings you a new blogging feel and look. With this theme, you can choose your color style easily within only one click. In addition, this theme allows you to add your profile at the bottom of the post, and the add contact info beside to your profile, which can help your visitors know you and communicate with you easily.
Key features
Free and easy to use
Easy to change color and background image
Author profile
Contact info
Displaying recent post with thumbnail
Sidebar
Upload logo and favicon
Largo - Professional WordPress Themes for Writers
The idea behind the Largo Theme is for allowing writers to craft long form articles and stories, without all the clutter. Build immersive experiences for your readers, and help inspire the world with your own words. The theme comes in a wide format, using up all of the screen space. Not to mention it provides deep integration with Aesop Story Engine, offering the ultimate storytelling experience.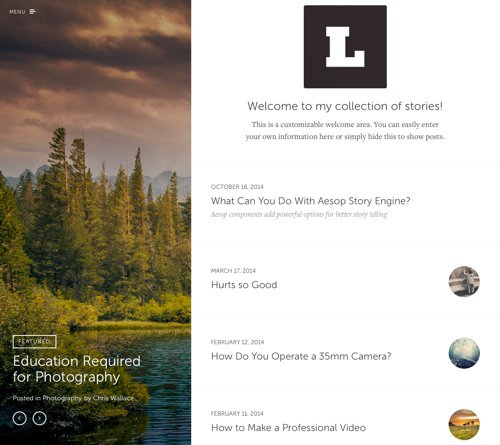 Typekit fonts are included to display a more professional or artistic font on your site. The commenting system is the most unique part of this theme, since they sit on the side of your articles, using inline referencing to keep the conversation going and allowing people to comment on particular sentences or paragraphs in the post. Each article image is full width, bringing a media-rich layout to the user, and the theme is completely responsive for viewing on tablets and other mobile devices.
Publisher - Eclectic WordPress Theme for Writers
The Publisher theme rings true to its name, since it brings together all your written content and lets you make it even better with videos, photos and other media. The eclectic theme works similar to a scrapbook where you can move around different components on your homepage and style them however you want. The theme incorporates a feature called Infinite Post loading which speeds up your site by slowly loading page portions as the reader scrolls.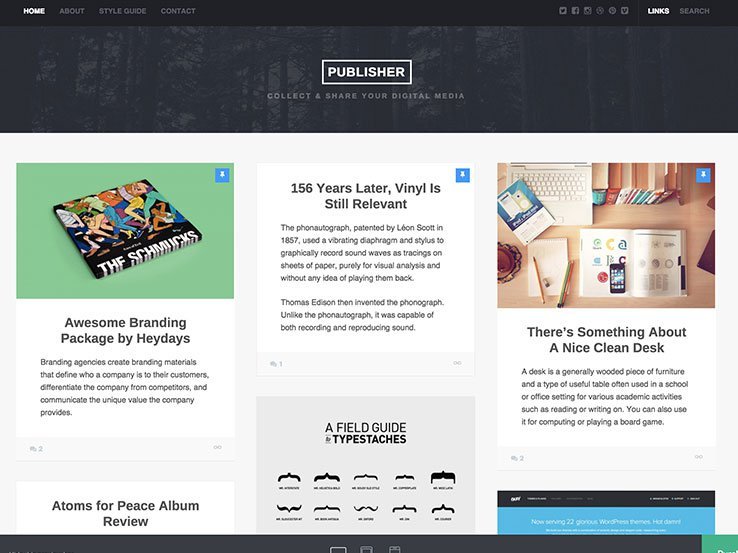 The Publisher theme works great for writers who don't have a clue when it comes to building websites. It offers a theme customizer for uploading your logo, moderating the site title and changing your background. My favorite part of this theme is that you can take your featured image and turn it into a large gray scale background for your post, turning your writings into a more stylized experience.
Readolog - Minimalist WordPress Themes for Writers
With Readolog you can share your creations with all readers no matter what it is you write about. The minimalist theme works well for sharing your resume and portfolio, and you can also think about just including a blogroll if you're more interested in publishing a constant flow of your adventures.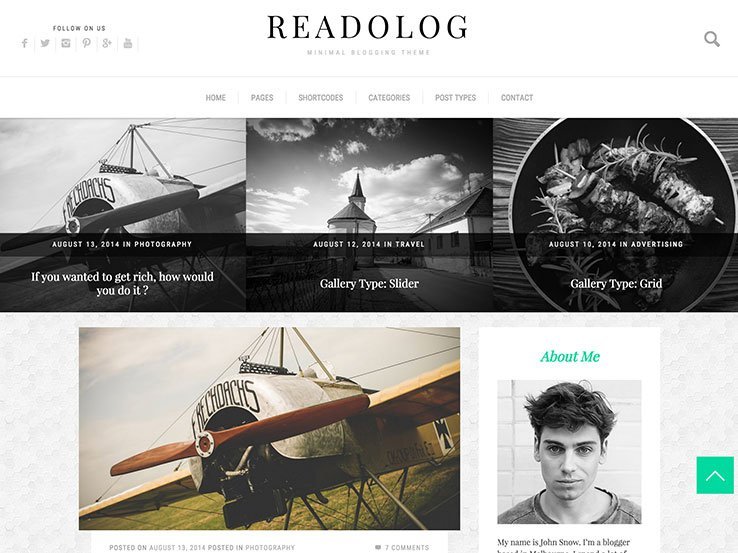 The shortcode manager is essential for just about any type of writer who wants to remain productive and efficient. The theme comes with seven different post formats to add some variety to your writing, and the theme is completely responsive for looking at the website on any platform you desire.
Typist - Premium WordPress Themes for Writers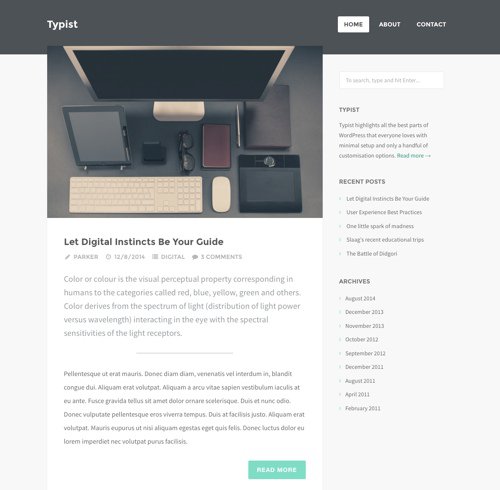 Typist is a premium WordPress theme for serious writers. It has a clean and minimalist design, easy setup and only a handful of customisation options. The theme is designed to engage your readers by providing them the best experience when reading your content while keeping you focus and continuously motivated to produce more great articles. It features a responsive and retina ready design, easy post formats, widgetized sidebar, clean semantic code, and is ready for translation.
Uberto - Flexible WordPress Themes  for Writers
Uberto comes from the people at CSSIgniter, and it works great on any device, pushing your readers to consume your content on tablets, phones and computers. The minimalist design is perfect for writers, putting the focus on what matters most to your readers. The header image features overlaying text and buttons that you can manipulate to push people to your best content.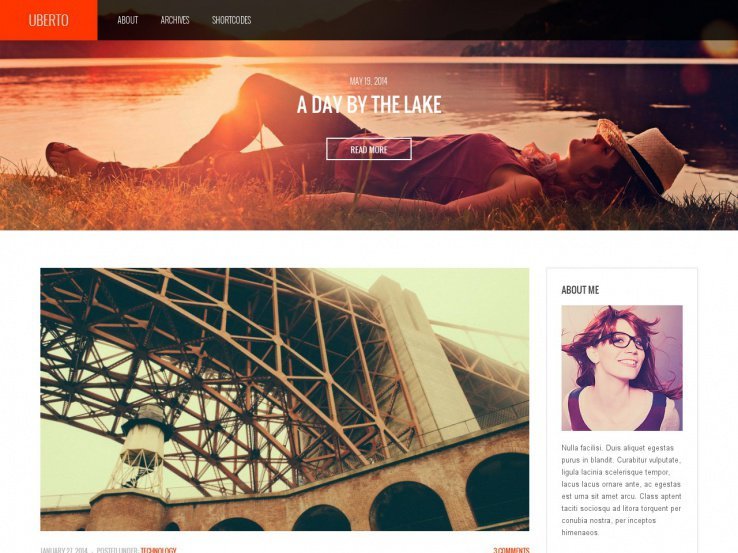 The varying post formats ensure that your posts standout in their own unique ways, and the custom widgets are nice for placing items for social networking, About page previews and Flickr. The multiple color schemes help with branding, and the translation ready platform works well for reaching out to people all over the world.
WP-Scribely - Column WordPress Theme

WP-Scribely is a one column WordPress theme that places the focus firmly on your content and images. The premium theme from Solostream is ideal for writers, bloggers and others who want to deliver content to their readers in a clean, simple and professional design without any distraction. It has a mobile responsive design and while the theme looks simple it has plenty of features to keep things interesting. It has a built in author page, portfolio template, buttons, columns and other useful design elements for posts and pages, a videos page templates, optional built in banner ad locations, easy logo integration and theme options panel for easy customisation.
Verbosa – Creative WordPress themes for Writers
Customized WordPress themes for Writers - If you are a creative writer or an author, then you can't miss this WordPress theme. Verbosa is a fully free WordPress theme that includes all the basic features, and it takes the artistic atmosphere to the maximum. With the fluid design and clear typography, Verbosa becomes one of the most creative WordPress themes.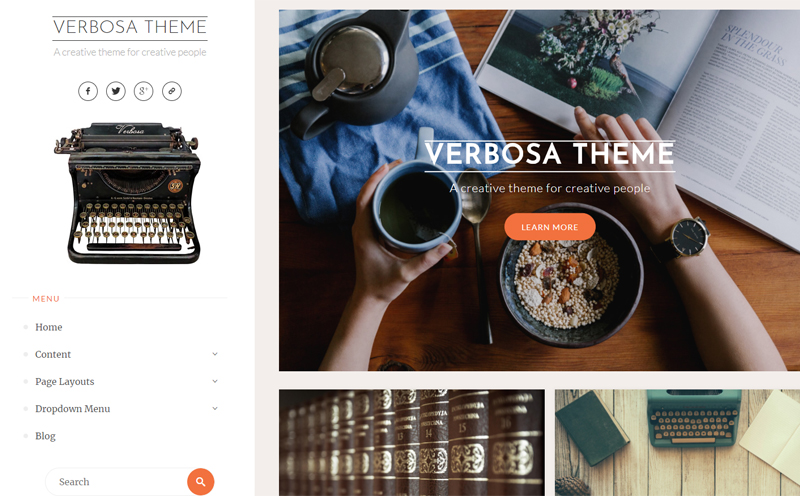 Also, this is an easy-to-use and great WordPress theme. Verbosa completely integrated into WordPress. You can effortlessness customize your WordPress theme. With the clean code, you can find your way around with appropriately named, organized and documented files and functions. As a famous WordPress theme, Verbosa supports the SEO service, too. You can optimize the searching engines by using the right HTML5 tags, microdata and microformats.
Creative WordPress theme – Verbosa is a fast and lightweight template, too. Its front-end resource files are as small and as few as possible, and the queries are kept to a minimum. By the way, this WordPress theme provides the priority support. If you have some secrets, you can talk to their priority support system. It will keep your secret forever.
Features
Free WordPress Theme
Highly Customizable
Up to Date
Fully Responsive
SEO Friendly
Socials
Google Fonts
Translation Ready
RTL Language Support
Clean Code
HTML5 & CSS3
Fast & Lightweight
Easy To Use
Typography Options
Regardless of what type of writer you are, you need a WordPress theme that features your writings and pulls in readers with beautiful photos and other media. The themes we discussed above allow you to quickly and cheaply create a professional website with a content focused design and amazing typography to share your stories, long form articles or blog posts with the world.