8 Things to Do after Installed WordPress
WordPress powers more than 17% of the web — a figure that rises every day. Everything from simple websites, to blogs, to complex portals and enterprise websites, and even applications, are built with WordPress. WordPress combines simplicity for users and publishers with under-the-hood complexity for developers. This makes it flexible while still being easy-to-use. Installing a basic copy of WordPress is not hard, but if you are looking for more stability, traffics, search engine optimization, etc, here's few of my recommendation – 8 things you should do after installing WordPress.
1.Implement Permalinks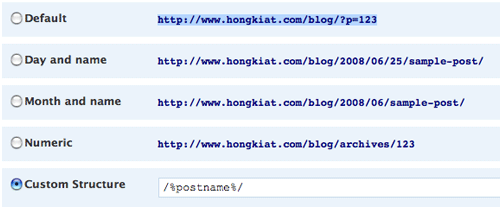 Where: Settings -> Permalinks
Referring to the image above, 'Default' is each how your blog post URL will look like. The '?=' and numeric blog post ID does not make any sense to the search engine, so it's better to change them to something more readable. Personally I'll suggest Custom Structure and insert '/%postname%/'.
2. Activate Akismet and Get WordPress API Key
Where: Settings -> Akismet Configuration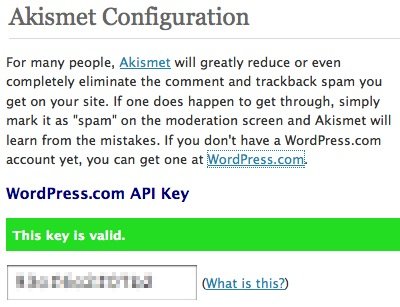 In short, Akismet is a plugin (comes with WordPress) that will intelligently get rid of all the unnecessary comment and trackback spams. In order for Akismet to work, you'll need a WordPress.com API Key. The key is free, but you'll need to request for one and apply it on the Akismet plugin.
Description: Used by millions, Akismet is quite possibly the best way in the world to protect your blog from comment and trackback spam. It keeps your site protected from spam even while you sleep. To get started: 1) Click the "Activate" link to the left of this description, 2) Sign up for an Akismet API key, and 3) Go to your Akismet configuration page, and save your API key.
3.Burn your feed with Feedburner
Feedburner combines all different type of feeds into one, so your subscribers can subscribe to one regardless of it's type. Feedburner also comes with a chiklet, allowing you to show off subscribers figures as well as promote subscription.
4.Plugin – Related Content
Related content plugin plays important role in helping you as the blogger, recommending what your readers should also be reading apart of the article they are on. You probably don't need it now, but it'll comes in handy when there's more blog post. A plugin worth mention.
5.Plugin – Google XML Sitemap
This plugin will create a Google sitemaps compliant XML-Sitemap of your WordPress blog. It supports all of the WordPress generated pages as well as custom ones. Everytime you edit or create a post, your sitemap is updated and all major search engines that support the sitemap protocol, like ASK.com, Google, MSN Search and YAHOO, are notified about the update.
6.Add blog to Google Webmasters Tool
Google Webmasters is a free Google service that allows you to:
Manage, view site statistics
Bot crawling activity
Diagnose site
Submit Sitemap
Monitor Google indexing
In short, it allows you to manage the 'health' of your blog.
7.Add About/Contact Page
This allow your readers to understand more about who's behind the writing. It helps increase trust worthy of a site.
---
An ideal "About" page should have something about you, not your personal stuff that you like these movies and listen to a particular rock band. Leave all these for your social networking website profile. Write something related to your education, why you started this blog, add a picture of yours. You should write about your passion, your goals and some thing about you, that adds personal touch. The whole idea is to, give a clear picture about your blog and about the blog admin to the reader.
---
While writing an "About" page, think from a readers perspective and think, what he will be expecting out of an ideal "About" page. He might be interested to connect with you via various social networking website. If not all , add two -three way of communication or link to your contact page.
8.Install Good WordPress Themes
Yeah, it isn't a simple thing about looking for good wordpress themes. It is a complex thing and I will show you the way in the next article. If you have no time, you can try the wordpress themes on our mageewp website. It must be a wise choice for you.