WordPress Search Plugins You Should Know
WordPress Search plugin exists so that people who find your site can find what's on your site. Visitors are always looking to navigate to content that interests them in as little time as possible. Search is one path leading to that goal – embrace it.
Subpar search scares visitors off. If someone lands on your site, glances around and stays interested, then you've already done a lot of hard work. But if that person goes to the search bar and punches in a query that returns nothing useful, then they're likely to go away. And something else will go away, too: all your hard work.
Why Search Matters
WordPress is constantly growing and developing, getting better year after year. However, there is one feature that has always stood out like a sore thumb – the Search function.
No matter how many versions of WordPress are released, the standard WordPress search functionality never seems to quite keep up with the rest. It offers very limited search capability. In fact, it displays the search results according to their dates rather than their relativity, and it doesn't even search through custom post types, PDF content, tags, comments, excerpts and so on.
These limitations can harm the usability of your site, especially if you've got large amounts of content. Your users might want to look up a post from quite a while back and without a proper search function it might take them ages to find it, or they could just give up.
Note
It's a fact that good search functionality means a more usable website, which means more time people spend on your website, which then means more conversions. Native WordPress search functionality, although constantly improving, has never been up to the task. Let's see how the plugins stack up.
Add Voice Search in WordPress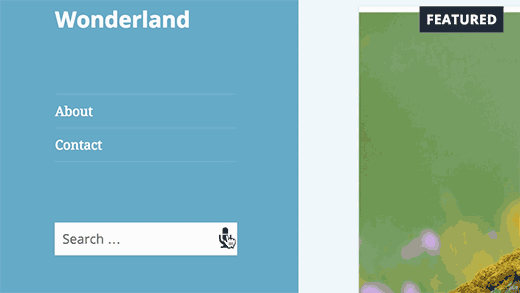 If you have a smartphone, then you are probably familiar with voice search using Siri, Google Now, or Cortana. Wouldn't it be nice if you can bring voice search functionality to your WordPress site? Well now you can.
Voice WordPress Search plugin allows you to add voice search capabilities to your WordPress search form.
Ajax Search Pro WordPress Plugin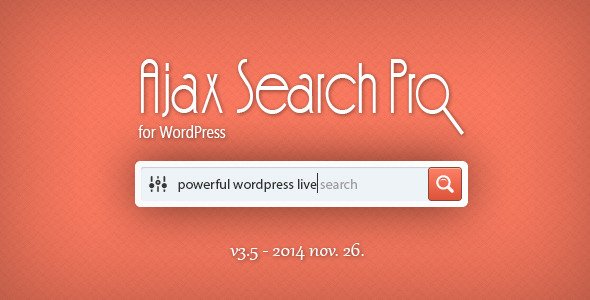 Ajax Search Pro plugin gives you a live Ajax search, so much comfortable search experience. The results are presented with images, so search results look more attractive.
It also works really well with mobile devices on any platform. The search can return:
Posts
Pages
Custom post types (WooCommerce products, bbPress forums, topics, replies…)
Categories
Custom taxonomy terms
BuddyPress users, groups and activities
There are more than 60 colorful, fully customizable, so you don't need to alter CSS yourself. But, it also offers a lot of options for developers who like to tweak everything.
Features
Here's a few features Ajax Search Pro plugin comes with:
Compatible with any theme
Adjustable search logic
60 skins
High resolution icons
Widgets, shortcode
Image support
Multisite support
Keyword highlighting
Google Analytics integration
Caching
Search statistics
Better Search

Features
Automatically replaces the default WordPress search upon installation.
Seamless integration resulting in the output of your search results being perfectly integrated into your theme without any custom search templats.
Search results are sorted by relevance rather than date. This can be turned off if you want to show results by date.
Modify the weighting of posts, categories, etc to your liking.
Display a list of the most popular search terms (daily and overall) on your blog in the form of a heatmap.
Customisation is possible by inputting your own CSS in the Custom Styles tab in the Settings page.
Supports caching plugins such as WP Super Cache and W3 Total Cache
Profanity Filter to stop any words you want to be filtered out of search queries.
Translation Ready
Custom Google Search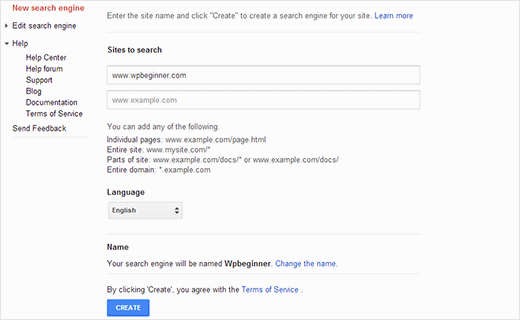 You have probably seen this option of searching sites with Google quite a bit, and as everyone is familiar with Google, you know what you'll be getting.
This WordPress search plugin, like all plugins running Google search, requires signing up with Google and placing the code in the settings. You're also given options of changing the style of the search box, hiding the search button, showing a sidebar on the search page, and theming a popup.
Dave's WordPress Live Search
The Dave's WordPress Live Search plugin gives you drop-down suggestions for your search results as you begin typing your query, much like Google does unless you've turned that function off.
Here's a shot of it in action taken from the WordPress search plugin's home page on WordPress.org.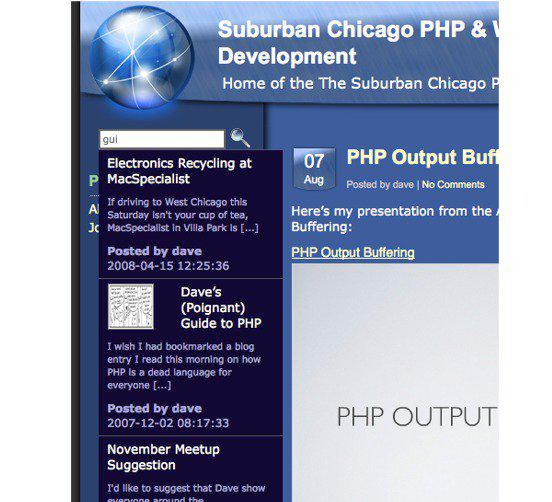 Highlight Search Terms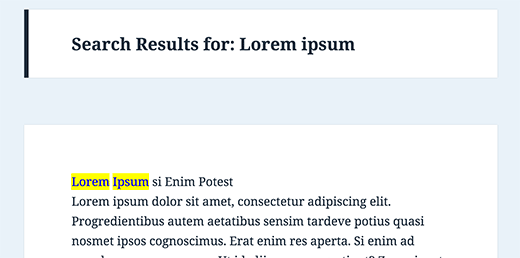 Highlighting search terms in the results page can help improve the user experience. It also increases the chances of them finding what they are looking.
If you are using the default WordPress search, then you can easily implement this by editing the search results template in your child theme.
Profi Search Form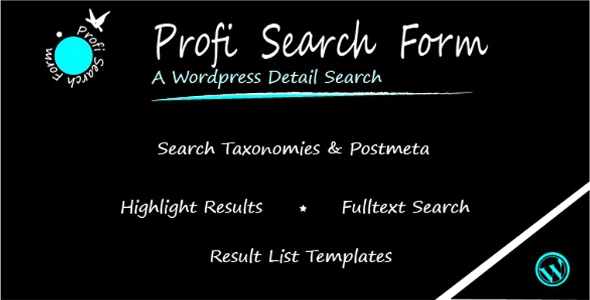 Profi Search form is very customizable and WooCommerce compatible WordPress seach plugin with search phrases that get highlighted in the search results.
You can use it anywhere on your website as it includes widget and shortcode options. Filtering is done by:
Custom Fields
Taxonomies
Post Types
Conditional Fields
Range Sliders
Map search
This WordPress search plugin will get your WordPress search functionality and usability to a higher level. Your WooCommerce store will become so much easier to use and your customers will have a better experience searching the product they need.
Relevanssi


Relevanssi is available in both free and commercial versions, giving you a chance to try out enhanced searching on your WordPress site without spending a penny. Once the WordPress search plugin is active on your site, your visitors will then have an easier time finding what they are looking for – or at least knowing they've done all they can to track down the content they seek.
Some of the features of this WordPress search plugin include: search results sorted by relevance rather than date, fuzzy matching, document searching, phrase searching, and the ability to search through comments. And if you choose to upgrade to the premium version of Relevanssi, you can start using features such as: user profile searching, search suggestions, and content weighting to influence the search results.
Search by Category


Category Wise WordPress search plugin allows you to add a category drop down to WordPress search. Users can limit their search to a specific category to narrow down the results. The plugin also allows you to exclude categories from the search, and you can easily add it using a widget for your sidebar.
Search Everything WordPress Search Plugin
The Search Everything plugin lets you add a number elements to your search bank that wouldn't normally be included in a WordPress search.
Here's a look at the options included with the WordPress search plugin:
Highlighting
Every Page
Every Tag
Custom Taxonomies ( new )
Every Category
non-password protected pages only
Every Comment
Approved comments
Draft
Excerpt
Attachment (post type)
Custom Field (metadata)
Exclude Posts from search
Exclude Categories from search
While the Search Everything plugin lets you search more, it doesn't really work on improving relevancy. It simply lets you search more parts of your site.
SearchWP


SearchWP, which was built by New York web developer Jonathan Christopher, touts itself as "the best WordPress search plugin."
Why? SearchWP does have a phenomenal array of features:
Fuzzy matching
Keyword weight control (you can specify how much weight the search algorithm gives to words in post titles, post content, specific fields, etc.)
PDF indexing
An option to disable search on any post type, any category or any tag
In-depth site statistics
Simply Exclude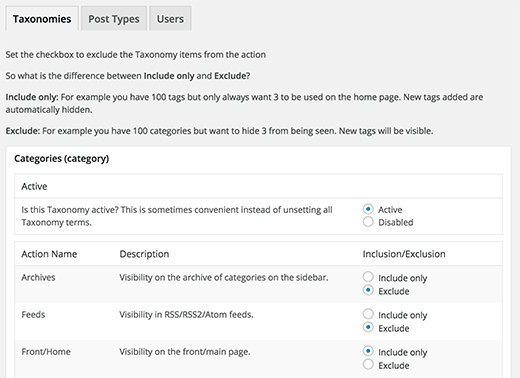 Sometimes you may want to exclude specific content from search results. Simply Exclude is a WordPress search plugin that allows you to exclude content based on your selected criteria.
For example, you can exclude all posts tagged featured, or all posts in category showcase, etc.
Swiftype Search

Swiftype is a fairly new WordPress search plugin. Some of the nicer features of Swiftype include:
Cloud-based service which doesn't strain your servers
Highly relevant search results
Analytics of what users are searching
Autocomplete feature
Manually override for search results
The plugin works by sending an index of all your WordPress content to Swiftype servers, so your server never gets cluttered and since Swiftype doesn't use MySQL at all, search results come up much faster.
---
During all this time, Swiftype service collects data and stores it in your Swiftype dashboard, where you can analyze them and make some manual changes to search results if you want to.
You need to sign up for an account to use this WordPress search plugin. The dashboard gives you analytics data and you can make tweaks to your search engine there.
yolink Search


yolink Search is a paid service, but it has free plans, too. If you have less than 5000 visitors a month, no advertisements and use it on personal website, you can have it for free. To sum it up, it's free for personal users and businesses plans start from $60/year.
Some advantages of running yolink on your website are:
Uses its own search servers, so your website performance doesn't suffer
Nicely highlighted words in search results
Multisite search functionality
Related articles displayed with blog posts
Improved indexes for large business websites (paid option)
On the negative side, you do need to create an account in order to have yolink on your website and if you decide to use the free version of this WordPress search plugin, you won't get much of the customer support. The staff is not eager to respond to WordPress related issues.
Conclusion
While you might prefer to browse an orderly set of menus, the truth is, some of your visitors prefer to search your site and want access to the content they are looking for now. For the generation brought up with instant access to content, provided by search engines like Google, failing to add an effective search tool to your WordPress website could make your site appear outdated and non-user-friendly.
Whichever WordPress search plugin you choose, you'll greatly improve your website experience and hopefully keep visitors on your website a little longer. Good search functionality gives people a lot of power and is a major time-saver. As you already know, happy users are the ones that are likely to convert.