With the increase in popularity of WordPress CMS the number of websites powered by WordPress are also increasing. Now a days most of the bloggers or online marketers manages more than just one website which runs on WordPress.
As the number of website under your supervision increases the management of all those sites becomes a real issue, logging in and out of numerous websites, clicking each and every update button, managing plugins, themes becomes really time consuming.
Hence the creation of?CMS Commander – your WordPress command center.
Overview
CMS Commander is "your WordPress command center". It allows you to manage all your WordPress sites from one powerful dashboard while also providing you with an effective content marketing tool, saving you both time and money.
Services like CMS Commander comes to your rescue and take the pain to manage all your sites on your behalf. CMS Commander combines all your websites at one place and gives you the option to manage all your sites effectively.
CMS Commander enables you to post, update, add and remove plugins, install and update themes and more via one dashboard and more than 20k websites are already on board.
How
CMS Commander requires you to install the free plugin on your site, just like any other WordPress plugin. Once that is done you'll need to set up an account on cmscommander from where you will be able to access your CMS Commander Dashboard. This is where you'll be able to maintain and track as many sites as you need.
You're even given the option of adding the plugin to a WordPress site from within the CMS Commander dashboard itself, as long as you provide your admin username and password. Just like that CMS Commander will allow you to start controlling your multiple sites from one simple dashboard.
Why
Time is money, so the more efficient you can be in your work, the better off you're going to be; both financially and for your own well being. When you're managing multiple WordPress sites it will get very tedious to have to login to every single one in order to process updates, publish posts or simply check up on the site.
That's where CMS Commander comes in; it helps you to take care of all your WordPress sites in less time by doing all this in bulk, allowing you to focus on growing your business.
Features
Manage themes and plugins for all of your sites
1-click update for themes, plugins and WordPress – you can also setup automatic updates (this includes minor/major updates to WordPress core)
1-click admin login for each site you are managing
Manage comments for all of your sites from one location
Google Analytics Integration to keep you on top of your traffic stats
Uptime monitoring via Uptime Robot API
Custom branding for WordPress plugin
Backup your blogs automatically to Amazon S3, Google Drive, Dropbox, Email and more
Supports 2-factor authentication
Activate maintenance mode with 1 click
Database maintenance and optimization built in
Clone full websites from one domain to another
Manage users for each site (even bulk create users)
Know exactly what changes have been made via the platform using the activity log
Secure SSL Encryption (I'll talk about Heartbleed in a moment)
And lots more.
Start Using CMS Commander
The very first thing you do after creating your account is add your websites. Fortunately, this happens to be a very simple exercise.


1.Download and install the cms commander plugin. You don't have anything to configure on the plugin. It's dead simple and doesn't have any impact on your blog.
2.Enter your blog in the field provided.
3.Enter your admin username. As you can see the rest of the fields are optional.
Once your blog (blogs) added, you just have to go ahead and perform your tasks. Keep adding as many blogs as you have until you exhaust your account limit.
CMS Commander Dashboard
Now, before we get into some specific details, let's look at some interesting shortcuts on the dashboard. There are a lot of things you can just do without clicking deep.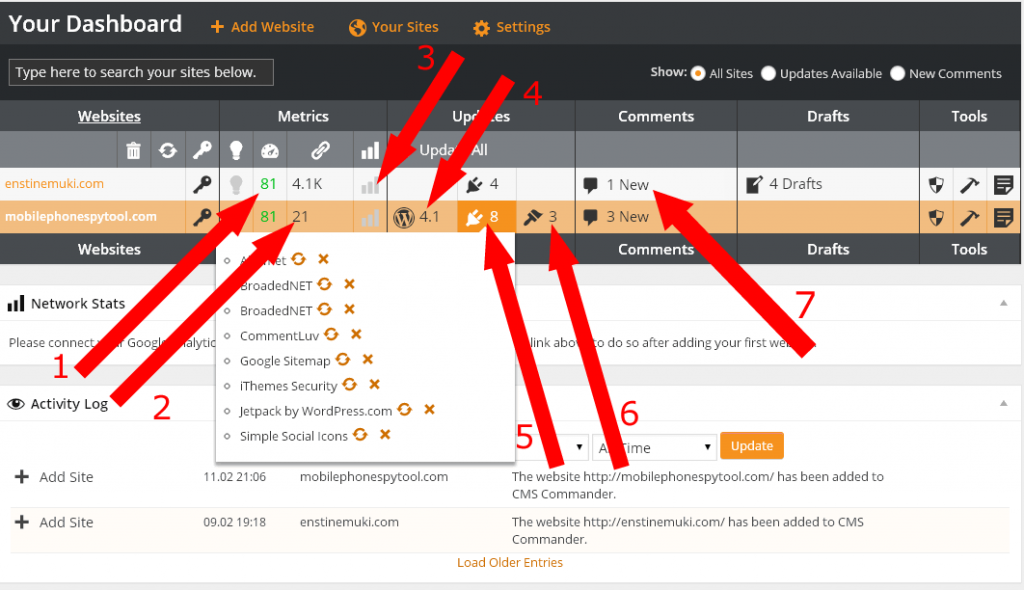 In the image above, I'm currently managing 2 blogs (including this one) with a possibility of managing up to 100 blogs.
Let's quickly look at some of the tasks you can perform on the dashboard;
1 – Google PageSpeed Tracking –
This is an important performance optimization data from Google. You know how difficult it is having to run this check individually on all your blogs.  It's important to constantly monitor your site performance because poor performance rating means bad news.
With this metrics on your dashboard, you are able to quickly know which of your blogs is on the slope at a glance. Check out Google PageSpeed tool here.
2 – Backlinks data –
This is one amazing piece of information. It gives an idea how your blog's Off-page SEO is going. So you don't need some complex tools to get these headlines.
3 – Google Analytics –
Link CMS Commander to your Google Analytics and get some crucial traffic and visit behavior data quickly without having to login to Google Analytics and check for each domain.
4 – WordPress Update –
This tells you at a glance if there is a new version for WordPress. With just a click (or 2) you will be able to update your blogs without having to check into them individually.
5 – Plugins update –
Pointing your mouse to this area pops up a list of plugins to update. Just clicking the update button on the pop up window will instantly update the plugin on the remote blog.

6 – Themes Update –  
Just like in plugins update, this tells you which theme requires an update to be perform.
7 – Comments –
The dashboard also makes it quite easy to access and moderate comments on different blogs. Note that this will only indicate the number of pending comments. Mouse-over this column to pop up a comment moderating window where you can approve,delete, etc.

What Else Can You Expect
WordPress Update from Single Dashboard
As already mentioned CMS Commander gives you the option to update WordPress themes and plugins for all your WP sites from one dashboard.
1-Click theme and plugin update features can save a lot of your time, you get the update intimation on CMS Commander dashboard and you can update it for all your site in just 1 click.
Also, you can install themes and plugins to any number of sites simultaneously in just a few clicks.
Security
CMS Commander gives a lot of importance to security of your WordPress site. They have implemented Secure SSL Connection to the communication between your sites and CMS Commander.
CMS Commander secures your account with our 2-Factor authentication features provided by the popular Google Authenticator app.
Automatic WordPress Backups
Imagine a situation where you lose all your data because of some kind of attack or any technical issue and you forgot to take backup prior to that event, a lot of your hard work can vanish just in a minute.
CMS Commander gives you the peace of mind with their automatic backup system. You can automate bulk create backups of all your WP websites at the same time.

Set daily, weekly or monthly backup tasks and save the results to up to six different destinations, including your Dropbox, Google Drive and Amazon S3 accounts.
Documentation and Support
The documentation for CMS Commander is extensive, guiding you from the moment you install the plugin to deploying a new site. It also includes a number of useful tutorials as well as a link to an FAQs?& Problems area that is dedicated to answering some of the most common questions related to CMS Commander.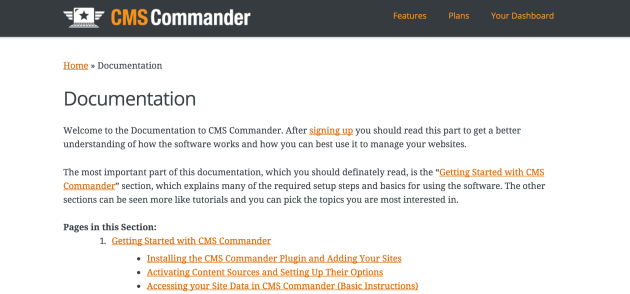 If you require more help than what's provided in the documentation, you can refer your issue to the support team. They promise to reply in less than 24 hours and even provide some support during the weekends, both for pre-sales questions and support requests.
Copy WordPress Settings
Sometimes you need to do similar kind of settings in all your WordPress sites, however it is time consuming. CMS Commander gives you option to copy your configuration from one site to all the others sites effectively.
Maintenance Mode
This feature could be really important at times, you are working on a new design of your site and you don't want to world to see the half done modifications, so put you site in maintenance mode and display a custom offline message to your visitors.
Website Cloning
Another interesting feature on offer from CMS Commander is the ability to Clone a WordPress Site. With this cloning tool you can copy an entire site to any other site in your CMS Commander account. All the files, settings, plugins, themes, posts and other data will be included. Another interesting use for this tool is to restore a backup file to a site.
Autoblogging With CMS Commander
Other than just managing your WordPress site, CMS Commander can work for you as a complete autoblogging platform.
CMS Commander support more than twenty diverse sources providing you with related images, videos, articles, affiliate products and more from big names like Yahoo, Google, Youtube and Amazon and more. All sources use an official and legal API.
---
You can also bulk update blog posts from your CMS Commander dashboard and insert images videos into your WordPress posts in just a few clicks.
Bulk Content Posting:  The bulk content features of CMS Commander offer you powerful tools to do so and allow you to combine diverse content from many sources, rewrite it automatically and schedule it on your websites.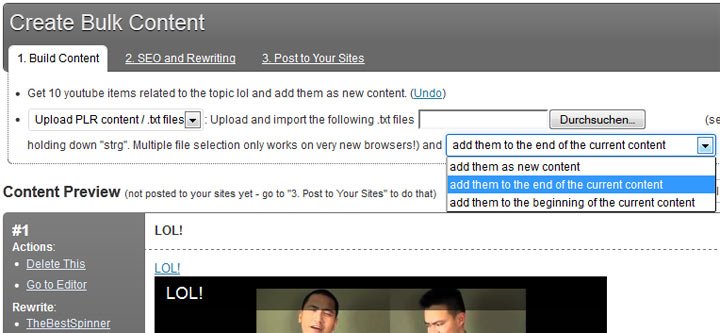 Monetization of Your Website
CMS Commander takes care of the Monetization part of your WordPress site as well with affiliate ads and links provided by 9 big content providers, all of which will earn you commissions.
Free & Premium Plans
CMS Commander is free to use with some limited features when you're managing anything less than 5 WordPress sites. For the first two weeks you're also provided with a 14-day trial of all the premium features to try them out before committing to any purchases.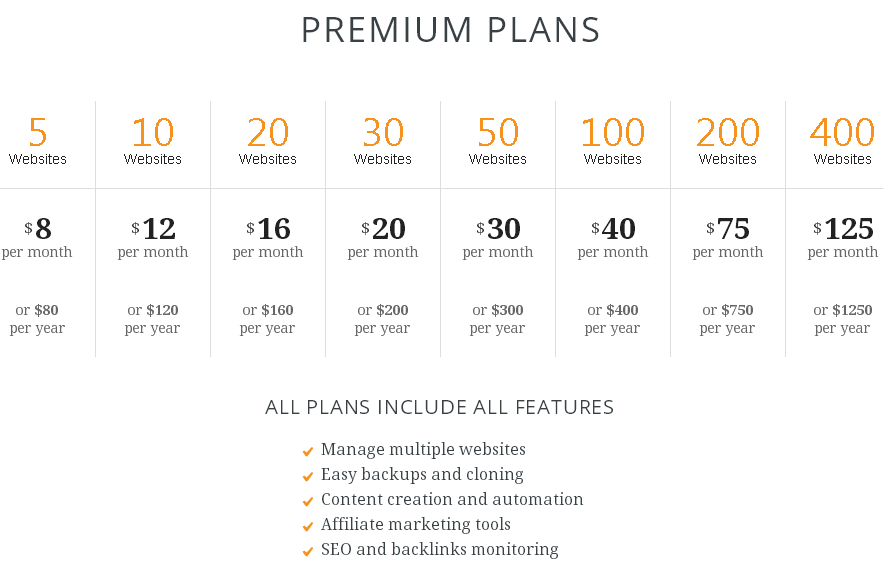 Once you decide to opt for a premium plan, the prices vary based on the number of website you manage. When you consider the time and money such a tool saves you, spending $12 a month to manage 10 sites at one go seems like a good trade.
---
If you are an internet marketer, then it is likely that you have more than one site on your books, in fact, most marketers tend to have at least a few sites, even when just starting out. Maintaining and updating your fleet of websites can be a troublesome job, logging in and out of numerous websites, clicking each and every update button. Then there's the plugins and the themes. The list goes on.
CMS Commander is so easy to set up and intuitive to use that it might come as a surprise to some. In fact in just a few clicks you can have all your WordPress sites manageable from one single location, in an effective, efficient and secure environment.