About
WordCamp Europe is an annual WordPress conference that aims to create permanent ties between the growing local European WordPress communities. The event is organised in a different European city each year and has two conference days and a separate Contributor day where people gather to contribute back to the WordPress Open Source Project.
Organisers
WordCamp Europe is organised by a team of european WordPress professionals from different countries. The team changes each year depending on location with a new local team added to the original team of organisers.
Following two previous editions in Leiden in and Sofia , WordCamp Europe will be held in Seville, Spain.
When
26 – 28 June – Seville, Spain
Conference days: Friday, June 26th / Saturday, June 27th
Contributor day: Sunday, June 28th
Where: Barceló Gran Hotel Renacimiento, Seville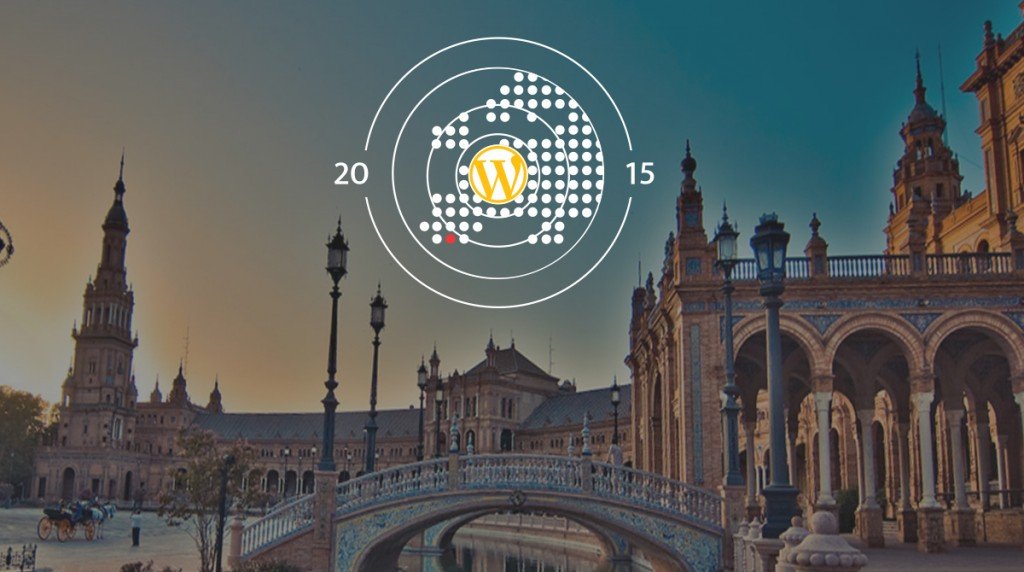 Keeping the original idea alive, WordCamp Europe is organised in a different European city every year. After starting it off in the North in Leiden in and moving east to Sofia , in attendees are going South to beautiful Seville and will be invited by the great Spanish WordPress community.
Seville
Seville (Spanish: Sevilla) is the capital of Andalucia and the cultural and financial centre of southern Spain. A city of just over 750,000 inhabitants (1.6 million in the metropolitan area, making it Spain's 4th largest city), Seville is Andalucia's top destination, with much to offer the traveler.
Airport
Sevilla International Airport (IATA: SVQ) is located about 20 minutes drive from the city center.
By taxi
Taxis are always available next to the bus stop and run on a fixed fare to Seville center, €21.90 during the day and €24.41 after 10PM and on weekends/holidays. For the fixed airport fare taxi drivers turn off the meter. Much controversy has been stirred by some taxi drivers trying to overcharge tourists, so be careful to pay no more than this if you are traveling into the city (agree the price before the start of the journey). Other destinations outside Seville obviously cost more and are metered.
Tips are not necessary, though €1-2 for polite, helpful service is appreciated. You might also want to be aware of the fact that speed limits seem to be considered as kind of minimum speed by most taxi drivers.
By bus
A bus service "Especial Aeropuerto (EA)" [2] runs about every 30 minutes from just outside the "Arrivals" hall during most of the day (though with longer gaps from 1pm – 4pm) and costs €4 (€6 for a same day return) and takes 20-30 minutes.
By Train
Sevilla Santa Justa Station is on the eastern edge of Seville city centre. Completed in 1991, the station is the southern terminus of the Spanish high-speed AVE train service.
High-speed are great if time is of the essence, less than an hour from the wonderful city of Córdoba, less than three hours run from Madrid to Seville. However, slower trains remain a bargain, and there is an overnight train that runs from Barcelona to Seville in under 11 hours.
By Bus
The Spanish bus service is punctual and comfortable with most having air-con and a toilet. Believe it or not, to get to Seville from other cities in Spain it can sometimes be only minimally longer than train (but much cheaper). Check out your options first with the helpful Information desk you will find inside any terminal. The buses run regularly to/from most major cities, departing either from the Plaza de Armas bus station near the river, or the Prado de San Sebastián station near the University/Santa Cruz. Sometime queue for buying ticket from the ticket office on a busy day might take up to 20 min or more.
Public transit
Sevilla has a great public transportation system.
Buses run frequently and cover the majority of the city in their routes. You can purchase bus cards at many news stands. Trips cost 60c or 70c, and it costs €1.50 to buy a refillable bus card (which can be topped up at many newsstands).
Sevici bikes are available throughout the city with special docking stations that allow you to easily grab a bike and go wherever you need, then drop it off at another station when you arrive. Bikes cost 11,50 euro for a week pass, which allows the first half hour free and subsequent hours are a euro each. Also, year passes can be purchased for 23 euro with each half hour free and additional hours 50 euro cents.
Scooters are available for rent for €30 for the day and €120 for the week. These are a cost efficient way of getting around and a driver's license is not necessary.
A tram system is currently being incorporated into Sevilla's local transportation and is running from the San Bernardo Train Station to the Plaza Nueva.
Taxis are easily accessible throughout the city.
Metro
Seville's metro opened on 2 April. It follows a 18km reverse U from the south-west to the south-east through the southern end of the city centre where it stops at Plaza de Cuba, Prado de San Sebastian and San Bernardo. Tickets are €1.30 for a single zone or €4.50 for all 3 zones unlimited trips, and the metro runs from 6.30AM-11PM on weekdays, and late departures are available on Fridays and Saturdays until 2 o'clock.
Drive in / Parking
Driving is also always an option for long distance travel in Spain, but isn't as convenient or as useful once in town.
Schedule
In a third consecutive year the growing European community will gather together for three days of knowledge sharing, networking, having fun and creating long-term friendships.
It's just over a month until WordCamp Europe! All over Europe, the organising team is working on all of those tiny details that make for a perfect WordCamp.
---
There are two days packed full of WordPress knowledge across two tracks and a total of 43 speakers from around the world. But don't worry if you can't decide – every session will be recorded and uploaded to WordPress.tv so you can catch up after the event and re-watch your favorite sessions over and over again.
For the first time at WordCamp Europe you are introduced with a new session form: the short talks (10min), thanks to which WCEU attendees will be able to get WordPress insights and know-how from 12 more speakers.
Speakers
Europe is represented by 29 speakers from 12 different countries. Three speakers from Asia, one from Australia and one from Africa. Ten of the speakers come from North America.
In an effort to look outside the WordPress island, get fresh ideas and learn from other communities, there are also 4 prominent speakers from outside the WordPress community.
Code of conduct
Purpose
WordCamp Europe believes our community should be truly open for everyone. As such, we are committed to providing a friendly, safe and welcoming environment for all, regardless of gender, sexual orientation, disability, ethnicity, religion, preferred operating system, programming language, or text editor.
This code of conduct outlines our expectations for participant behaviour as well as the consequences for unacceptable behaviour.
Open Source Citizenship
A supplemental goal of this code of conduct is to increase open source citizenship by encouraging participants to recognize and strengthen the relationships between what we do and the community at large.
In service of this goal, WordCamp Europe organizers will be taking nominations for exemplary citizens throughout the event and will recognize select participants after the conference on the website.
If you see someone who is making an extra effort to ensure our community is welcoming, friendly, and encourages all participants to contribute to the fullest extent, we want to know.
Expected Behavior
Be considerate, respectful, and collaborative.
Refrain from demeaning, discriminatory or harassing behavior and speech.
Be mindful of your surroundings and of your fellow participants. Alert conference organizers if you notice a dangerous situation or someone in distress.
Participate in an authentic and active way. In doing so, you help to create
WordCamp Europe and make it your own.
Unacceptable Behavior
intimidating, harassing, abusive, discriminatory, derogatory or demeaning conduct by any attendees of WordCamp Europe and related events. All WordCamp Europe venues may be shared with members of the public; please be respectful to all patrons of these locations.
Harassment includes
offensive verbal comments related to gender, sexual orientation, race, religion, disability;
inappropriate use of nudity and/or sexual images in public spaces (including presentation slides);
deliberate intimidation, stalking or following; harassing photography or recording;
sustained disruption of talks or other events;
inappropriate physical contact, and unwelcome sexual attention.
Consequences Of Unacceptable Behavior
Unacceptable behavior will not be tolerated whether by other attendees, organizers, venue staff, sponsors, or other patrons of WordCamp Europe venues.
Anyone asked to stop unacceptable behavior is expected to comply immediately.
If a participant engages in unacceptable behavior, the conference organizers may take any action they deem appropriate, up to and including expulsion from the conference without warning or refund.
What To Do If You Witness Or Are Subject To Unacceptable Behavior
If you are subject to unacceptable behavior, notice that someone else is being subject to unacceptable behavior, or have any other concerns, please notify a conference organizer as soon as possible.
The WordCamp Europe team will be available to help participants contact venue security or local law enforcement, to provide escorts, or to otherwise assist those experiencing unacceptable behaviour to feel safe for the duration of the conference.
Any volunteer can connect you with a conference organizer. You can also come to the special registration desk in the lobby and ask for the organizers.
Scope
We expect all conference participants (sponsors, volunteers, speakers, attendees, and other guests) to abide by this code of conduct at all conference venues and conference-related social events.
For further information please visit the official site!