About
WordCamps are casual conferences that are local in nature. Topics cover everything related to WordPress and include things such as blogging, coding, branding, and security.
WordCamps are attended by people ranging from blogging newbies to professional WordPress developers and consultants. They are an opportunity to connect with other WordPress users, developers, and business owners.
Best of all – WordCamps are fun!
They offer a perfect time to jump in, participate, and get to know other WordPress enthusiasts.
WordCamp Ann Arbor is Coming !
WordCamp Ann Arbor will be on October 24th in beautiful downtown Ann Arbor. It will be the best time of year in Michigan .
Venue
WordCamp Ann Arbor will be hosted at the Michigan Union in beautiful downtown Ann Arbor. The Michigan Union is located just a short walk from the Diag in Central Campus, next to the College of Literature, Science, and the Arts (LSA) building.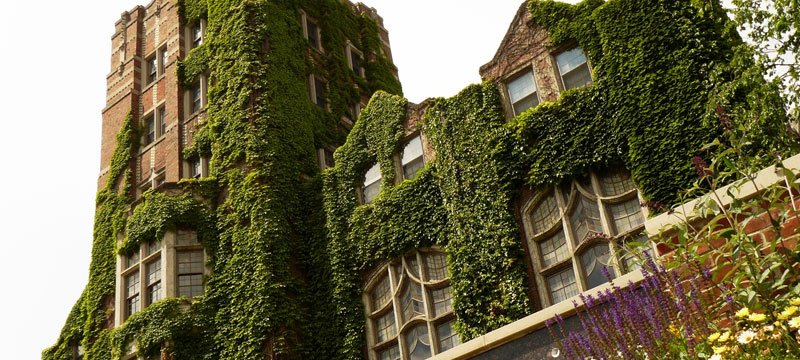 The venue is also conveniently located near several hotels and plenty of great bars and restaurants. Come to WordCamp and explore all that Ann Arbor has to offer.
530 S State St,
Ann Arbor, MI 48109
Schedule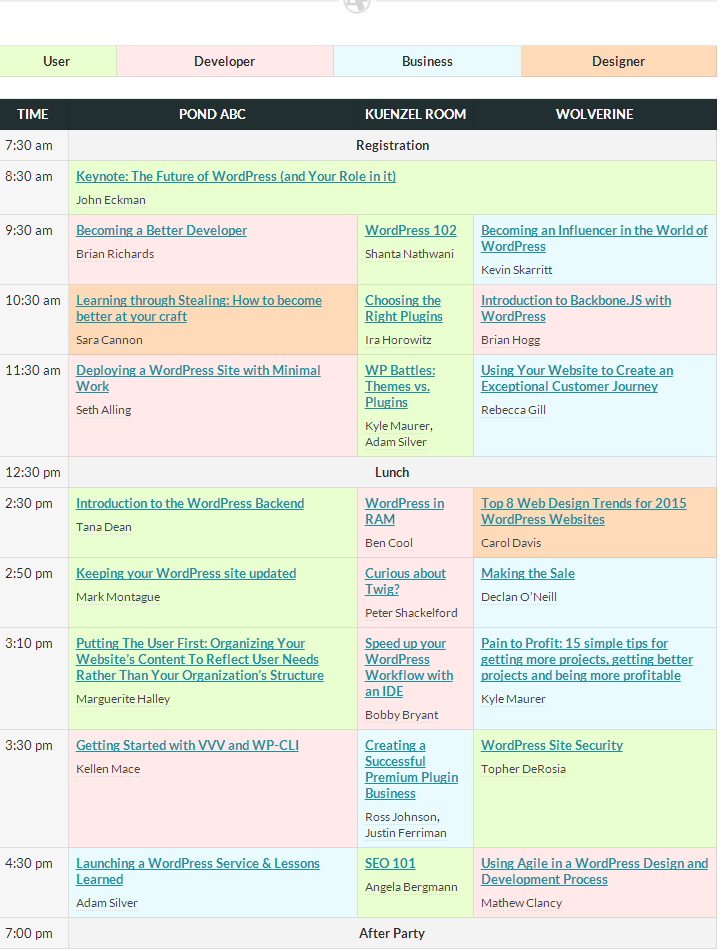 Speakers
Marguerite Halley
Marguerite has been working in digital content and design for universities and nonprofits through her entire career. As a digital content strategist at Washington University in St. Louis and a usability/content strategy consultant for nonprofits, she's a champion for the user and an advocate for clear, engaging content on the web.
Mathew Clancy
Clancy began working with GoDaddy in customer support in and shortly after began building sites using WordPress for family and friends. Currently based in Phoenix, AZ he is a Project Manager for GoDaddy Hosting Support designing Hosting training and standing up international hosting customer support teams.
Ben Cool
Benjamin Cool is the Application Optimizer at A2 Hosting in Ann Arbor Michigan where he focuses on building "one click" tools for improving Web application performance.
John Eckman
John Eckman is the CEO of 10up and is the keynote speaker at WordCamp Ann Arbor. 10up is one of the most well known and respected WordPress agencies in the industry. They have 40+ WordPress core contributors on staff and produce great open source WordPress solutions like Varying Vagrant Vagrants (VVV.)
Declan O'Neill
Declan is the 3.7 DESIGNS client liaison and Project Manager. He is a friendly, funny and extremely knowledgeable native of Ireland with over fifteen years of experience in the web design industry. Not just a people person, Declan is well versed in usability, strategy, and WordPress. He can talk tech, recommend and implement solutions.
Tana Dean
Tana began developing websites and blogs. She switched to wordpress.com in and then to wordpress.org in to expand into developing wordpress websites. Currently she's developing a business site, DeanDesign.co, for developing WordPress websites.
Carol Davis
Carol is a freelance web designer from Charlotte MI. She's been designing websites since and has been using WordPress for about two years now. She's am a member of JXN WordPress MeetUp and has attended four Wordcamps in the past year. She enjoys working and learning with the WordPress community.
Ira Horowitz
With 15 years' experience, Ira has become an expert in nonprofit online communications and online fundraising. Working with hundreds of organizations, Ira has managed and executed many web projects that have resulted in increased funds and resounding engagement.
Mark Montague
Mark is a High Performance Computing consultant at the University of Michigan who has been running web infrastructure services since 1995 and WordPress.
Ross Johnson
Ross is a man of many passions, the most interesting is new age retro antiques. Google it… it'll change your life. When not pursuing said passions, he's working at his design agency 3.7 DESIGNS, working on his project management plugin Panorama or teaching at Michigan State University.
Shanta Nathwani
Shanta R. Nathwani is a Consultant and Instructor in Web Design and CCIT Capstone at Sheridan College, which includes teaching WordPress. The ICCIT program is a joint program with the University of Toronto at Mississauga. She thrives on teaching beginners, as well as content architecture.
Phil Hoyt
Phil Hoyt is a web developer and he likes to create cool things. Ever since he was a child he's had a DIY attitude towards life. Most days he would pluck away at his keyboard late into the night until the caffeine wore off. Now he develops creative and technical solutions with user experience always in the forefront.
Kellen Mace
Kellen is a web Engineer at 10up. He was born in Toronto, then raised in the Metro Detroit area. College at Grand Valley State took him to West Michigan, where he got to know several of his good friends. A few years after marrying his adoring wife and high school sweetheart, the two of them moved to Colorado for a short time, only to trace their roots back home, settling in beautiful Rochester Hills, Michigan.
Justin Ferriman
Justin Ferriman is the co-founder and CEO of Ann Arbor based LearnDash, a WordPress based LMS and strategy provider.
Seth Alling
Seth Alling is a Detroit-based developer turned designer turned developer, who has been working with WordPress since and currently works as the Lead Developer for Ranch House Designs. When he's not developing (or designing), you can find him running, playing soccer or spending time with his wife and sons.
Peter Shackelford
Peter first started using WordPress in when he was making a little website for the non-profit his wife was starting. In he did his first project as a contractor and has been building platforms, microsites, multisites etc… on WordPress ever since.
Bobby Bryant
Bobby is a Web Developer at 10up. He has been working in and around WordPress for close to two years. Prior to working in WordPress, he spent 13+ years in the US Marines as a Communications Technician.
Kevin Skarritt
Kevin is ranked as a "Top 100 Social Media Influencer for " (soon to be published in Forbes Magazine) and is a ten time winner of Forbe's "Best of the Web." His Michigan-based digital agency, Flock Marketing, has been helping SMBEs for almost twenty years to develop powerful brands, amazing web sites and supercharged marketing campaigns.
Kyle Maurer
Kyle is the co-founder of a Jackson, Michigan based firm called Real Big Marketing which specializes in using WordPress to solve complicated problems for businesses. He is also the author of and a contributor to dozens of WordPress plugins, is the co-organizer of the Jackson WP meetup, is a co-organizer of WordCamp Ann Arbor, plays in a band and is an aspiring beer snob.
Brian Hogg
Brian's a custom software developer, WordPress trainer, podcaster and community supporter running multiple free events in the Hamilton Ontario area.
Rebecca Gill
Rebecca is founder and president of Web Savvy Marketing. She has as a well-rounded business background within SMB and enterprise organizations, as well as over fifteen years of experience in sales and online marketing. She provides one-on-one coaching, teaches group on-site boot camps, and speaks at various WordCamps throughout the country.
Angela Bergmann
Angie has been developing websites since and using WordPress since it was b2- in other words, a very long time. Additionally, she's skilled in SEO, PPC, accessibility, and usability.
Sara Cannon
Sara Cannon is Partner and Creative Director at Range. She loves design, typography, user experience, and art. Sara loves giving talks around the globe on web design, responsive design, web typography, and more. A seasoned designer, Sara has done work for clients such as Disney Publishing and Flickr. She loves open source, her pets, traveling, and WordPress.
Adam Silver
Adam teaches A WP101 course, is the man behind ConciergeWP and runs the Southern California WordPress meetup.
Topher DeRosia
Topher has been using and developing for WordPress regularly. He's used it to freelance, launch a successful startup company, work with an agency, and he currently works on Easy Digital Downloads.
Brian Richards
Brian Richards is the creator of WPSessions.com where he dedicates his energy to providing the best WordPress education from the best and brightest WordPress experts. He has been working with WordPress since (version 2.3).
Lodging
If you are arriving from out of town and would like a hotel close to the venue, the following accommodations are available.
WordCrash
WordCrash is a brand new site created specifically for the purpose of helping WordPress travelers by giving them a place to connect with other WordPress folks who are willing to offer accommodations. If you're interested in making new friends and staying for free with someone in the Ann Arbor area, consider sending a message to one of the hosts located here.
Note: WordCrash was also developed as a group project by members of the Ann Arbor WordPress community.
Inn at the League
The Dahlmann Campus Inn
The Bell Tower Hotel
Weber's Ann Arbor
Briarwood Area Hotels
Kensington Court
The Hilton Garden Inn
The Holiday Inn Express
Parking
Like most downtown locations parking can be tricky, there are a few structures that are worth exploring that are a quick walk away.
The Maynard Street Lot – 324 Maynard, Ann Arbor MI 48104 – $1.20 per hour
M86 Ann Structure – 523 S Division St Ann Arbor, MI 48104 – $1.20 per hour
Liberty Square – 510 E. Washington, Ann Arbor, MI 48104 – $3 per day