WordCamp East Troy will be September 12-13 at Ivan's Backstage in East Troy, WI.
Historic Downtown East Troy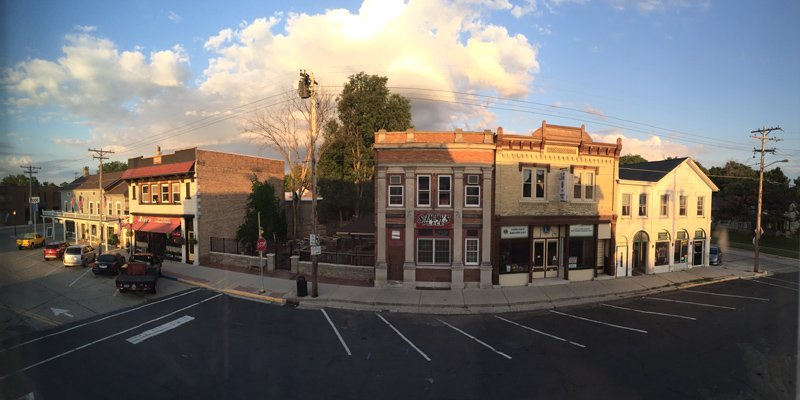 East Troy is a village in Walworth County, Wisconsin, United States. The population is around 4,200. The village is located southeast of the Town of East Troy, and a small portion extends into the adjacent Town of Troy.
The village is surrounded by several lakes; Booth Lake & Lake Beulah being the biggest and most popular. Other notable sites in town are:
East Troy Electric Railroad Museum
Alpine Valley Music Theatre & Resort
East Troy Bluegrass Festival
The Elegant Farmer
Location
Getting here is easy! Easy Troy is located 35 miles southwest of Milwaukee, 95 miles northwest of Chicago, and 238,900 miles from the moon.
Saturday (Casual)
Saturday's location will get your creative juices flowing. Before heading upstairs, grab yourself a latte, a smoothie, or some fresh squeezed juice.
Square Roots & Flox HQ 2894 Main Street East Troy, WI 53120
2894 On Main Cafe is located on the north side of East Troy's historic square. The event will be held on the second floor; the entrance to the second floor is located to the east of the cafe's main entrance. (Elevator access to the second floor is available for those requiring assistance)
Sunday (Conference)
Arrive early to get your day off to a unique start with breakfast at Ivan's. If Sunday morning finds you groggy from the previous nights after-party, grab yourself a mimosa for an extra burst of energy.
Ivan's Backstage Division Street East Troy, WI 53120
Ivan's Backstage is located on the west side of East Troy's historic square. Parking is available behind Ivan's Backstage, adjacent to the Mobil station.
Schedule
Saturday, September 12th


Sunday, September 13th


Sessions
The more you know: web accessibility
This session will cover an introduction to web accessibility. We will cover the fundamentals of accessibility, an overview of development and testing tools, strategies to integrate accessibility into your development process, and who to keep in mind when thinking in terms of accessibility (spoiler alert: it's everyone!).
This Talk is so Meta
A talk about adding custom meta fields that goes beyond simply adding a one field meta box and doesn't teach you how to use a one-size-fits-all plugin. We'll get meta registered properly with sanitization functions, setup some simple field types with reusable display functions, and go over some more complex fields that require a bit of CSS and JS. Learn about all of this and the common pitfalls to avoid.
Baptism by Fire: When Your Blog Post Goes Viral
35-40 readers on a good day—that's what I was accustomed to as a Blogger for the Marquette Educator. So I was more than a bit surprised when my blopost: "An Open Letter to Governor Walker" went viral, getting over 300,000 hits in one week, and being excerpted in Salon, Esquire, Daily Kos, Washington Post, and even a nod in the New York Times. In this session, I will revisit that infamous week back in February and the many unexpected lessons I gleaned as a writer, as a public employee, and as a citizen of the blogosphere.
Making Money With WordPress (WordPress E-Commerce)
We'll be covering what you need to consider before launching an e-commerce site and why you need to build a platform, not just a store.
We'll also walk through the details of optimizing a WordPress site for e-commerce and setting up a WooCommerce install.
WordPress and a 10,000 Year Clock
In this session, I'll talk about how The Long Now Foundation has been using WordPress since 02007 to blog about various projects related to long-term thinking and how it, itself, has become a long-running project.
Your categories and tags are broken
Users have it. Posts have it. Even comments have it. So, why not categories or tags? In this session, I'll talk about how WordPress taxonomies work (or more specifically, how they don't work) and what we are doing to make them work better in the very near future.
Talking Your WordPress Website From Fresh-Out-of-the-Box to Search-Engine-Optimized
In this session, Scott will discuss techniques and tools that will help your WordPress website gain the visibility it deserves (and more) in the search engines. Algorithms change constantly, leaving many webmasters wondering what they can do to ensure their websites remain visible in the search engines.
Applying best practices, using the right WordPress plugins and tweaking various settings in the WordPress Dashboard can help you get a leg up on the competition. The goal of this session is that you'll walk away knowing how to improve the overall rankings of your website in the search engines for the long term.
BuddyPress + WP-API
Session will include quick overview of WP-API. Also, how to get BuddyPress data into WP-API. Will show use cases for BuddyPress JSON data.
Speakers
Jennifer Burkhart
Jennifer works for a large financial institution and has a long history of being a jack of all trades and master of none. In her free time, she raises Icelandic sheep and enjoys technology, MMA, permaculture, reading + writing, video games and wine.
Faison
I'm a Senior Web Engineer at 10up, who started programming as a hobby well before thinking it could be a career. I have a couple of semi-popular plugins on the .org plugin repository and am frequently taking inspiration from other well structured projects. When not developing features for clients, I enjoy learning C, lazily gardening, and watching people play games that I don't necessarily want to buy.
slash1andy
Hey! My name is Andrew, and I am a geek. I'm committed to open source values, and love working with WordPress. I fell in love with WordPress , and have been working with it in some capacity since then. I am a husband, a father, a WordCamp addict, a coffee snob, lover of things shiny, and a California native in Illinois. I work for Automattic as a WooCommerce Ninja on Payment Gateways.
Claudia Felske
Claudia Felske is a National Board Certified Language Arts Teacher and the English Department Chair at East Troy High School, where she also serves as the Technology Integration Specialist.
She has authored professional publications for the College Board and English Journal and presented at The the College Board AP Conference, NCTE, WEMTA, WETA, Midwest Google Summit, and ISTE.
Felske has a B.A. in Writing Intensive English from Marquette University and an M.A. in Creative Writing from the University of Wisconsin-Milwaukee.
Ben Keating
A Neurofunk headcase and Space enthusiast. Professional button pusher.
John James Jacoby
Software developer. I own @TryFlox. Lead @BuddyPress & @bbPress. Build @WordPress. Previously @10up & @automattic. Blog at jaco.by. Everything else at jjj.me.
Scott Offord
As an entrepreneur, Scott enjoys identifying and reaching new business markets, growing online communities and partnering with business start-ups. With a strong background in the field of web design and development, Scott currently focuses on discreetly providing search engine optimization and Google Analytics consulting services to marketing agencies and their private clients.
In his off time, Scott enjoys running the Waukesha County division of the Milwaukee WordPress meetup group as well as the annual Milwaukee WordCamp. He also spends as much time as possible with his wife, his baby girl and his Great Dane.
@modemlooper
Ryan Fugate is a BuddyPress enthusiast and mobile WordPress fanatic. Previously working in social media marketing using WordPress as a secret weapon where Ryan built sites for many major brands. His current status: BuddyPress trace and forums, creating fun plugins, WordPress as a mobile framework and coffee. Developer @WebDevStudios. When he's not breaking WordPress he rides his fixie around Los Angeles and frequently indulges in churro consumption at Disneyland.