WordPress Backup Plugin-Keep Your Data Safe
WordPress has become the leading blogging platformwith good reason — it's powerful, flexible, reliable and user-friendly. With the help of its comprehensive plugin system, WordPress is also amazingly extendable.
However, even the best application has its weaknesses, and one of the weakest features of a default WordPress installation is backup. The included backup system limits you to exporting posts, pages, comments, custom fields, categories and tags. What you don't get are backups of directories, files and databases — without which, should disaster strike, you won't be able to get your WordPress site back up and running quickly.
---
Then it's wise to use a free WordPress backup plugin to save yourself from losing everything you have created so thoroughly.
What backup plugins can actually do for you? Such plugins allow you to store a copy of your website on a separate hard drive, or any reliable storage device upon your choice. And it's better to store a backup file on a separate disk, so if your main drive fails, breaks or an error occurs, you can use your "safety belt" to restore the lost data.
Most backup plugins allow you to choose what and where to store. It's recommended to make backups on regular terms. Saving your content every day would be perfect, so if something goes wrong, you have not the old but the latest version of your site.
BackupBuddy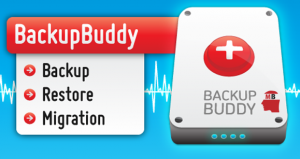 BackupBuddy is the most popular premium backup plugin for WordPress. It allows you to easily schedule daily, weekly, or monthly backups and store them in Dropbox, Amazon S3, Rackspace Cloud, FTP, Stash (their cloud service), and even email it to yourself.
The biggest advantage of using BackupBuddy is that it is not a subscription based service. You are licensed to use the plugin on the number of sites mentioned in your plan. You get access to premium support forums, updates, and 1GB of cloud storage to store your backups.
You can even use BackupBuddy to move WordPress to a new host with no Downtime.
Backup Scheduler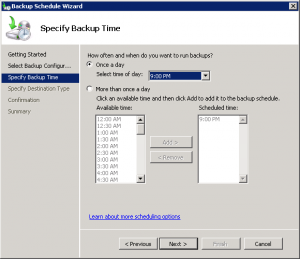 Backup Scheduler allows you to schedule the backup of your entire WordPress site (files, folders and databases) with just a few quick clicks.
Once the plugin is installed, you tell Backup Scheduler when to back up, where to back up, what to back up and where to save it. Backups created by Backup Scheduler can be stored on a local site, sent by email or uploaded via FTP.
This simple backup plugin is usable by people with any experience level. Even newer users can take advantage of this tool, thanks to the included step-by-step instructions.
---
A handy feature: When you first install Backup Scheduler, you can do a quick backup by clicking the "Force a new backup" button — a nice touch for anyone who needs some emergency security or an immediate backup. In addition, Backup Scheduler supports multipart zip files and offers an email notification system that will alert you upon successful backup.
BackupToDropbox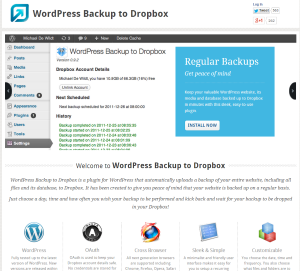 Dropbox is a hugely popular file storage option these days and it's easy to see why, they give you 2GB of space completely free of charge. Backup to Dropbox is a WordPress plug-in that essentially, allows you to create automated backups and store them in your Dropbox folder.
It's available completely free of charge and gives you a lot of control over your backup too. You can choose the time of day and regularity of your backups as well as which directories should/shouldn't be included.
---
It's also an extremely secure plug-in as your Dropbox login details aren't actually stored within the plug-in itself as it uses the OAuth plug-in.
The best thing about this plug-in is that it offers a complete solution as it backs up your database and website files if required.
BackUpWordPress

BackUpWordPress plugin is hosted on GitHub. It will back up your entire site including your database and all your files on a schedule and you can manage multiple schedules also. It Works in low memory and it gives you an option to email each backup of your site and database.Some of the highlighted features:Uses zip and mysqldump for faster backups if they are available ?Exclude files and folders from your backups?Good support should you need help?Translations for Spanish, German, Chinese, Romanian, Russian, Serbian, Lithuanian, Italian, Czech, Dutch, French, Basque and Much More.
BackWPup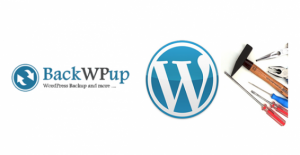 BackWPup is a free alternative delivering most basic features to create and maintain backup files of your WordPress driven website. Using it is pretty simple and it even comes up bundled with a simple to use user interface.
---
It allows users to take backup instantly or even schedule them to happen automatically. It even allows backup files to be uploaded and saved automatically on cloud storage providers like Google Drive, Dropbox, etc. All these features with few more additional ones are being served without any cost. So there is no harm in trying it for once. Yes, it does take care of database files along with main files.
Complete Central Backup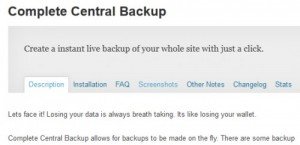 Complete Central Backup is one of the fastest ways to back up your WordPress database from within your WordPress dashboard. Once installed, with a single click you can have a downloadable backup of your WordPress database. Although the plugin doesn't have the most intuitive layout, it only takes a moment to hover the cursor over its Action icons and then click to restore, delete or download a database.
Though Complete Central Backup doesn't include a wealth of features, it does contain the ability to easily set up weekly database backups as well as send automatic emails to the site administrator of backup success, failure or change.
Duplicator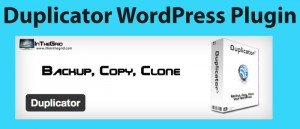 As the name suggests, Duplicator is a popular WordPress plugin used to migrate WordPress sites. However it is also has backup features.
It does not allow you to create automated scheduled backups which makes it less than ideal for a regularly maintained site to use as its primary backup solution.
MyRepono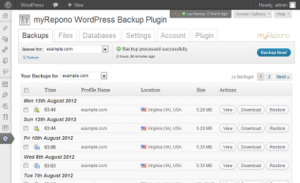 If you're looking for a "set it and forget it" backup solution, MyRepono should be one of the first on your list. MyRepono is a paid service that offers remote automated WordPress site backups for nearly every aspect of your site (minus the WordPress core).
The backups are automatically encrypted on the MyRepono servers. If you need stronger security, you can opt to enable Rijndael 256-bit encryption, but only if your WordPress hosting server supports the mcrypt library/extension.
Online Backup For WordPress


This plug-in from Backup Technology allows you to not only backup your WordPress website in its entirety but also, store the backup online using their free secure online storage.
Online Backup for WordPress will back up your sites database and file system including all posts, pages, media, attachments and plug-ins. The resulting backup file will be made available to download as a ZIP file, emailed to your directly or stored on Backup Technology's secure servers.
Backup Technology gives you 100mb of storage space completely free of charge but if you require more, this is of course upgradable for a small fee.
PressBackup


It's a free plugin that is capable and determinant towards creating backup zip file of each and every file of your blog, its database, and even the structure. The file then can be downloaded to a local computer or stored on the server via FTP. Everything around in this tool is pretty simple and I can bet if you can find any flaws.
Everything that it can backup comprise even of plugins and themes. It does a good job overall and isn't that heavy in size as you may be expecting. Since there is no pricing included so nothing stopping you to try it out.
UpdraftPlus Backup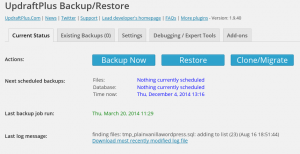 UpdraftPlus helps to make backing up your WordPress site simple. With just a few clicks, your content and databases can be backed up to a cloud service (Amazon S3, Dropbox or Google Drive) as well as to FTP and email.
---
This particular plugin supports backing up of plugins, themes, uploads and any other content found within the wp-content folder. UpdraftPlus allows you to back up files and databases on separate schedules, and failed uploads are automatically either resumed or retried. There is also a simple exclude feature that enables you to configure the exclusion of directories or files.
UpdraftPlus not only offers a one-click restore, it offers backup encryption, so you can rest assured your content is safe from prying eyes. Unlike Online Backup for WordPress, UpdraftPlus does not allow you to choose the encryption type (it uses Rijndael ); however, you do have to set the encryption phrase.
VaultPress

If you're ready to pay for a premium product that delivers premium service and vow to perform what it meant for then look no further than VaultPress.  It brings in every tool which you may or may not require to keep an extra copy of the whole website you own. Since its premium quality, it provides every feature on the premium standard which are all controlled through a simple but elegant looking user interface. It can even scan the whole code files of your website to search for any malicious content which is an additional benefit.
---
One of the most feared problem among WordPress users is data insecurity, in other words losing all your essential information. The trouble can be caused by hackers, server crashes or you can even delete everything yourself, accidently. this is the price of CMS popularity and you should realize the threat in order to be ready to avoid it.
Backup is an essential part and you need to do on a regular basis and it's a good thing because it keeps you safe and risk free from hacking and other things. If you don't have a backup and if you lose some part of your website or blog, you have to redo from scratch, also there is no guarantee that you will recover all your info. So I would like to suggest you to keep backup of your work to it safe and secured.
---
Creating regular WordPress backups is the best thing you can do for your website. Backups give you a peace of mind and can save you in catastrophic situations when your site gets hacked or you accidentally lock yourself out. Many WordPress hosting providers offer limited backup services, but please remember that it is your responsibility to backup your website on your own. Do not rely solely on your hosting provider for backups. If you are not already backing up your site, then you should pick one of these WordPress bckup plugins and start using it right away.