Welcome to WordCamp Split
Welcome to WordCamp Split
Another year in Croatia and another WordCamp. Theres a slight change in the naming of the event this year. So, this year, the Croatian WordPress community is organizing WordCamp Split. This change was initiated by WordCamp Central in a effort to unify the naming scheme worldwide. The change is purely cosmetic and the Croatian WordPress community will continue its yearly organization of WordCamps and rotate host cities and organizers.
The local Split community is maturing and having a event like WordCamp would be a great catalyst to spur further growth. September is also a great time to meet in Split. Good food, weather and the sea will certainly make the whole socializing experience much more enjoyable. And yes, there will be a great afterparty.
WordCamp Split will be the official Croatian WordCamp in and also, WordCamp Split is a perfect opportunity to meet people that work and live WordPress.
The venue
WordCamp Split will be held in the great amphitheater of the Faculty of Economics in Split, located on the University campus.
The venue is accessible via public transport buses line 18 at the "University Campus" stop. Bus ticket costs 1,5 €.
You can use taxi service or UBER to get to the venue. The cost is around 3-4 € from city center.
Taxi is available on +385 21 1777 (Radio Taxi Split).
Parking will be available and free of charge.
Venue address:
Cvite Fiskovi?a 5
21000 Split
Croatia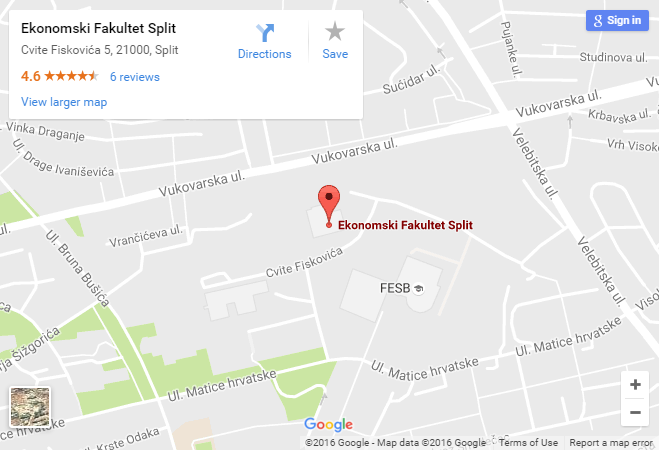 Accommodation
You have a number of accommodation options available for staying in Split during WordCamp, from private accommodation, hostels to 5-star hotels.
Student dorm "Dr. Franjo Tu?man"
The closest and cheapest option is student residence which works as a hotel during the summer. It was built. and is located literally 100 meters from the WordCamp Split venue.
To reserve your stay in the student dorm "Dr. Franjo Tu?man", send an email to rezervacija.smjestaja@scst.hr with the following information:
Your name
Dates from-to, when you want to stay there (for example, September 1st to
September 5th)
Type of accommodation you want to book and
For how many persons
Hotels
There are lots of great hotels in Split and nearby the city. Here are a few we highly recommend:
Radisson Blu Hotel
Hotel Park
Hotel Marmont
Hotel Atrium
Hotel Globo
Le Meridien Lav
AirBnB
Number of apartments and houses can be found on Airbnb that are available for the period from Friday, September 2nd to Sunday, September 4th. Please book early to get the best choice possible. Nevertheless, we encourage you to stay for couple of days longer to try some good local cuisine and wines as well as to enjoy relaxing swims in the Adriatic.
Schedule
Workshops, Friday, September 2nd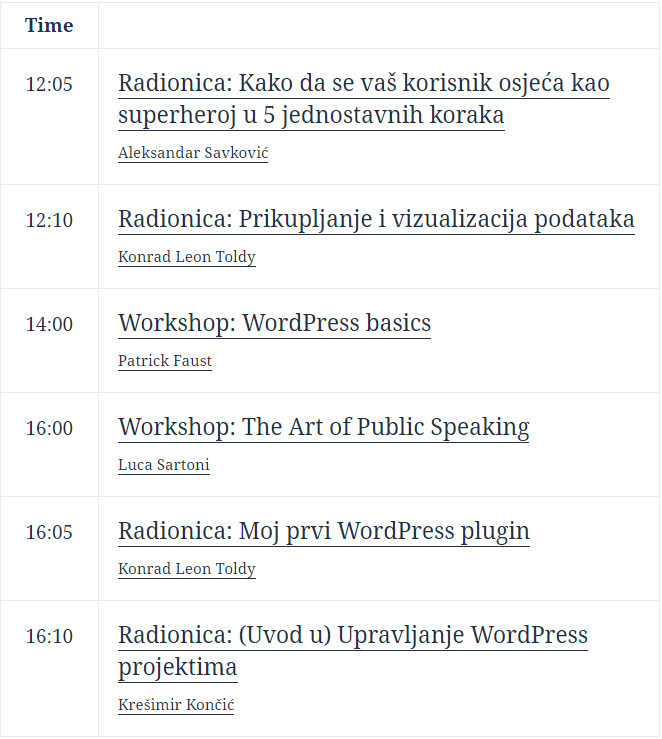 Workshops on Friday are free for everyone (nevertheless you're coming to WordCamp Split or not), with max 30 attendees per workshop. Keep in mind that although workshops are free for everyone, in case of more than 30 applications per workshop, people with tickets for WordCamp Split will have precedence.
Conference day, Saturday, September 3rd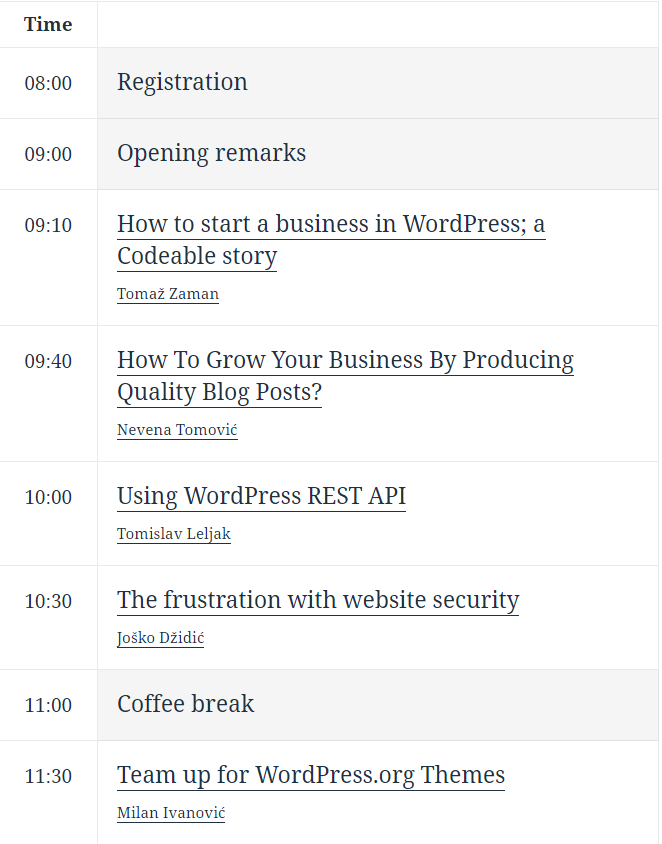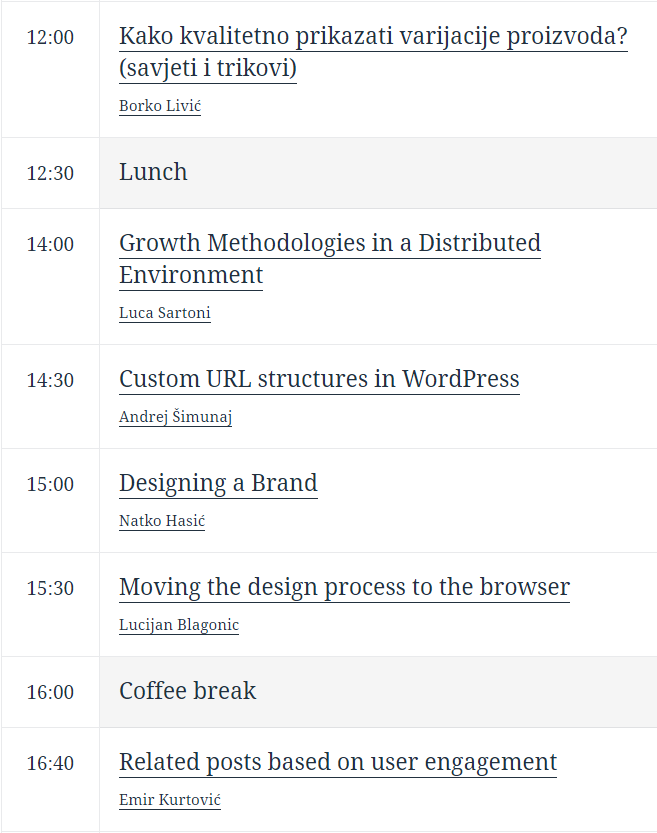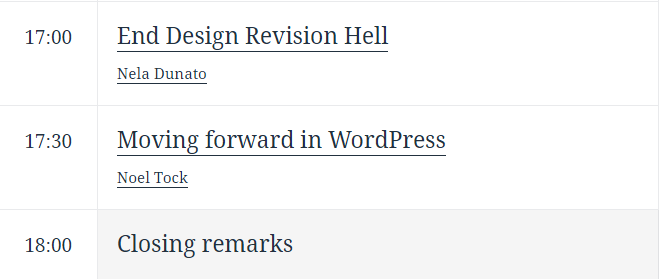 Contributor day, Sunday, September 4th

WordCamp Split will release 200 tickets with an option for more tickets in case of additional interest.