Where to Get Free Images for WordPress Site
Images are necessary when you build our WordPress sites, but how can you get the images you need? Draw the images yourselves with some photograph programs? Oh no, it will take your lots of hair to do so. Purchase images from image banks or stock sites? You will pay a lot for that. Is it possible to get some free images? Fortunately, it is. We get some places to get the free images online. This article will share you some great websites offering free images for personal and commercial uses.
Note: If you do download from any of these sites, make sure you check the license associated with any of the images you use and always credit the author.
IM FREE
As a collection of free images, IM FREE provides images for commercial use only.
The images cover different subjects such as people, technology, sports, food & drink, arts &music, fashion & beauty, and more.
The images are sourced from different third-party sites, such as Flickr, so make sure you check the licenses on individual images before downloading and using them.
Picjumbo
Aside offering free images for commercial use, Picjumbo also offer free images for personal works. This site gets a category listing, which facilitate uses to filter the types of images they are looking for and quickly get what they need.
A wide range of subjects are included in this site, including people, food, nature, technology, fashion and more.
---
All images are free to use, but attribution to the creator is required.
There is a wide variety of different high resolution images covering food, nature, people, technology and fashion, among other categories.
All photos are free to use, but the author asks for attribution.
Public Domain Archive
Public Domain Archive is more than a gallery site for the author of this site archives free, high quality images he finds across the internet. It offers a one-stop shop to find free publish domain images.
With category navigation out there, this site offers an easy way for users to filter the kinds of images they are looking for. Also, many different subjects are covered by the images in this site.
Pixabay
Pixabay is also a great place to find free images that are free of copyright restrictions. In this site, all images are free to download and use under Creative Commons public domain dee CC0 license, which allows you to do whatever you need including copying, distributing, and commercial uses without attribution.
Sponsored images from Shutterstock is also included in this site.
Unsplash
This site is one of the most popular image stock sites. It includes hundreds of beautiful images in different styles.
Unlike in many other image sites, images in this site do not have copyright, you can do whatever you want since the photographers have dedicated their work to the public domain and waived all rights to the work worldwide under copyright law, including all related and neighboring rights, to the extent allowed by law.
---
You can copy, modify, distribute and perform the work, even for commercial purposes, all without asking permission.
Ten new photos are unloaded to the site every ten days, so, you may always get new photos for your site.
The only inconvenience in this site is that there is no search box available, which means, you cannot search the images you want quickly.
 Creative Commons
The Creative Commons website in fact is a search tool that allows you to search images on several third-party sites, including Wikimedia Commons, Google Images, Flickr, Fotopedia and Pixabay.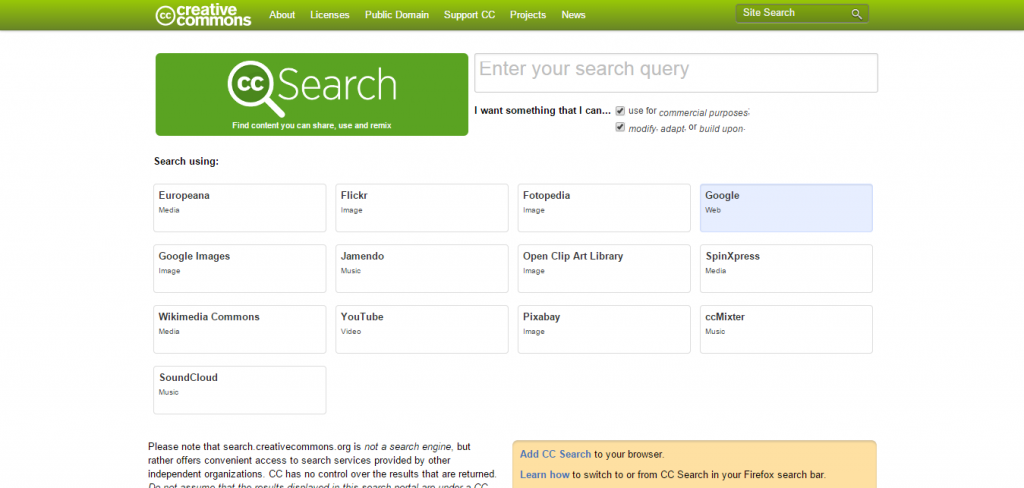 The search tool includes options to look for images that can be used for commercial purposes, and images that are available to modify, adapt or build upon.