On June 6th and 7th, at the Orange County Department of Education, WordCamp Orange County is going to bring you two tracks of sessions and workshops to satisfy designers and developers, bloggers and beginners, business owners and burgeoning writers.
WordCamps are famous events arranged by the communities to spread awareness about the most commonly used content management system.
---
WordCamp Orange County is a great place to learn meet, talk, and immerse yourself in everything WordPress. From the absolute beginner to the hardest of hardcore developers, WordCamp Orange County will have something for you.
Weekend events are scheduled across three tracks, named for three of Orange County's best hiking trails, and covering topics in front-end development, back-end development, design, and more.
We also have a series of workshops scheduled on WordPress for beginners, contributors to WordPress core, business, and our first Plugin-a-Palooza hosted by Chris Lema.
Schedule
Here is the official schedule for WordCamp Orange County:
Saturday, June 6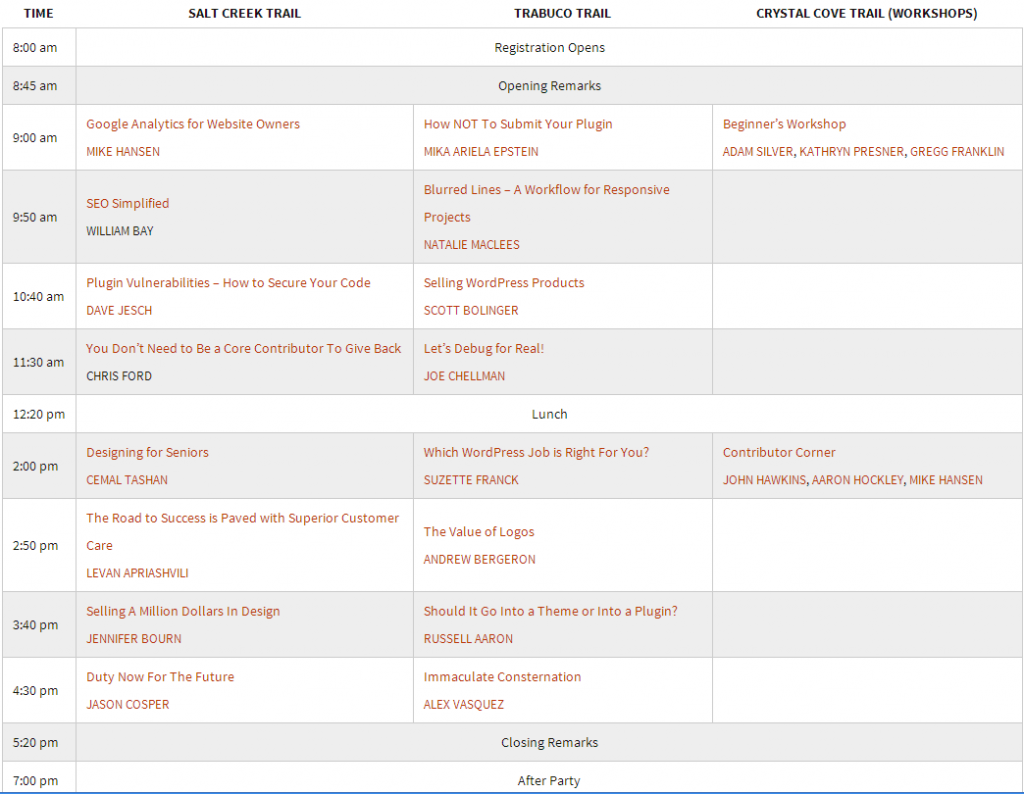 Sunday, June 7th

Here are some of the speakers that so far have been officially announced:
Aaron Hockley
Aaron is a photographer with a background in technology. He started blogging , began using WordPress , and founded WordCamp Portland. He's well-known for mixing the worlds of photography and online business, having written and spoken about these topics to various audiences over the past decade.
AJ Zane
AJ Zane is a front end developer with a background in interactive multimedia, digital marketing, and east asian studies. When not developing with WordPress, Sass, and Angular, he organizes the FrontEndAuthority meetup. He focuses on custom theme and plugin solutions with Zan Atlantean. He is currently hiding in the San Diego of this timeline from interdimensional robot olms. He will be presenting on how using preprocessing tools like sass, jade, and coffeescript can help with your WordPress development workflow.
Brandon Dove
Brandon Dove is a co-founder of Pixel Jar and the lead developer of a commercial plugin, AdSanity. He is the current co-leader of the OC WordPress Developer meetup, and former lead organizer WordCamp Orange County. He's an active member of the WordPress Community team, and has recently been deputized to help bring more WordCamps, to more places, for more people.
Chris Lema
Chris Lema is the CTO and Chief Strategist at Crowd Favorite. He's also a daily blogger, a public speaker, and product strategist. He helps companies leverage WordPress, and helps WordPress companies find leverage.
Dave Jesch
Dave is the master at seamless technology integration with stability and scalability in mind. As a full stack developer with a passion in object-oriented programming, he pushes WordPress to the limit bridging traditional architectural techniques with innovative creative strategies.
Eric Mann
Eric is a Lead Web Engineer at 10up where he focuses on developing high-end web solutions powered by WordPress.
Greg Douglas
Greg Douglas is the Founder and Creative Director of Premium Interactive and co-founder of ARC(CTRL) based in Hollywood CA. An active member of the Los Angeles and Southern California WordPress community, Greg contributes by organizing the popular Hollywood WordPress meetup group.
Gregg Franklin
Gregg Franklin is a WordPress Developer and team member over at ServerPress LLC., the creators of DesktopServer. Loves to help in any way he can solving WordPress problems.
Jennifer Bourn
Now with more than 300 custom WordPress sites under the belt, Jennifer now shares her expertise and lessons learned as a speaker, an avid blogger, and a co-organizer of the Sacramento Meetup Group. She also writes about the business-side of design for WP Elevation and GoDaddy and about content marketing for CoSchedule.
John Hawkins
John is the founder of 9seeds, a WordPress development team based on Las Vegas, NV. He founded and frequently presents at the Las Vegas WordPress meetup group and has been the lead organizer for WordCamp Las Vegas 4 times in the past 6 years. When not sharing knowledge at an event, he also blogs about WordPress, CrossFit and just about anything else over atVegasGeek.
Justin Tucker
Justin Tucker is a WordPress developer based in downtown Phoenix, AZ. For over a decade, he's been involved in web development, working with agencies in Phoenix, Orange County and Seattle.
Kathryn Presner
Kathryn Presner thrives on helping people get the most out of WordPress. After a career designing and
building websites for clients, she joined Automattic as a Happiness Engineer. She's currently Theme Whisperer on the Theme Team, where she helps folks with customization, configuration, and troubleshooting.
Mika Ariela Epstein
Mika Ariela Epstein is better known as Ipstenu, the Half-Elf Support Rogue. Working for DreamHost as a WordPress Support Specialist and Manager (aka 'WordPress Guru'), she solves any WordPress problem that comes up, trains everyone from support to marketing in why WordPress makes your life better, and still finds time to slash unanswered WordPress.org forum threads by night and wrangle plugins by day.
Mike Hansen
Mike Hansen is a WordPress Developer and core contributor working on the Open Source Team at Bluehost. He is active in his local community, lead organizer for WordCamp SLC and co-organizer for the UtahWP meetup. He enjoys helping WordPress users solve their problems.
Ryan Kanner
Ryan is a WordPress Developer for Fruition marketing from Denver, Colorado. He has spent the last few years developing custom WordPress themes for clients all over the world.
Scott Bolinger
Scott co-founded AppPresser in which allows you to build iOS and Android apps with WordPress. He has been pushing the boundaries of what is possible with WordPress + mobile apps ever since. Scott attends and speaks at conferences, writes lots of code, and loves working with WordPress.
Suzette Franck
Suzette Franck has been in web development for over twenty years; she started making hand-coded HTML websites on geocities with font tags and tables back in 1995. Since then, she has taught herself CSS, Sass, PHP, MySQL, as well as becoming a WordPress expert; evangelizing and presenting at over twenty-two WordCamps across the country and multiple WordPress meetups in Southern California where she resides, about all aspects of building and maintaining sites on WordPress.
Tabby Chapman
Tabitha Chapman (a.k.a Tabby) is an Academic Applications Developer at University of California, Irvine where she works on WordPress plugins and themes for the School of Biological Science.
Sessions
Session details are presented here in alphabetical order. Follow WordCamp Orange County on Twitter or Facebook for the latest announcements, or check their website as the event approaches.
A Tale of Two Test Suites
PRESENTED BY ERIC MANN IN SALT CREEK TRAIL.
Adding A Design Process
PRESENTED BY GREG DOUGLAS IN SALT CREEK TRAIL.
An Introduction to Front End Tools
PRESENTED BY JACOB ARRIOLA IN TRABUCO TRAIL.
Automated Testing 101
PRESENTED BY TABBY CHAPMAN IN TRABUCO TRAIL.
Beginner's Workshop
PRESENTED BY ADAM SILVER, KATHRYN PRESNER, GREGG FRANKLIN IN CRYSTAL COVE TRAIL (WORKSHOPS).
Blurred Lines – A Workflow for Responsive Projects
PRESENTED BY NATALIE MACLEES IN TRABUCO TRAIL.
Braces-less WordPress
PRESENTED BY AJ ZANE IN TRABUCO TRAIL.
Building a WordPress Theme
PRESENTED BY JUSTIN TUCKER IN TRABUCO TRAIL.
Business Workshop
PRESENTED BY MENDEL KURLAND, CHRIS LEMA, JEFF TURNER, KARIM MARUCCHI, CORY MILLER IN CRYSTAL COVE TRAIL (WORKSHOPS).
Contributor Corner
PRESENTED BY JOHN HAWKINS, AARON HOCKLEY, MIKE HANSEN IN CRYSTAL COVE TRAIL (WORKSHOPS).
Creating a Blogging Schedule Using The 20/30 Rule
PRESENTED BY JARRETT GUCCI IN SALT CREEK TRAIL.
Designing for Seniors
PRESENTED BY CEMAL TASHAN IN SALT CREEK TRAIL.
Duty Now For The Future
PRESENTED BY JASON COSPER IN SALT CREEK TRAIL.
Going from Solo to Sustainable
PRESENTED BY TONY MAZZARELLA IN SALT CREEK TRAIL.
Google Analytics for Website Owners
PRESENTED BY MIKE HANSEN IN SALT CREEK TRAIL.
How NOT To Submit Your Plugin
PRESENTED BY MIKA ARIELA EPSTEIN IN TRABUCO TRAIL.
Immaculate Consternation
PRESENTED BY ALEX VASQUEZ IN TRABUCO TRAIL.
Let's Debug for Real!
PRESENTED BY JOE CHELLMAN IN TRABUCO TRAIL.
Marketing Automation Using WordPress
PRESENTED BY ROBERT DONNELL IN TRABUCO TRAIL.
Picture This – Better Visuals for Your Website
PRESENTED BY AARON HOCKLEY IN SALT CREEK TRAIL.
Plugin Vulnerabilities – How to Secure Your Code
PRESENTED BY DAVE JESCH IN SALT CREEK TRAIL.
Plugin-a-Palooza
PRESENTED BY CHRIS LEMA IN CRYSTAL COVE TRAIL (WORKSHOPS).
Selling A Million Dollars In Design
PRESENTED BY JENNIFER BOURN IN SALT CREEK TRAIL.
Selling WordPress Products
PRESENTED BY SCOTT BOLINGER IN TRABUCO TRAIL.
SEO Simplified
PRESENTED BY WILLIAM BAY IN SALT CREEK TRAIL.
Should It Go Into a Theme or Into a Plugin?
PRESENTED BY RUSSELL AARON IN TRABUCO TRAIL.
Stop Building Websites, Start Creating Solutions
PRESENTED BY NATHAN PORTER IN TRABUCO TRAIL.
The Road to Success is Paved with Superior Customer Care
PRESENTED BY LEVAN APRIASHVILI IN SALT CREEK TRAIL.
The Value of Logos
PRESENTED BY ANDREW BERGERON IN TRABUCO TRAIL.
Themes – Starter vs. Framework vs. Parent
PRESENTED BY RYAN KANNER IN SALT CREEK TRAIL.
Which WordPress Job is Right For You?
PRESENTED BY SUZETTE FRANCK IN TRABUCO TRAIL.
You Don't Need to Be a Core Contributor To Give Back
PRESENTED BY CHRIS FORD IN SALT CREEK TRAIL.
A new event is introduced at this year's WordCamp – Plugin-a-palooza! This competition will pit development teams against one another to create the "coolest" plugin by May 15th.
Location
WordCamp Orange County will once again be held at the Orange County Department of Education, located at 200 Kalmus Drive in Costa Mesa, not far from the intersection of the 55 and 73 freeways.
Orange County Department of Education
200 Kalmus Dr., Building D (in the back)
Costa Mesa, CA 92626
There is plenty of onsite parking at the venue.
Just next door to the Orange County Department of Education, Durty Nelly's has food, drink and often on Saturday nights – Karaoke. The "official" party starts at 7:00p.m.
Don't miss a minute!