A List Of Free WordPress Themes For Business On Magee
WordPress is getting more and more attention and many more business sites nowadays use WP CMS as their major website template. However if you are going to make a WordPress template business site, you will need to know which WordPress template best suits you and most cost-effecient.  WordPress also has a very good guideline as to start your own business site using WP CMS.
---
Anyway WordPress themes are essential in designing your WordPress site appearance, we at magee offer a range of free themes good for business and company website building, if you don't know how to install a theme to your site or blog, why don't you take a look at our guide to how to install a theme to your WordPress blog?
---
If you know all the hows to install your themes, it's time to introduce our free WordPress business themes, start with the one we recently updated: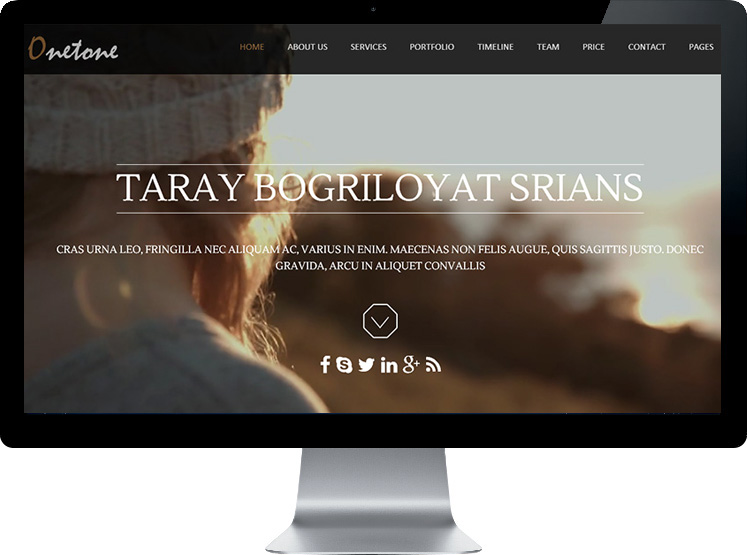 Onetone is specifically designed as business and corporate theme. As a theme made for business, its one-page homepage provides all your business information within the page. In addition, it offers you the greatest freedom to customize your homepage, e.g., you can customize background video, gallery, and the bottom area in which you can put anything.
Built with HTML5+CSS3
One-page homepage
Fully responsive design
Full screen slider
YouTube video background
Font Awesome Icons
Fantastic gallery
Built-in sidebar
Flexibility
Translation Ready
Custom background color or image
Upload your own logo and favicon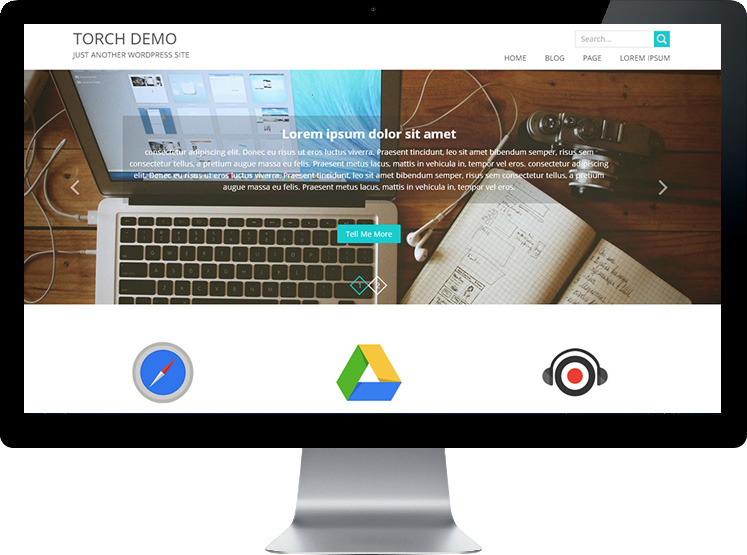 Torch is a 100% responsive business wordpress theme. As a lightweight free WordPress theme, Torch steps ahead a lot compared with similar free themes. Built with Bootstrap, this theme can works well on browsers in desktops, tablets, and smartphones. With 12 custom widgets which can be added to the homepage, you can easily add different elements such as Slogan, Service, Portfolio, Testimonial, etc. to the homepage. It features:
Fully Responsive design
Developed with Bootstrap 3
Built with HTML5+CSS3
Full-screen sliders
Custom widgets in homepage
Slider show in sidebar
Metabox options
Various social icons
Flexibility
Translation Ready
Upload logo and fivacon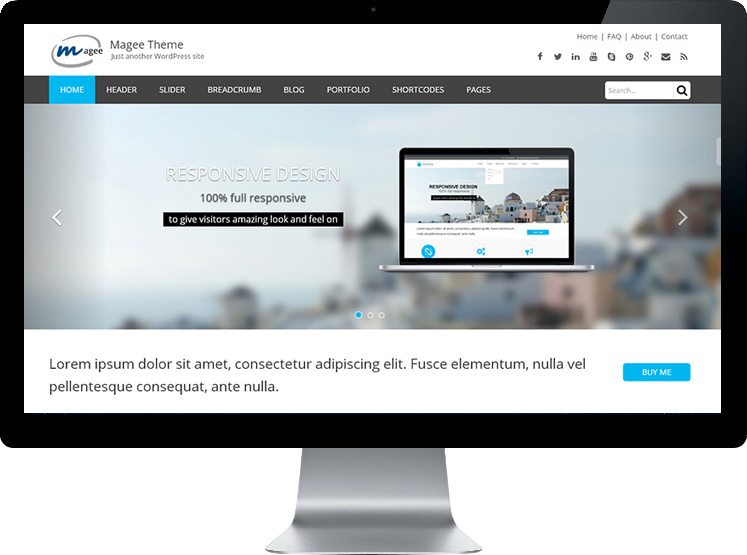 This theme gives you many options to customize your site. With it, you can change the header text colors, images; upload sliders; create portfolio; customize footer text and so on. The largest freedom is provided with you to build your online store. Anyone who wants to create a business site with WordPress may not miss this theme.
Built with HTML5/CSS3
Responsive in all displays
Developed with Bootstrap 3
Powerful shortcode
Revolution Slider
Portfolios
Custom Testimonials
Customizable header and footer
Customizable sidebar
Customizable Breadcrumb
Hundreds of fonts and multiple Color Schemes
Font Awesome Icons
Boxed and full-width theme layout styles
Custom background color or image for each page
Various social icons
Parallax scrolling background
HTML5 Video background
CSS3 animation
Sticky header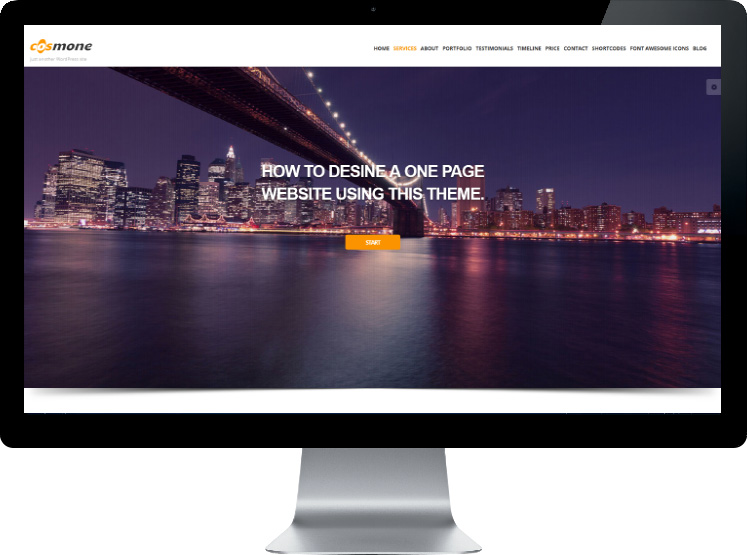 Cosmone is a one-page portfolio WordPress theme suitable for business website. It's a combination of diverse trendy web design elements, such as responsive layout, one-page, Portfolio, shortcode, etc. Its layout adapts to the screen size of a wide range of devices and has well compatibility with all popular browsers.
Fully Responsive design on laptop, tablet PC, iPhones, Androids etc.
One page Homepage
Various Social Icons
Powerful Shortcodes
Font Awesome Icons
Bootstrap Framework
Robust Built-in Slider Plugin
Fantastic Portfolio
Multiple Color Schemes
600+ Google Fonts
Smooth Scrolling Effect
Flexibility
Animated Timeline
Progress Bar Effect
Price Table Template
Google Map Widget
Custom Testimonials
Built with HTML5/CSS3
Boxed or wide theme layout style
Custom post options
Custom header and footer
Unlimited color options with backend color picker
Custom background color or image
Update your own logo and favicon
Unlimited accordions/testimonials/buttons
Best for Business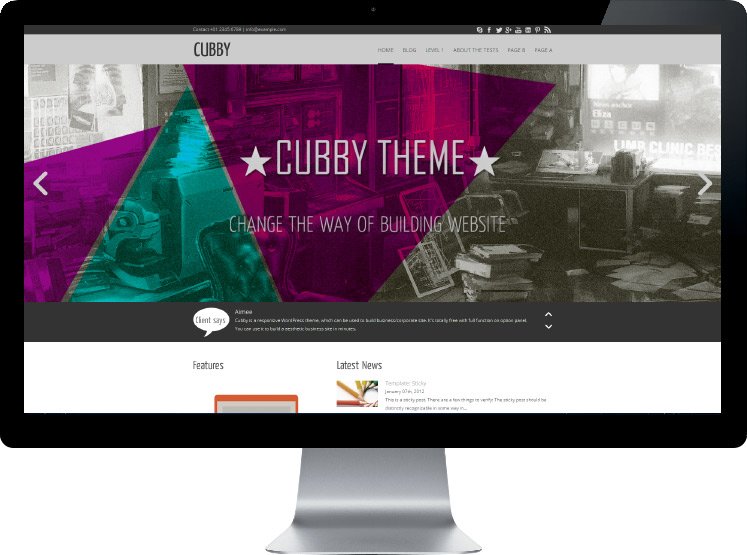 Meris is a 100% responsive wordpress theme good for both personal use or company website design. Following the trend of web design, Meris adopts responsive layout. This clean theme is developed using Bootstrap 3, which makes the theme works well with desktops, smartphones, and tablets. The dedicated design, awesome widgets, the full-screen sliders, portfolios, etc. give you the premium look and feel.
Fully Responsive design
Custom widgets in homepage
Full-screen sliders
Fantastic portfolio
Slider show in sidebar
Metabox options
Flexibility
Translation Ready
Developed with Bootstrap 3
Built with HTML5+CSS3
Upload logo and fivacon
Various social icons
#6. CUBBY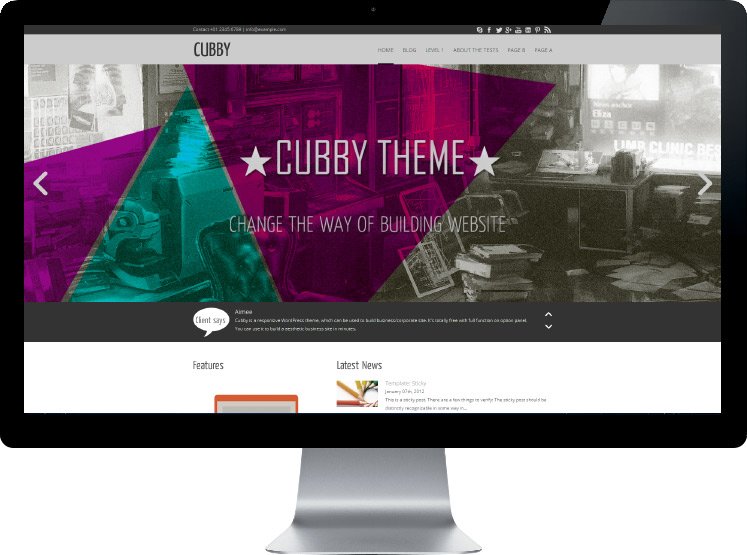 Cubby is sepcially designed to help make a website as easy as it can get. As a free WordPress theme, Cubby provides you with some features that premium themes can do, for example the slides in the home page, the client says below the large slide, and more. The wonderful homepage design gives you the most possibility to display your featured products or service with the robust slide and Featured Images feature. It makes creating an attractive website so easy.
A Free and Easy-to-use WordPress theme
Fully Responsive design
Powerful Slide
Fantastic gallery
Robust sidebar
Various Social Icons
Built with HTML5+CSS3
Cross Browsers Support
 Flexibility
Update your own logo and favicon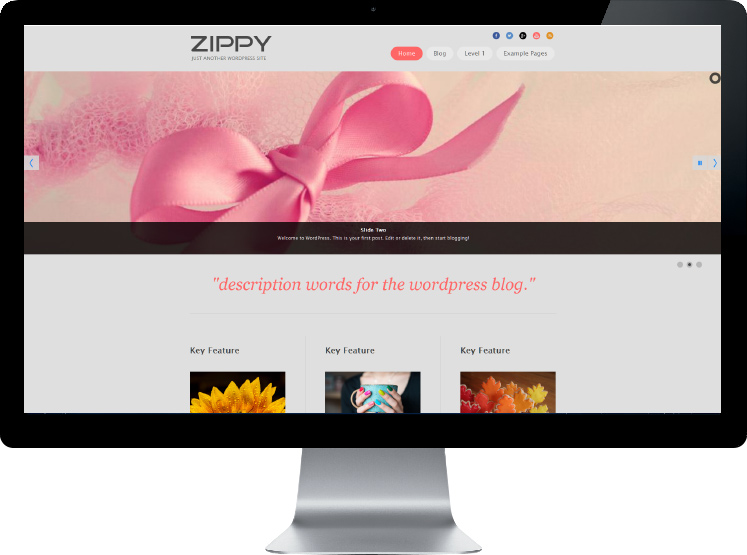 Zippy is a free fully responsive WordPress theme that can help your business website development. The Zippy theme is suitable for anyone who wants to build a product site. The customizable sliders and image showcases make displaying products just so easy. And the footer area, which is also customizable, is just made for you to add more information about your business.
Free and Easy-to-use WordPress Theme for Business
Fully Responsive design
Cross Browsers Support
Powerful Slider
Image Showcase
Customizable Footer
Robust sidebar
Various Social Icons
Built with HTML5+CSS3
Upload your own logo and favicon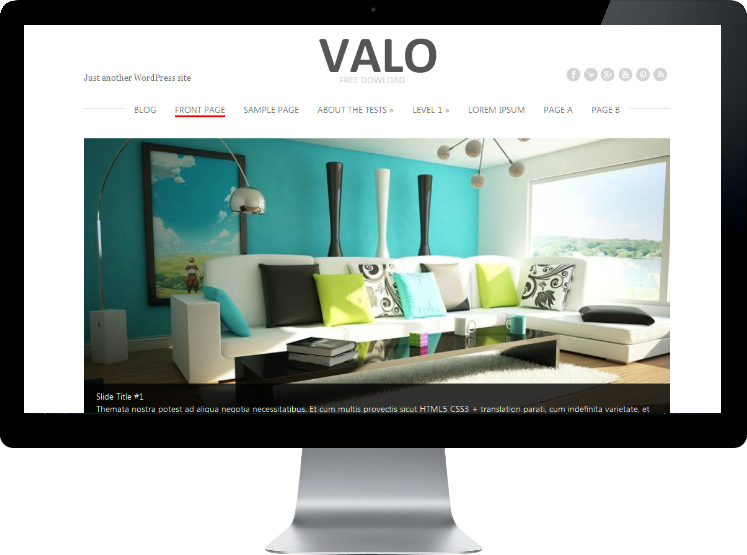 Valo is a free business website template. It comes with a simple and clean design. Just like most popular themes, Valo comes with a large slide area. In addition, it provides three featured image areas to showcase more products and service information. As a simple and clean theme, Valo is good for blogging and small business.
Complete free
Powerful Slide
Featured image showcase
Robust sidebar
Various Social Icons
Built with HTML5/CSS3
Cross Browsers Support
High Flexibility
Update your own logo and favicon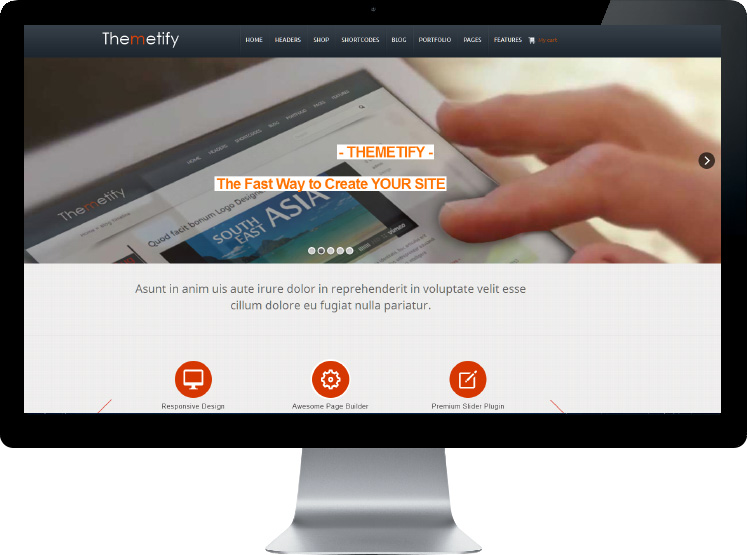 As a premium theme for WordPress, Themetify gives you the power to change your WordPress site to an online store with ease. You may notice that most profitable online store offers great shopping experience when you land the site. If you are a WordPress user, it is not a dream to build such a site. With the Themetify theme, you can make it.
Themetify is well-designed and –coded theme for business. It allows you to customize almost everything according to your preference. Header, footer, colors, fonts, sliders, and more, all are in your control. In addition, the powerful shortcodes provided by this theme provides great convenience to create beautiful and complex layouts.
Fully responsive design
Customizable header and footer
Powerful shortcode
Revolution slider
Gallery
Hundreds of fonts
Multiple Color Schemes
Built with HTML5/CSS3
Change background color and image
Other basic features